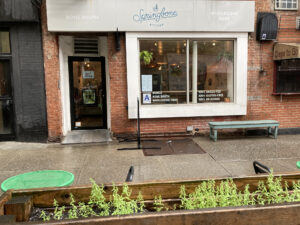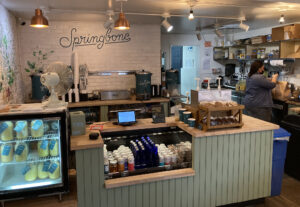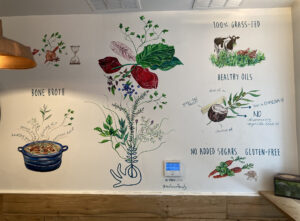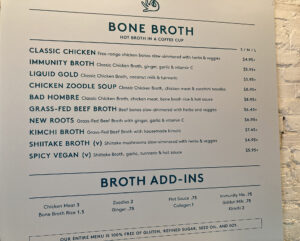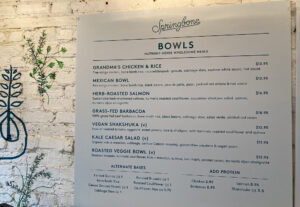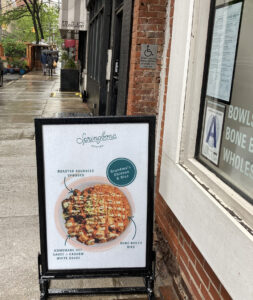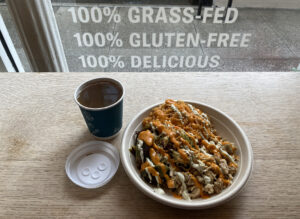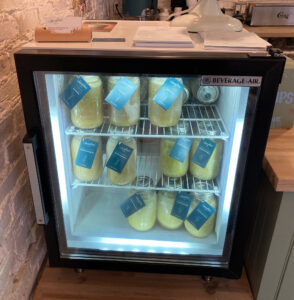 Kristin Kimball, whose two memoirs The Dirty Life, A Memoir of Farming, Food and Love (2011) and Good Husbandry, Growing Food, Love, and Family on Essex Farm (2019) we've highly recommended, also shares much appreciated weekly Farm Notes.
She writes from Essex Farm in upstate New York's north country near Lake Champlain, where she and her husband farm and produce organic vegetables, eggs, grains, flours, herbs, maple syrup, meat and dairy, and for many years have offered a full-diet CSA (community supported agriculture) farm share.
Kimball's Farm Note, Winter Beauty (Week 3, 2023), earlier this year caught my attention with its reference to Springbone Kitchen and its founder Sam Eckstein who "came to the farm a few years ago and actually camped out among the sheep, which won our hearts forever." In this Farm Note in January 2023, she wrote that Essex Farm was "sending a load of grass fed meat and bones down to Springbone Kitchen next week." And noting that Springbone "is dedicated to sourcing 100% grass fed animals," she suggested that readers of her Farm Notes, who are "in the city check them out and let them know you're glad they have Essex Farm on the menu." On a recent day trip to the great metropolis, that's just what I did.
Springbone Kitchen is a sui generis fast-food operation, in a class of its own. Its menu offers two main categories of what it deems wholesome food: bone broths and bowls.
On Springbone Kitchen's website and at its Greenwich Village location (one of seven locations) which I visited last month, much care is taken in explaining why its food offerings are wholesome and nutritious.
Sam Eckstein and Jordan Feldman, who founded Springbone Kitchen, in "Our Story" explain that "even so-called 'healthy' restaurants didn't serve the simple, wholesome, unadulterated food" that they wanted to make available to busy New Yorkers who don't have "the time to prepare wholesome, nutritious home-cooked meals for themselves."
Eckstein and Feldman "knew they could do better" and they take "pride" in their Springbone Kitchen offerings of "nourishing food that tastes and feels just like it was made in your kitchen."
Googling the term "bone broth" confirms that bone broth has "boomed in popularity over the last few years, with celebrities, health movements and influencers [like Gwyneth Paltrow] alike praising bone-based stock as a cure-all for many ails" in the opinion of a team of "doctors, researchers, and experts dedicated to demystifying human health" on The Atlas Blog. On the other hand, the T. Colin Campbell Center for Nutrition Studies which knows "a whole food, plant-based diet can help heal our bodies" posits that "There is no evidence of an advantage to consuming . . . amino acids and minerals from bone broth as opposed to other foods."
Springbone Kitchen on its website outlines what it considers the "Health Benefits" of its bone broths by emphasizing these four nutrients: (1) Collagen and Gellatin; (2) Glucosamine and Chondroitin Sulfate; (3) Amino Acids Glycine and Proline; and (4) Hyaluronic Acid. Also detailed on its website is a comparison of 16 ounces of Broth compared to 16 ounces of Cold Pressed Juice, opining that Broth's 0 grams of sugar, 15 grams of protein, less than 150 calories, and 3 grams of good fat is superior to the Juice's 35 grams of sugar, less than 5 grams of protein, 250 calories, and zero grams of good fat.
Signage in its Greenwich Village location (one of its 7 locations with 6 in New York City and 1 in New Jersey) similarly notes the health benefits of its bone broths: healthy gut, strong joints, glowing skin, and nutrient dense. A colorful wall mural also notes (1) its beef and chicken meat comes from 100% Grass-Fed livestock, (2) it uses healthy oils including olive oil, "grass-fed butter," and coconut oil (low in Omega-6) and "NO inflammatory vegetable seed oil" and (3) its food has "No Added Sugars" and is "Gluten-Free."
Springbone Kitchen's Bone Broth menu lists ten varieties of "Hot Broth In A Coffee Cup" which come in small, medium and large sizes. Five of the ten varieties are made with Chicken broth: (1) Classic Chicken, free-range chicken bones slow-simmered with herbs & veggies; (2) Immunity Broth, classic chicken broth, ginger garlic & Vitamin C; (3) Liquid Gold, classic chicken broth, coconut milk & turmeric, (4) Chicken Zoodle Soup, classic chicken broth, chicken meat & zucchini noodles; (5) Bad Hombre, classic chicken broth, chicken meat, bone broth rice & hot sauce.
Three of ten varieties are made with Beef broth: (1) Grass-Fed Beef Broth, beef bones slow-simmered with herbs and veggies; (2) New Roots, Grass-fed beef broth with ginger, garlic & vitamin C; (3) Kimchi Broth, grass-fed beef broth with housemade kimchi.
Two of the ten varieties are vegan, made with Shiitake mushrooms: (1) Shiitake Broth, Shiitake mushrooms slow-simmered with herbs & veggies; and (2) Spicy Vegan, shiitake broth, garlic, turmeric & hot sauce.
Customers also have the option of "Broth Add-Ins" at an additional cost: chicken meat; zoodles (zucchini noodles), hot sauce, immunity mix, bone broth rice, ginger, collagen, golden milk, and kimchi.
Springbone Kitchen's Bowls menu lists seven varieties of "Bowls, Nutrient-Dense Wholesome Meals" including these four which have meat or fish: (1) Grandma's Chicken & Rice, Free-range chicken, bone broth rice, roasted brussels sprouts, cabbage slaw, cashew white sauce, hot sauce; (2) Mexican Bowl, Free-range chicken, bone broth rice, black beans, pico de gallo, guac, pickled red onion & hot sauce; (3) Herb-Roasted Salmon, sustainable herb-marinated salmon, turmeric roasted cauliflower, cucumber chickpea salad, quinoa, turmeric dijon vinaigrette; and (4) Grass-Fed Barbacoa, 100% grass-fed beef barbacoa, bone broth rice, black beans, cabbage slaw, salsa verde, pickled red onion.
Three of the Bowls on the menu are Vegan: (1) Vegan Shakshuka, stew of roasted tomato, eggplant, sweet potato, kale & chickpea, with turmeric roasted cauliflower and quinoa; (2) Kale Caesar Salad, organic kale & mesclun, cabbage, cashew Caesar dressing, gluten-free croutons & vegan parm; and (3) Roasted Veggie Bowl, roasted brussels, turmeric, cauliflower, kale & mesclun, quinoa, avocado mash, pickled onion, turmeric dijon vinaigrette.
The Bowls menu also suggest that a customer can create a custom-made bowl selecting a base of herbed quinoa or cauliflower rice, instead of bone broth rice, and may choose a variety of vegetables and proteins to add.
On the cool and rainy day of my visit to Springbone Kitchen's Greenwich Village location, this first time visitor (unfamiliar with the variety of options) chose the simple Classic Chicken broth, which was hot and delicious. Perhaps it was only psychosomatic, but it provided a real energy boost as I sat at the counter along the front picture window of the restaurant looking at the changing urban scene of pedestrians, mostly carrying umbrellas. However, the spiciness of Grandma's Chicken & Rice bowl and the charred brussels sprouts were not to my liking and on a future visit, knowing the various options, I'll very likely opt for a custom-made bowl selecting particular ingredients and no hot sauce.
(Frank W. Barrie, 5/19/23)