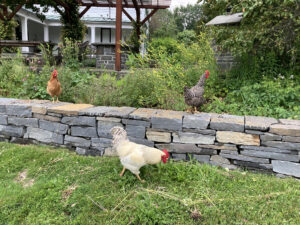 Over the years, the most popular pages on this website have been our farm to table Dining Directories. There are dozens of directories that span the 50 states and Puerto Rico in the U.S. and the ten provinces of Canada as well as directories for Australia, New Zealand, and Mexico. In addition, there are ten directories providing listings for farm to table dining in Europe: in Denmark, England, France, Ireland, Italy, Netherlands, Northern Ireland, Scotland, Sweden and Wales.
But with the start of summer (a remarkable 15 hours and 19 minutes of daylight on the summer solstice in Albany, New York), now's the time to check out our special Dining On The Farm directory that highlights farms and gardens where diners can experience a meal on the farm or in the garden where most or much of the food served is grown and raised. Many of the 79 listings are seasonal and hours of operation should be confirmed.
Three of the 79 listings are in Australia and although this past Wednesday was the first day of winter down under, the websites for each one of the listings in New South Wales, South Australia and Western Australia show they are currently in operation.
Thirty miles from my home in Albany, New York, the Kitchen at Ten Barn Farm in Ghent (Columbia County) in the bucolic Hudson Valley, for the second year, has begun its seasonal operation. Hopefully, for users of this website, you too will find a destination to dine on a farm where the fields that produce the items on the menu are within walking distance to the kitchen.
Ten Barn Farm reflects the importance of small-scale organic farming and the benefits of supporting local economies. Run and owned by farmer Peter Harrington, two acres provide organically grown vegetables, herbs and flowers. A small goat herd is raised for delicious cheeses and meat, and free-range chickens produce a plentiful supply of farm-fresh eggs.
The Kitchen at Ten Barn Farm occupies a portion of the largest barn built in the mid-19th century, full of hand-hewn beams and rafters. Harrington's family provides a very friendly welcome and they take pride in noting that "You will likely never have a meal where the food has traveled a shorter distance to your plate." You can dine in the kitchen, on an outdoor dining deck connected to the kitchen or creekside in the shade of a Black Willow tree.
Mother and son team, Julie and farmer Peter Harrington, have been cooking together for a decade. Their brunch menu for The Kitchen at Ten Barn Farm "changes daily and is always posted on Instagram the night before." They note that "menu items are priced responsibly" and to date no entree for brunch has been more that $14.
On the Saturday of my visit, the menu listed a choice of six Savory entrées, each priced at $14.00: parmesan dressed eggs on sourdough toast; cream cheese scrambled eggs on Japanese milk toast; open-faced herbed chickpea salad sandwich; shakshuka with feta, greens & eggs; savory breakfast farro with eggs; and garlic scape frittata. A savory entree of eggs & greens was priced at $10.00.
The day's menu also included a Sweet entrée, blueberry cream cheese french toast muffins for $9.00. In addition, three Sweets, each priced at $4.00 were available: lemon sugar cookie bar, chocolate chip banana bread and "childhood chocolate chip meringue cookie." The meringue cookie was one of the most delicious cookies ever savored by this baby boomer, and  I concede it surpassed my own "childhood" raspberry jam thumbprint cookies (but not by much, Mom). If the meringue cookie is on the menu when you visit, make sure to bring home a couple.
And just down the country road from Ten Barn Farm is the perfect place to burn off a few calories on the grounds of Art Omi, an art center with a Sculpture and Architecture Park that extends over 120 acres of fields and forest. There are currently more than 60 works by artists and architects on view in the expansive Sculpture and Architecture Park (with pieces added or exchanged each year).
Users of this website know that over the years, when visiting an art museum or a gallery, I am always on the lookout for food-related subject matter created by artists. To my surprise, a hike through Art Omi's Sculpture and Architecture Park uncovered an extraordinary food related sculpture (playful and humorous) that prompted much delight though evoking an oversized tombstone: David Shrigley's Memorial, 2017; Incised granite (17'3″ x 7'7″ x 2'2″). Carved onto a massive granite stone is Shrigley's personal shopping list used in the village of Brighton, England where he resides. The description provided for this piece hits the nail on the head. By glorifying a shopping list Shrigley "plays with the absurdity and significance of monuments." It made this viewer chuckle and smile and then ponder its profundity.
[Kitchen at Ten Barn Farm, 1142 Co. Rte 22 (east of Rt 9H, near Art Omi), Ghent (Columbia County), New York, 908.581.0269, Breakfast & Lunch (seasonal, click on link to confirm operating hours) Fri-Sun 9:00AM-1:00PM]
http://www.tenbarnfarm.com/the-kitchen
(Frank W. Barrie, 6/23/23)