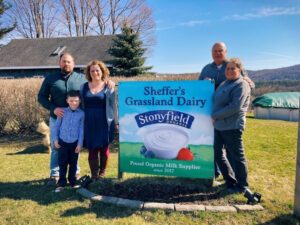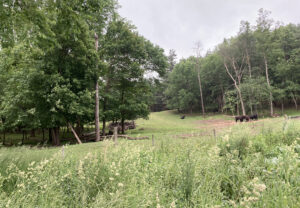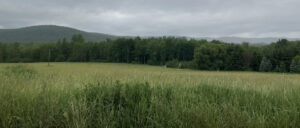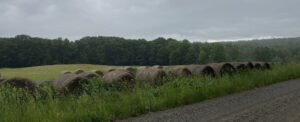 Since 1990 the Agricultural Stewardship Association (ASA) has worked to protect the farms, rich soils and agricultural landscape as well as the forests in Washington and Rensselaer counties in upstate New York's upper Hudson River Valley for future generations. As of last autumn, this farmland conservation and non-profit organization had managed to conserve over 28,000 acres on 158 properties.
In June 2023, some positive news to share (as the smoky air in the Hudson Valley that blew into New York from the wild fires in Quebec and Nova Scotia last week now becomes a bad memory and another wake-up call of an overheating planet): ASA reports that it has to date now managed to conserve 30,200 acres on 165 properties.  Earlier this month, it announced the permanent protection of Sheffer's Grassland Dairy in Rensselaer County, a 420-acre farm located in the rural towns of Hoosick and Pittstown.
Funding for this conservation project was provided through the State Farmland Protection Implementation Program, administered by the New York State Department of Agriculture and Markets.
Eric Sheffer has been operating the dairy farm in bucolic Rensselaer County with his father Wally since 2008. Eric is the 6th generation farmer on the property, which has been in agriculture since 1774.
Sheffer's Grassland Dairy has become a widely respected grazing dairy farm and has been featured in many publications including  Country Folks and several local Cornell Cooperative Extension publications.
Both Eric and Wally Sheffer have spoken at numerous conferences and grazing meetings including at the National Grazing Land Coalition conference. Eric also currently sits on the board of the National Dairy Grazing Apprenticeship, a non-profit organization that partners with established dairy farmers and professionals to develop work-based training in grazing dairy operations.
At the announcement of the permanent protection of the Sheffer family farm, Linda Garrett, Director of the New York Region at American Farmland Trust, pointed out out that in addition to benefiting the Sheffer family, farmland protection benefits "all of New York State and all of New York's residents." Her reasoning merits spotlighting. Conserving farmland improves "our air and water quality, our soils, providing bountiful local food, helping to mitigate climate change and also contributing to a strong local economy and a rural community."
The conservation of Sheffer's Grassland Dairy 420 acres of grassland may seem a small step but it's a part of a bigger movement rooted in the work and advocacy of American Farmland Trust. This praiseworthy organization recently spotlighted the alarming news that America's farmland is disappearing at the rate of three acres every single minute in its report, Farms Under Threat.
In response, American Farmland Trust continues to lead a growing movement that has protected in perpetuity over 6.8 million acres of farmland and ranchland using agricultural conservation easements, like the type utilized by ASA to conserve Sheffer's Grassland Dairy." Bravo!
(Frank W. Barrie, 6/15/23)