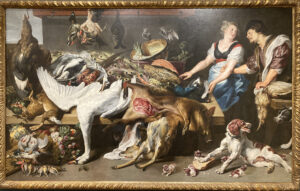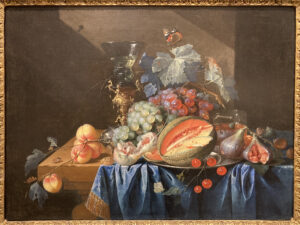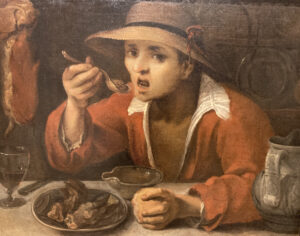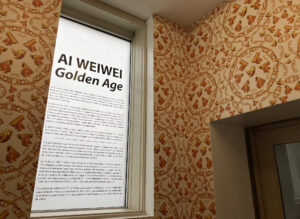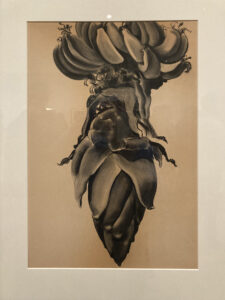 If you search this website for the words Art and Appetite, reviews of various art exhibits will be returned and notably Art and Appetite, American Painting, Culture, And Cuisine (4/9/2014) that was nearly ten years in the making by the curators at the Art Institute of Chicago and included paintings on loan from more than 25 collections throughout the United States.
This particular exhibit confirmed that looking for realistic and artistic depictions of the food and drink we omnivores consume could be a visually stimulating and educational undertaking. For example, the oldest painting included in "Art and Appetite" was John Greenwood's "Sea Captains Carousing in Surinam" dating from before the American Revolution (1752) on loan from the Saint Louis Art Museum.  Greenwood vividly depicted drunken Rhode Island sea captains involved in the notorious triangular trade between New England, West Africa and the tropical Caribbean. Much to see and learn from this painting and the moment in time it captured.
Over the years, this museum-goer has developed sensitive antennae attuned for artwork inspired by food when wandering museums and art galleries. We've posted reviews of artwork inspired by food by many artists including the recently rediscovered woman artist, Michaelina Wautier (1604-1689); surrealist artists, Salvador Dali, René Matritte & Others; Norwegian artist, Nikolai Astrup (1880-1928); contemporary American realist painter, Elizabeth Downer Riker; visionary history painter, L.F. Tantillo; British landscape artists, Joseph Mallord William Turner (1775-1851) and John Constable (1776-1837); and others!
On a recent visit to Allentown (Lehigh County) in eastern Pennsylvania, the Allentown Art Museum and its Samuel H. Kress Collection was an unexpected discovery of extraordinary art inspired by food.
Albeit not artwork inspired by food, the entry way into the Allentown Art Museum stopped this visitor in his tracks. Chinese artist Ai Weiwei's "Golden Age" wallpaper (2015), which uses a design featuring handcuffs, surveillance cameras and Twitter birds, covers the walls. Ai Weiwei (b. 1957) bravely raises many questions concerning repression and challenges to freedom in our digital age with his stunning artwork.
Samuel H. Kress (1863-1955) was a major collector of Renaissance and Baroque art whose donation of more than fifty objects formed the core of the Allentown Art Museum's collection since the early 1960s. In addition to his donation of Rembrandt's Portrait of a Young Woman (1632) are several stunningly vivid depictions of food. These paintings inspired by food we omnivores consume are four centuries old and yet still say much about us humans.
A museum goer could easily spend a half hour studying the remarkable details in the depiction of a market "game stall" in the painting, Larder with a Servant, a Cook, a Spaniel and her Pups by Frans Snyders (1579-1657). This huge painting is the largest work in the Kress Collection at the museum and is a vivid example of paintings of market stalls.
According to this painting's informative label, paintings of market stalls were made to decorate the mansions of court officials who governed the Low Countries (Flanders, Belgium, Holland, Luxembourg and nearby areas during the 16th-17th centuries). Such artworks were not placed in dining rooms, but outside audience chambers, where petitioners waited before seeing officials. The reason why: "At a time when poverty and hunger were common, market scenes advertised prosperity and the availability of meat and poultry in the official's domains."
The label suggests that the well-fed woman in the painting may be the vendor of the stall. She displays the abundance of the meat stall to a hunter who has opened his sack to show the game he hopes to sell.
Painter Cornelis de Heem's "Still Life With Fruit" (1655/57) depicts a lavish arrangement of ripe melon, grapes, figs, peaches, nuts and a close viewing reveals a variety of insects on the ripe fruit. The painting's label suggests that "Perhaps the message the artist intended to convey is moralizing and cautionary: the things of this earth will pass to over-ripeness and ultimately decay." The minutely detailed butterfly at the top of the painting, like most butterflies, would live for only a few weeks!
A painting from the School of Annibale Carracci (1560-1609), "Bean Eater," depicts a man wearing a worn coat and his humble meal of beans, pigs feet, bread and wine. The painting's label suggests that the setting is a tavern, with a "hanging slab of meat and a sideboard with plates."
One of the most crowd-pleasing art exhibits in the Big Apple at the moment, Georgia O'Keeffe: To See Takes Time  at the Museum of Modern Art in Manhattan (through 8/12/23), is a show of about 120 works on paper and eight paintings from 1915 to 1964. In the review of this O'Keeffe exhibit, For Georgia O'Keeffe, a History of Repeating (4/28/23) in the New York Times, the art critic, Roberta Smith describes the images in the show concisely: "landscapes, flowers, West Texas canyons, portraits, female nudes, evening stars." Nonetheless, this museum-goer, attuned for artwork inspired by food, was mesmerized by three charcoal drawings depicting the gradual flowering of a massive banana flower. One of these enthralling images clearly reveals the familiar banana fruit, stopping this museum-goer in his tracks.
[Allentown Art Museum, 31 North 5th Street, Allentown, PA, (610.432.4333); Hours: Thurs-Sun 11:00AM-4:00PM, (Free parking in lot next to the Museum on Fifth & Linden Streets)]
(Frank W. Barrie, 6/1/23)