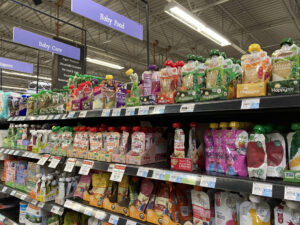 A recent "Ask Well" column in the New York Times this past week addressed a question from a reader who "eats very dark chocolate every day-including during her pregnancy and breastfeeding" on how much should she worry. The response from Alice Callahan, the New York Times columnist, will very likely alter the behavior of this mother.
Callahan responded, citing the advice of Melissa Melough, an assistant professor of behavioral health and nutrition at the University of Delaware. According to Prof. Melough, "Because of the greater risk of harm from heavy metals during early stages of human development, those who are pregnant or breastfeeding should consider eating dark chocolate only once or twice a week (emphasis added)." The professor added, "The same goes for children."
Early at the start of the new year, we shared the sad news that Consumer Reports recently tested 28 brands of chocolate for unhealthy levels of lead and cadmium and issued a safety alert. More recently, in noting that chocolate gifts are still a sweet way to celebrate Valentine's Day, we suggested that nonetheless the "daily consumption of 1 ounce or so of dark chocolate can be considered reasonable."
Columnist Callahan's latest "Ask Well" column now fine-tunes the question concerning how much dark chocolate is safely consumed, especially for mothers breastfeeding and for young children. Further complicating the issue is the recent announcement by the U.S. Food and Drug Administration (FDA) of its "new plan" to keep high levels of lead out of baby foods.
Why is there worrisome levels of lead in dark chocolate? In our earlier post, we cited the Expert Investigation Related to Cocoa and Chocolate Products: Final Report of 381 pages dated March 28, 2022 which was prepared in order to avoid "prolonged and costly litigation" resulting from California's implementation of  Proposition 65 (known as the Safe Drinking Water and Toxic Enforcement Act of 1986) with regard to lead and cadmium levels in chocolate.
According to this investigation, the most significant source of lead in cocoa beans occurs "post- harvest." This includes fermentation and drying of harvested beans both on-farm and off-farm. Scientific literature demonstrates that cocoa beans on the tree contain very low concentrations of lead.
According to these experts, the "most likely source of 'post-harvest' lead contamination is believed to be from the outdoor fermentation and drying of beans." Fermentation has been observed to occur in bags, covered piles, and wooden boxes exposed to exterior elements. Outdoor drying has been observed being performed along roadsides, on concrete patios, on drying tables, on plastic tarps, and in direct contact with the ground.
Soil and dust containing lead from anthropogenic or "human activities" is believed to come into contact with the cocoa bean shell, and they serve as the primary source of lead to the cocoa bean.
The answer is very similar for why there is lead in baby food. Reporter Christina Jewett in her article in the New York Times, How Do Heavy Metals Like Lead Get in Baby Food?, in a Q and A provides helpful information. And the answer can be summed up bluntly: "The problem begins at the farm where plants draw toxins from the soil. There's no washing them away."
A couple years ago, we noted in an earlier post that a Congressional investigation prompted the FDA to act on the pervasive problem of toxic heavy metals in baby food. It is good to see that the FDA has now acted to further the important goal to ensure the safety of baby food.
As Christina Jewett writes in her Q and A: "Infant and toddlers grow rapidly, developing key body systems and laying the foundation for lifelong cardiovascular, immune and brain health. Because they are far smaller than adults, a small dose of any toxin can be harmful."
Further, we've noted in the past that parents can respond to this concern of lead in their babies' food, by making sure to "rotate your baby's food" to avoid consuming an excess of any one food. And in an earlier post, we noted that oatmeal infant cereal, instead of infant rice cereal, is recommended by Healthy Babies Bright Futures, And for homemade oatmeal infant cereal, Weelicious offers an easy recipe. This remains very good advice.
We're please that the FDA has shared with the public the results of its sampling of a range of baby foods. Lead concentrations varied among food categories for babies and young children.
Fruits and mixtures had low lead levels, with means of 1.0 parts per billion (ppb) and 3.0 ppb and 90th-95th percentiles of 2.4-3.7 ppb and 6.8-11.1 ppb, respectively. Yogurts, custards/puddings, and single-ingredient meats also had low lead levels, with a mean of 0.9 ppb and 90th-95th percentiles of 1.7-2.3 ppb.
Vegetables had a mean lead level of 5.6 ppb and 90th-95th percentiles of 16.0-20.5 ppb. When single-ingredient root vegetables were placed in a separate category, the vegetables category had a lower mean and lower 90th-95th percentiles of 2.3 ppb and 6.6-10.2 ppb, respectively. Root vegetables had a mean of 8.5 ppb and 90th-95th percentiles of 20.2-25.7 ppb (Table 2, italics). (The FDA guidance to the baby food industry notes that root vegetables can absorb lead more readily from the soil than other crops, which would explain their higher level for lead in the sampling investigated.)
Dry infant cereals had higher lead concentrations than fruits, vegetables, mixtures, yogurts, custards/puddings, and single-ingredient meats, with a mean of 8.3 and 90th-95th percentiles of 20.1-23.0 ppb. The FDC's sampling of dry infant cereals confirms that it is especially important to rotate the dry infant cereals a parent feeds their baby and young children.
The "Guidance For Industry on Action Levels for Lead in Baby Food" issued by the FDA is not as blunt as reporter Christina Jewitt's in her statement that there's no washing the toxic heavy metals in baby food away. The FDA's Guidance instead, in explaining where lead in baby food comes from, citing "studies" suggests that manufacturers of baby food in processing fruits and vegetables should "thoroughly wash" fruits and vegetables:
"Potential sources of lead in food include contaminated soil where crops are grown, contaminated water, atmospheric deposition from industrial activities, and old lead-containing equipment used to process food. As a result of the first three sources, agricultural crops (e.g., root vegetables) can take up lead from contaminated soil and contaminated soil may be deposited on plant surfaces (e.g., leafy vegetables and cereal grains). Studies suggest that manufacturers may be able to reduce lead levels in food by using practices such as thoroughly peeling root vegetables and thoroughly washing fruits and vegetables, particularly leafy vegetables."
Homemakers able to prepare their own homemade baby food are in an enviable position if they have easy and economical access to organic fruits and vegetables. It's excellent advice to connect up with a local farm and know how your farmers grow their food and if they are committed to "protecting, preserving and restoring" their farm's soil. Now's a good time to sign up for a CSA farm share especially if there are young ones in the household!
(Frank W. Barrie, 2/25/23)