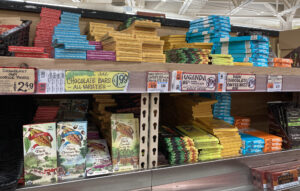 We recently spotlighted the "powerful phytochemicals" in cocoa beans, noting in particular that the raw cacao powder from Bonao Cacao available at this chocolate lover's hometown food co-op, the Honest Weight in Albany, New York is "rich in antioxidants" 40 times that in blueberries.
And we take pride that our chocolate directory has grown, over the past ten years, to include 30 listings throughout the United States and Canada of chocolate makers who offer fair trade and organic chocolate, in stark contrast to industrial chocolate "entrenched in enslaved child labor, irresponsible corporate greed, and tasteless, synthetic products," in the words of filmmaker Kum-Kum Bhavnani (whose documentary, Nothing Like Chocolate, a Journey to the Heart of Chocolate, we've praised).
Our listings are nearly all small-scale artisanal chocolate makers, though recently added to the directory (an exception to our usual practice) is Dr. Bronner's Magic All-One Chocolate. Why this exception? It's not mere "marketing" by this Certified B Corporation which is committed to constructive capitalism and "business as a force for good."
Dr. Bronner's backs up its marketing motto of "Good For Farmers, The Planet & You" by specifying that its sister company in Ghana, Serendipalm, uses Regenerative Organic Certified farming practices that simultaneously improve the health of the soil and the livelihoods of communities and that the farmers who grow and harvest the cocoa beans "are paid a fair price for their hard work."
Given our love of chocolate and our support of chocolate makers who treat labor with dignity and are also focused on the quality of their chocolate, it's no surprise that a Safety Alert for Dark Chocolate noted on the cover of the February 2023 issue of Consumer Reports caught the immediate and astounded attention of this chocolate lover.
The eight page article by science journalist Kevin Loria, The Surprising Problem With Dark Chocolate, in the latest issue of Consumer Reports magazine demanded a careful reading. Loria writes that Consumer Reports tested dark chocolate bars and found worrisome levels of dangerous heavy metals in the majority of them.
Twenty-eight brands were tested including smaller ones such as Alter Eco and Mast, and more familiar ones, like Dove and Ghirardelli. To determine the risk posed by the chocolates in CR's testing, California's maximum allowable dose level (MADL) for lead (0.5 micrograms) and cadmium (4.1mcg) per one ounce of chocolate were used. (Most chocolate bars range from 1.5 ounces to 3.5 ounces. For example, Dr. Bronner's Magic All-One Chocolate Bars weigh 3 ounces.)
Loria in his article notes that California's limitations are the most protective available. In contrast, as noted in a story on National Public Radio's website by Ashley Ahn, Dark chocolate might have health perks, but should you worry about lead in your bar? (12/17/22), the U.S. Food and Drug Administration (FDA) "offers more flexible recommendations for daily lead intake at 2.2 microgams for children and 8.8 micrograms for women of childbearing age."
The Consumer Reports article lists five dark chocolates high in both lead and cadmium, ten dark chocolates high in lead, and eight high in cadmium, a total of 23 dark chocolate brands that should be avoided based upon Consumer Reports testing. On the other hand, five bars were noted as "safer choices." They had "the lowest levels of both lead and cadmium" in the testing. Nonetheless it's astounding that these "safer choices" in Loria's words, "come close to the daily limits" Consumer Reports used in its testing. And depressingly, he notes that Consumer Reports experts "recommend eating dark chocolate occasionally, not every day." YIKES!
The five dark chocolates high in both lead and cadmium caught the attention of lawyers with little delay, and by early January (though Loria's article is in the February 2023 issue of Consumer Reports) filed Federal class action lawsuits against Trader Joe's. (The article apparently was available on-line sooner than the February print issue of the magazine.)
Is litigation the best approach to address this sad situation? The story in Consumer Reports was a surprise for this chocolate lover and a wake-up call. But class action lawsuits singling out Trader Joe's will likely enrich lawyers but is litigation the best way forward? Do these lawyers have any evidence that Trader Joe's was aware that its chocolate was "unsafe" for consumers? Did they hide this information? I suspect the lawyers will be on a fishing expedition, taking up much time and at great expense as they commence adversarial litigation at the drop of a hat in order to be the first to court.
According to an article in the Washington Post, Trader Joe's Sued Over Claims Chocolate Has Unsafe Lead, Cadmium Levels (1/6/23) by Emily Heil and Kim Bellware, Trader Joe's has not yet responded to the newspaper's request for comment about the lawsuits.
A careful review of the testing results noted in Loria's Consumer Reports article shows that the lead level of Trader Joe's Dark Chocolate Lover's Chocolate 85% Cacao chocolate was less than the lead levels of chocolate tested  of Theo, Lily's, Green & Black's, Tony's, Godiva, Chocolove, Lindt, Endangered Species, Hu, Hershey's. And the cadmium level was less than that of Pascha. A second Trader Joe's chocolate tested, Dark Chocolate 72% Cacao was less than the lead levels of chocolate tested of Hu, Chocolove and Hershey's, and the cadmium level of this Trader Joe's chocolate was less than 18 of the 23 total chocolate tested!
Why sue Trader Joe's in particular? Is it cynical to suggest that Trader Joe's has what lawyers term "a deep pocket?"
Moreover, the Expert Investigation Related to Cocoa and Chocolate Products: Final Report of 381 pages dated March 28, 2022 which was prepared in order to avoid "prolonged and costly litigation" resulting from California's implementation of  Proposition 65 (known as the Safe Drinking Water and Toxic Enforcement Act of 1986) with regard to lead and cadmium levels in chocolate provides a path forward with recommendations for "warning trigger levels" on chocolate products as well as detailed recommendations for reducing the levels of lead and cadmium in chocolate products. We chocolate lovers should be prepared to see "warning" notices on chocolate bars!
(Frank W. Barrie, 1/12/23)