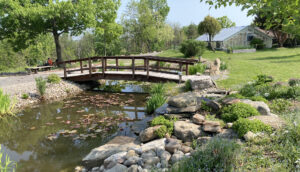 Membership in the American Horticultural Society (AHS) is more than merely appealing during this summer of heat domes (the low temperature in Phoenix, Arizona a couple days ago was 95 degrees), tornadoes at unexpected times and places, and devastating flooding.
A compelling reason is that for $35.00, the cost of a National Membership in the AHS, member benefits include free access to more than 330 public gardens and arboreta in 48 states, Canada, the Cayman Islands, and the US Virgin Islands. Seeking out reminders of Mother Nature's beauty seems more important than ever.
In addition, member benefits include a subscription to the organization's magazine, The American Gardener, and the knowledge is priceless that as a member you are supporting the vision of AHS to make America a nation of gardeners and a land of gardens.
Late spring, this member of AHS took a close look at the list of gardens, not far from home in upstate New York, included in AHS's Reciprocal Admissions Program (RAP). The AHS website makes it very easy and simple to find a garden that is part of its RAP by either clicking on a specific location included in a long list of states, Canadian provinces and some U.S. territories or by clicking on a state or province shown on the RAP map.
Clicking on New York State on the RAP map revealed a list of 23 Gardens in New York, ranging from Buffalo in the western part of New York State to the eastern end of Long Island, including well-known public gardens like the great metropolis's New York Botanical Garden in the Bronx and the Brooklyn Botanic Garden to the lesser known, like Constable Hall -Jewel of the North Country in Constableville (Lewis County), New York which happens to be "among the oldest in the Northeast" and has been continuously gardened since about 1820!
Looking over the New York list, day trips were made to a familiar destination, the Landis Arboretum not far from home in Albany (which has been a wonderful place for a hike over the years), as well as a first-time visit to Wethersfield Estate & Garden, very much off the beaten path in Amenia in the bucolic countryside of Dutchess County.
And although nature's beauty was seen and enjoyed, there were also reminders of the environmental challenges of our 21st century Anthropocene geologic epoch, representing the age in which "human activities have induced shifts in the state and functioning of the Earth system that threaten environmental, social, and economic crises on global to local scales" in the words of the Anthropocene Working Group, an interdisciplinary network of researchers at the University of South Florida, who conduct collaborative research, teaching, and outreach on the Anthropocene.
On a positive note, this local food advocate was also pleased to observe on the recent visit to the Landis Arboretum, its honey producing bee hives and at the Wethersfield Estate & Garden, its apple orchard!
On arriving at the Landis Arboretum, at the shed near the parking area, a Trail Map & Guide was available that describes a half dozen trails including a Woodland Trail (.82 mile) and an Ancient Forest Trail (1.2 miles), which was especially appealing for its shade on an unusually hot late spring day.
On the Ancient Forest trail, a hiker can observe the Landis Arboretum's signature tree, The Great Oak, estimated to be 400-500 years old. Looking up at its towering heights was awesome. This ancient white oak is on a point overlooking the historic Schoharie Valley's picturesque agricultural landscape. "Big Red," a large red oak near The Great Oak is estimated at 250 years or more in age.
A brochure also available, Notable Trees At The Landis Arboretum, describes its Old Growth Forest, as a living history of this area of upstate New York. The two old growth tracts contain maple, beech, hemlock and birch that are 150 years old. Some have been alive "since before the American Revolution." And The Great Oak is one of several old-growth oaks in the Old Growth Forest, and the informative brochure notes that the American Public Gardens Association has named the Landis Arboretum the official collector of oaks of the Northeast. Long lived trees, oaks can live up to 500 years.
Landis Arboretum takes pride that it is one of only three arboreta in eastern North America that have old growth forests, and its unique tract "is accessible by trail."
Seventy miles or so southeast of Albany, New York in Amenia (Dutchess County), NY is Wethersfield Garden, open to the public, but the House and Carriage House are open to the public only by appointment and reservation.
Wethersfield estate and garden is situated in the so-called "horse country" of Dutchess County, reflected by its available "Equestrian Memberships" that "include unlimited use of the estate trails for the calendar year, when grounds are open to the public."
Wethersfield Garden's three-acre formal garden was created by Chauncey D. Stillman (1907-1989) in the "classical style, after the Italian villas of the 17th century." Blending the formal garden with the native landscape, it is rich with views over the bucolic countryside, statues, and colorful flowers including in late spring, a remarkable display of foxgloves and a lupine-columbine bed in an area of perennials.
Statues include a "Cupid-on-dolphin" limestone statue by R. Lavaggi; a bronze "Naiad" by Carl Milles; a pair of bronze "pan pipers"  and a pair of limestone horses by Jean de Marco; a pair of marble putti and a marble "Madonna"created by Jozef Stachura; a brownstone female figure "Rondo" as well as a pair of limestone fawns by John Flanagan.
But sadly, the environmental challenges of the 21st century are also on view at Wethersfield Garden. The garden's unique landscape architectural feature, the "Pleached European Beech Tunnel," has succumbed to the Ambrosia beetle, which burrows undetected into the tree, leaving a fungus choking the collective vascular system. Over the years, the individual beech planting had fused to become one as fist-like gnarled bark grew over the metal framework. Last year, a "Hornbeam Tunnel" was planted with the hope that this native tree will be more resistant to disease. Similarly, columnar weeping beech trees have been ravaged by the Ambrosia beetle.
A sign explaining this challenge does sound a hopeful note of ever onward:
Endemic tree blights, diseases, pests, and fungi threaten botanical life. As climate change rapidly escalates to create collateral damage in biodiversity- we see challenge as opportunity, based on demonstrated experience.
(Frank W. Barrie, 7/15/23)