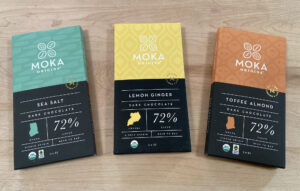 Last month we sadly shared the news that Consumer Reports recently tested 28 brands of chocolate for unhealthy levels of lead and cadmium, and in its February 2023  issue of its magazine spotlighted a "Safety Alert" on consuming dark chocolate.
We have always whole-heartedly agreed that chocolate is a modern "must-have for humans" which the indigenous inhabitants of Mexico have long recognized. In my well-thumbed copy of Edible An Illustrated Guide to the World's Food Plants (Washington, D.C.: National Geographic Society, 2008), it's noted that the Aztec emperor Moctezuma is said to have quaffed gallons of a bitter stimulating brew made with the cocoa beans "daily in his palace." And when Spaniard Hernán Cortés first reached Mexico in 1519, "it is said that the local inhabitants brought him some 'odd-looking almonds,' which they seemed to use for currency." He soon understood "that these odd beans, called xocolatl, were cocoa beans and had been cultivated by the local inhabitants for millennia."
Cocoa, extracted from the beans of the cocoa tree, is the basic ingredient in the production of chocolate, and the article on Cocoa in Edible notes that the taste of chocolate "has fueled the palates and imaginations of centuries of people around the world, living up to its name 'elixir of the gods'."
Moreover, in the 21st century, cocoa beans have earned recognition for their richness in antioxidants 40 times that in blueberries. Consumer Reports in issuing its Safety Alert on consuming chocolate recommended "eating dark chocolate occasionally, not every day." The question becomes "how much?"
Our post last month noted that Consumer Reports in testing the 28 brands of chocolate for unhealthy levels of lead and cadmium relied upon California's maximum allowable dose level (MADL) for lead (0.5 micrograms) and cadmium (4.1mcg) per one ounce of chocolate were used. (Most chocolate bars range from 1.5 ounces to 3.5 ounces.) But we also noted that in a story on National Public Radio's website by Ashley Ahn, Dark chocolate might have health perks, but should you worry about lead in your bar? (12/17/22), the U.S. Food and Drug Administration (FDA) "offers more flexible recommendations for daily lead intake at 2.2 micrograms for children and 8.8 micrograms for women of childbearing age." The FDA's recommendation for daily lead intake for children at 2.2 micrograms is more that four times greater than California's maximum allowable dose level for lead of .5 micrograms. It would seem reasonable to conclude that daily consumption of 1 ounce or so of dark chocolate can be considered reasonable!
We recently added MOKA Origins to our chocolate directory, which now includes 31 listings throughout the United States and Canada of chocolate makers who offer fair trade and organic chocolate. MOKA Origins single origin, bean to bar 72% Cacao "Sea Salt Dark Chocolate" may well be the most delicious and satisfying bar of chocolate this consumer has enjoyed. And less than one ounce of this 2.4 oz bar satisfied the palate.
The packaging of this MOKA Origins 2.4 oz bar was full of extraordinary details. Ingredients clearly stated: "Organic cocoa beans, organic cane sugar, organic cocoa butter, Kosher flake sea salt." And it is noted that the bar was "Fair Trade Certified" by Fair Trade USA with "Over 67% Fair Trade Certified ingredients.
Of interest too are the "Nutrition Facts" for one serving, described as 1/4 bar (or .6 ounce). Of special note is the 20mg of sodium or 1% DV (daily value). That's good news!
Moreover, information on where the MOKA Origins chocolate comes from for this particular bar is described in great detail: An Organic and Fair Trade certified cooperative, ABOCFA, in Suhum, Ghana (in the Eastern Region of South Ghana, West Africa), which maintains "complete traceability for its cacao and their 924 organic farmers, 23% women."
Bottom line: this Valentine's Day, think "Chocolate Gifts" but do so with some caution. And search our Chocolate directory for the best chocolate, in our humble opinion, to gift to a loved one.
(Frank W. Barrie, 2/3/23)