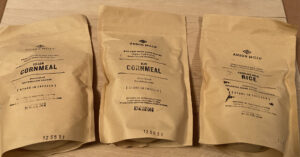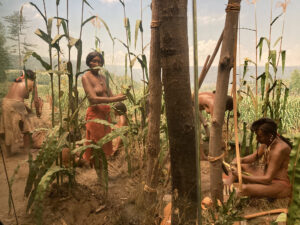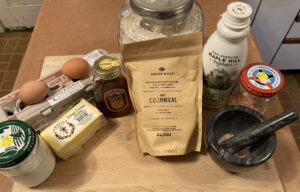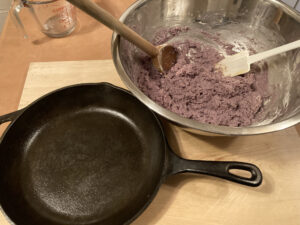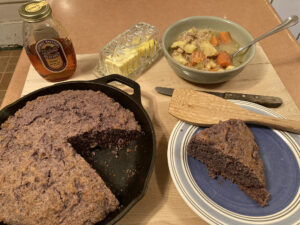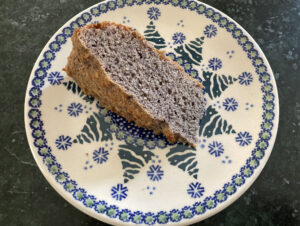 A recipe on Anson Mills' website inspired the making of delectable dumplings made with cornmeal back in early December. The cornmeal used however was not from Anson Mills. To make amends, it seemed only fair to place an order for some of this remarkable company's products.
Anson Mills is one of the 3 dozen family-scale growers/millers (not part of the the commodity grain trade) included in our directory of Grains & Flours. Based in South Carolina, this American  grower/miller is truly remarkable: its products include "a full complement of heirloom grains adopted by Antebellum rice families" with an ambitious goal of restarting "the Carolina Rice Kitchen cuisine itself." One of its products, Sea Island white flint corn grits, was recognized by Slow Food USA as an Ark of Taste ingredient.
This home cook decided to order a few products from Anson Mills: (1) Yellow Cornmeal from fresh, native stone-ground organic sweet Carolina corn; (2) Carolina Gold Rice, an organic white, sweet and field-ripened heirloom new crop; (3) organic whole grain Wheat Flour, described as a fresh, native stone-ground; and (4) Blue Cornmeal from fresh stone-ground organic field ripened sweet colonial heirloom corn.
With a big pot of homemade chicken soup, with root vegetables from a winter farm share and garbanzo beans warming up on the stove, it was an easy decision to try my hand at using the blue cornmeal from Anson Mills to make blue skillet cornbread to accompany a bowl of soup.
Why blue cornmeal? An article by Ben Fisher on the website Mashed, The Real Reason You Should Be Eating Blue Corn, notes the history and health benefits of blue corn. Blue corn was essential in the rituals of the Hopi Native American people of the southwest of the U.S. and northern Mexico, who developed this "flour corn." Further, it contains anthocyanins, which have antioxidants and anti-inflammatory properties.
Searching for a recipe on-line, Cooking With Carlee's Blue Skillet Cornbread looked just right. Described as perfect with chili, ham and bean soup, or butter and honey, it was also a great choice to go along with a bowl of chicken soup full of farm share carrots and potatoes as well as garbanzo beans (chick peas). Cooking With Carlee's recipe also estimated prep time as only 5 minutes, with cook time from 22 to 28 minutes which made it also easy and appealing.
Cooking With Carlee's recipe uses 1/3 cup sugar and 1 cup buttermilk. I prefer to avoid using sugar and decided to substitute a local honey. And instead of 1 cup buttermilk or regular milk, I used cultured kefir milk from a local dairy.
When substituting honey for sugar, it's recommended that for every 1 cup of sugar, only use 1/2 to 2/3 cup of honey, and subtract 1/4 cup of other liquids. (A "kitchen tip" from the website thekitchn.com.)
The list of ingredients below have been adjusted to take into consideration the changes this home cook made to Cooking With Carlee's recipe. Since I used only 1/4 cup of honey I decided not to decrease the amount of milk used in Cooking With Carlee's recipe. I also decided to cook for 25 minutes which turned out to be just right.
Skillet Blue Cornbread
Ingredients
1 cup buttermilk or milk (this home cook uses cultured kefir milk)
1/4 cup butter (4 tablespoons or half a stick), melted
2 eggs
1 1/4 cup blue cornmeal
1 cup flour
1/4 cup local honey
1 tbsp baking powder
1/2 tsp salt
1. Preheat oven to 400°F.
2. Stir together milk, melted butter, and eggs until combined.
3. Stir in cornmeal, honey, baking powder and salt until uniform.
4. Gently stir in flour until just combined (o.k. if a little lumpy).
5, Pour & spread batter into skillet.
6. Bake for 25 minutes, so that it is cooked through.
(Frank W. Barrie, 1/14/22)