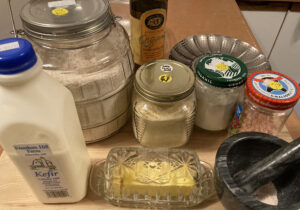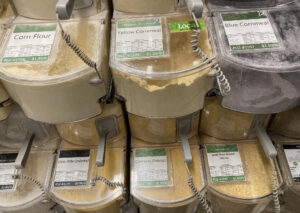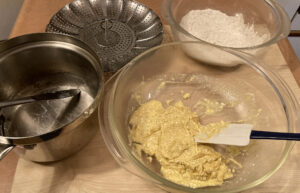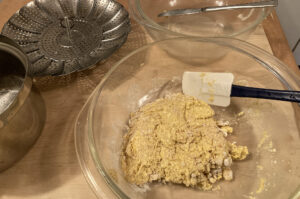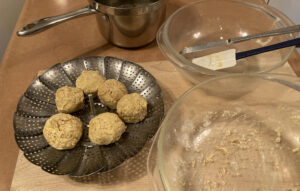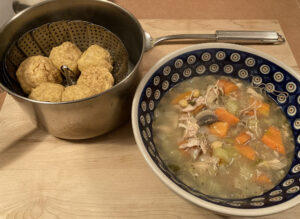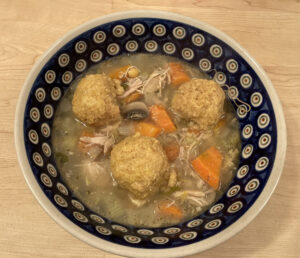 My local food co-op, the Honest Weight Food Co-op in Albany, NY, is a wonderful source for a fresh and local, pasture-raised turkey which can be ordered a few weeks before the holiday celebration.  For the past few years, this home cook has pre-ordered a fresh turkey from Hidden Camp Farm, and the Thanksgiving Day feast evolves into delicious meals for days after. Eventually, I like to cook down what's left of the turkey into a turkey soup full of veggies and beans.
It was perfect timing to receive an email with some recipes from Anson Mills while the turkey soup was simmering on the stove. Included in the recipes was one for  Collard Greens With Cornmeal Dumplings.
The reference to dumplings caught my eye. Instead of rice or egg noodles or potatoes or quinoa or some other grain, the light bulb went off. A bowl of turkey soup, topped with corn meal dumplings, described in the recipe as especially light if prepared by "steaming," as well as "buttery and rich in cornmeal flavor and lingeringly sweet" persuaded me to give it a try.
Anson Mills pointed out that at first, their own cornmeal dumplings proved no exception to the bad dumpling rule noting that "given a traditional simmer-in-the-potlikker cooking, they rose poorly and wore a gooey coat when we fished them out." They explained further: "The only part of the dumplings that cooked well, it seemed, were the parts that were 'above water.' Indeed, it was these parts that prompted us to steam the dumplings separately in a perforated insert set over boiling water. A more dramatic transformation could not be imagined. When we lifted the lid on the first batch of steamed dumplings, they appeared reborn: plump and light, dry on the outside, moist on the inside, and finely textured."
This time around, I would follow the Anson Mills recipe to prepare the dumplings only. When my farm share includes collard greens or some other greens like kale or chard, the other part of the recipe should come in handy too.
Anson Mills is one of the 36 "growers/millers of organic and artisanal grains and flours, not part of the commodity grain trade," included in our Directory of Grains & Flours. An extraordinary grower and miller of Carolina Gold rice, its products include "a full complement of heirloom grains adopted by Antebellum rice families" with an ambitious goal of restarting "the Carolina Rice Kitchen cuisine itself."
The dozens of products in addition to Anson Mills' traditional Carolina rice, include grits and hominy corn, five types of corn meal, 3 types of polenta, bread and pasta wheat flours, oats, buckwheat, farro, Southern peas and beans, benne, and even gluten-free flour. Its list of Retail Products is evidence of the tireless efforts of its founder, Glenn Roberts, to create a regional cuisine.
Anson Mills also includes a tab on its website for Recipes which it has spent "hundreds of hours developing." In a "Word About Our Recipes- And Our Products," the special qualities of its products and recipes are emphasized. And it is noted that its products may "look like their grocery store counterparts, but they don't cook like them!"
With the turkey soup simmering on the stove, this home cook admits to utilizing the wonderful Anson Mills dumpling recipe, with no time to order its recommended coarse yellow corn meal, one of its five types of cornmeal (coarse white, coarse yellow, fine white, fine yellow and native fine blue). And Anson Mills also sells three artisan handmade polentas also milled from its corn (fine white, fine yellow, coarse rustic polenta integrale). But with a recent order placed with Anson Mills, next time I prepare these delicious dumplings, I plan to use their own coarse yellow corn meal.
I also do not have whole milk in my fridge, and substituted cultured kefir milk for the recommended whole milk. In addition, I do not like to use vegetable spray and instead used a tablespoon or so of organic sunflower oil to coat the steamer utensil. And instead of making 12 dumplings, I halved the ingredients noted below and made only six dumplings.
Corn Meal Dumplings (makes 12 dumplings)
Ingredients
1 tablespoon of vegetable oil to coat steamer
6 ounces (1¼ cups) Coarse yellow cornmeal
2.5 ounces (½ cup) unbleached all-purpose flour
2 teaspoons baking powder
1 cup kefir milk
2 ounces (4 tablespoons) unsalted butter, cut into 4 pieces
1 teaspoon fine sea salt
Fill a small pot or large saucepan with a tight-fitting lid (one that accommodates a steamer insert or collapsible steamer basket) with 1 to 2 inches of water, making sure that the bottom of the steamer is not submerged. Cover the saucepan and set it on a burner, but do not turn on the heat.
Instead of spraying vegetable oil spray on the collapsible steamer, I rubbed it down with organic sunflower seed oil. Then set aside the steamer basket.
Turn the cornmeal into a medium mixing bowl.
Turn the all-purpose flour (or pastry flour) and baking powder into a small bowl and stir to combine.
Combine the milk, butter and salt in a small sauce pan and bring to a boil over high heat. As soon as the butter has melted, pour the boiling mixture over the cornmeal and stir with a rubber spatula to moisten. Let the mixture cool for five minutes.
Bring the water in the small pot (or large saucepan) with a tight-fitting lid to a boil over high heat. Gently fold the all-purpose flour (or pastry flour) mixture into the cornmeal mush with a rubber spatula. Do not overwork.
With moistened hands, lightly shape the dough into golf ball-sized dumplings, rolling the dough between your palms, and place them one by on in the steamer basket. (I used half the ingredients specified above and formed 6 dumplings.)
Uncover the small pot (or large saucepan) and carefully lower the steamer basket over the boiling water. Immediately replace the lid and lower the heat to medium-high.
Steam the dumplings, without peeking, for 15 minutes.
Voila: the dumplings should be puffy, slightly shiny, and firm to the touch. If stuck together, they'll separate easily. Delicious!
(Frank W. Barrie, 12/9/21)