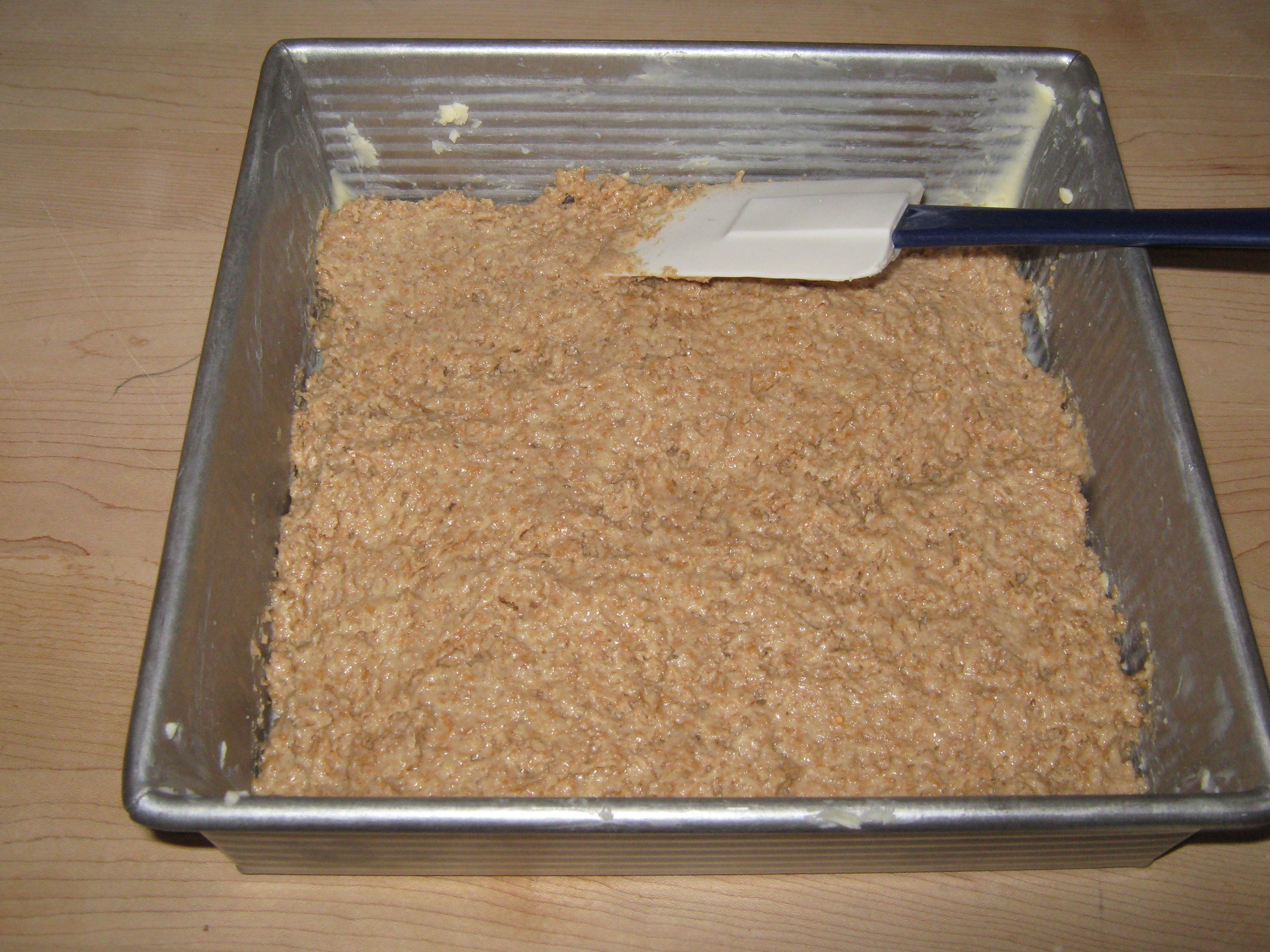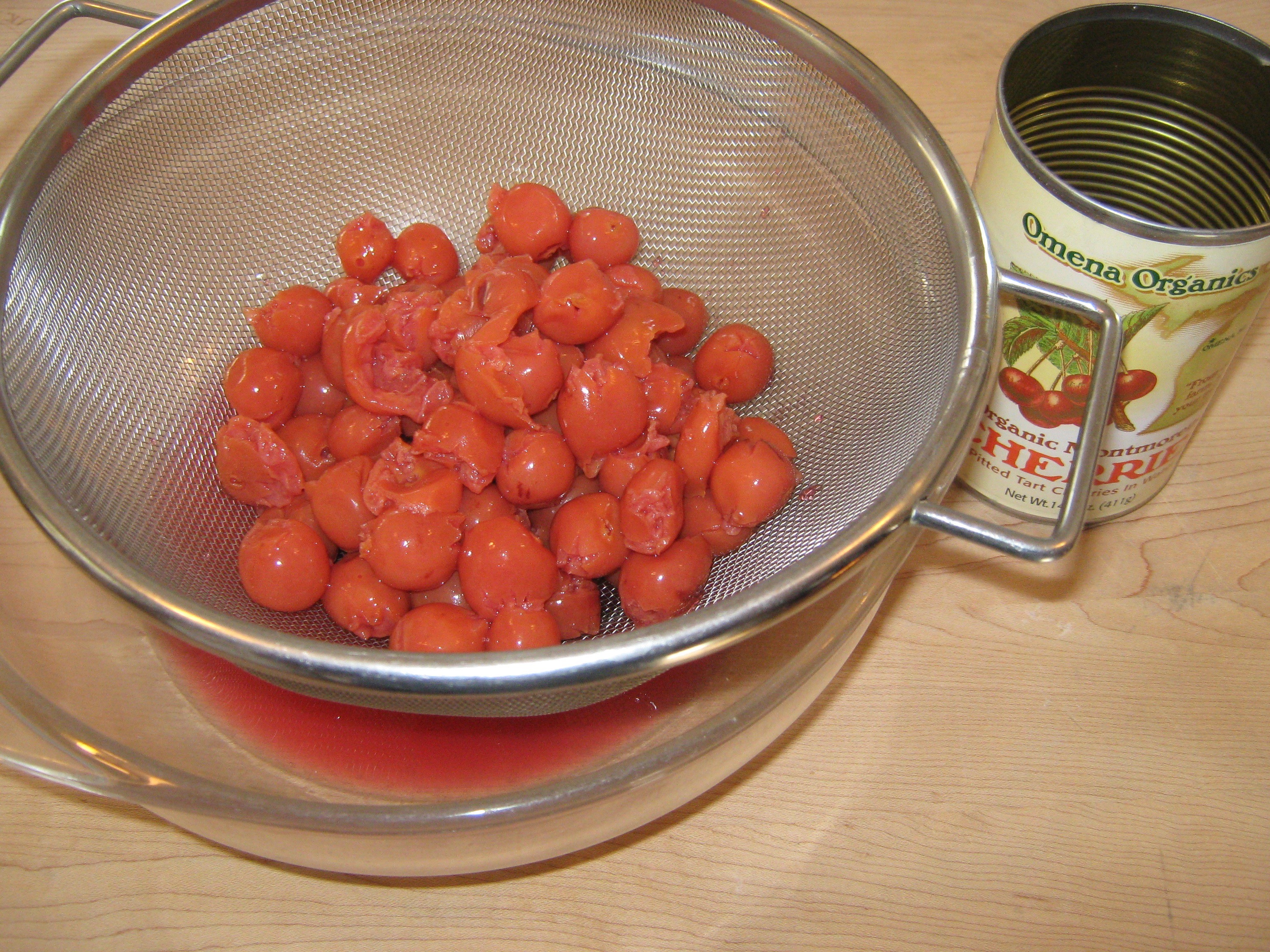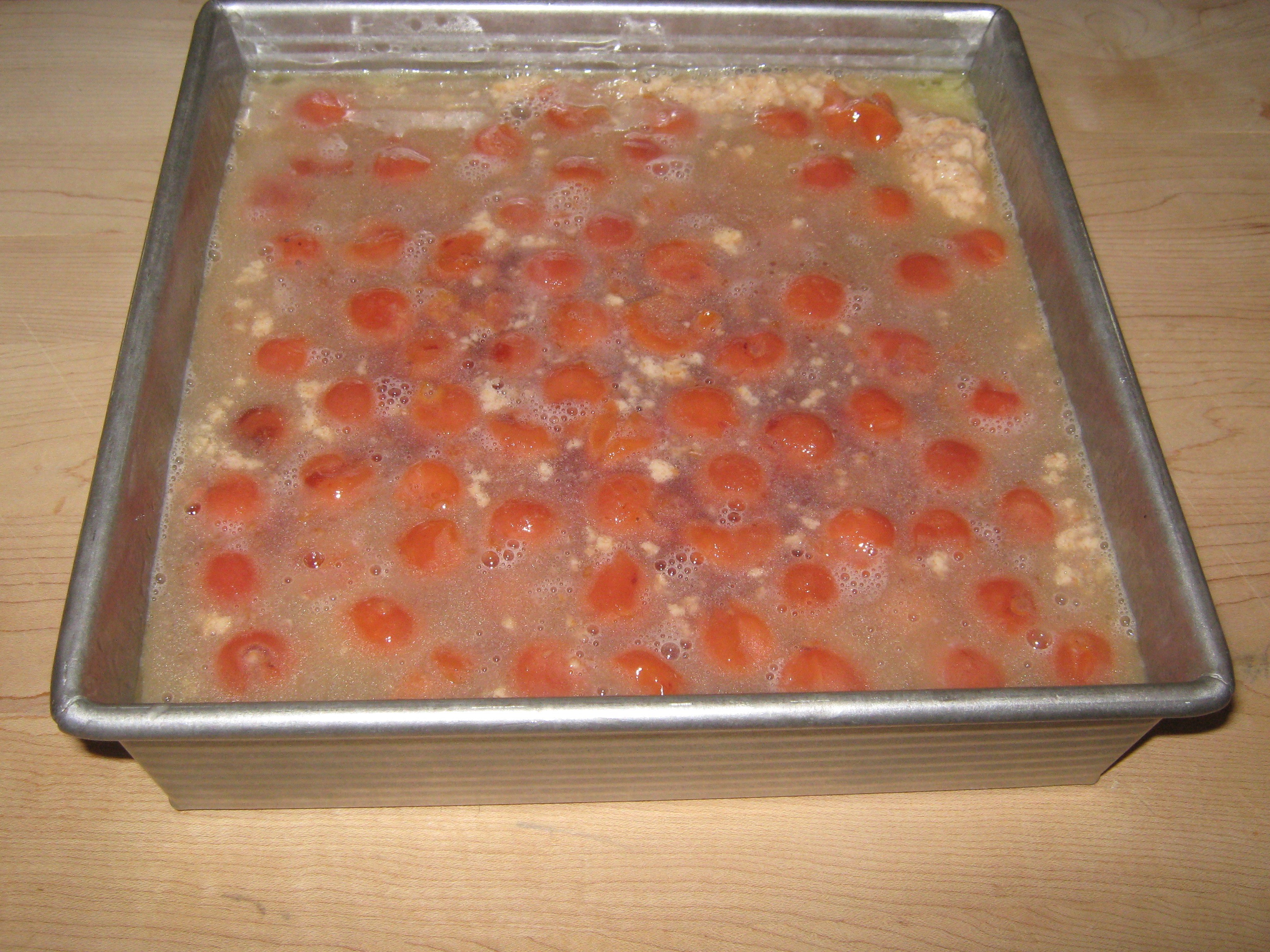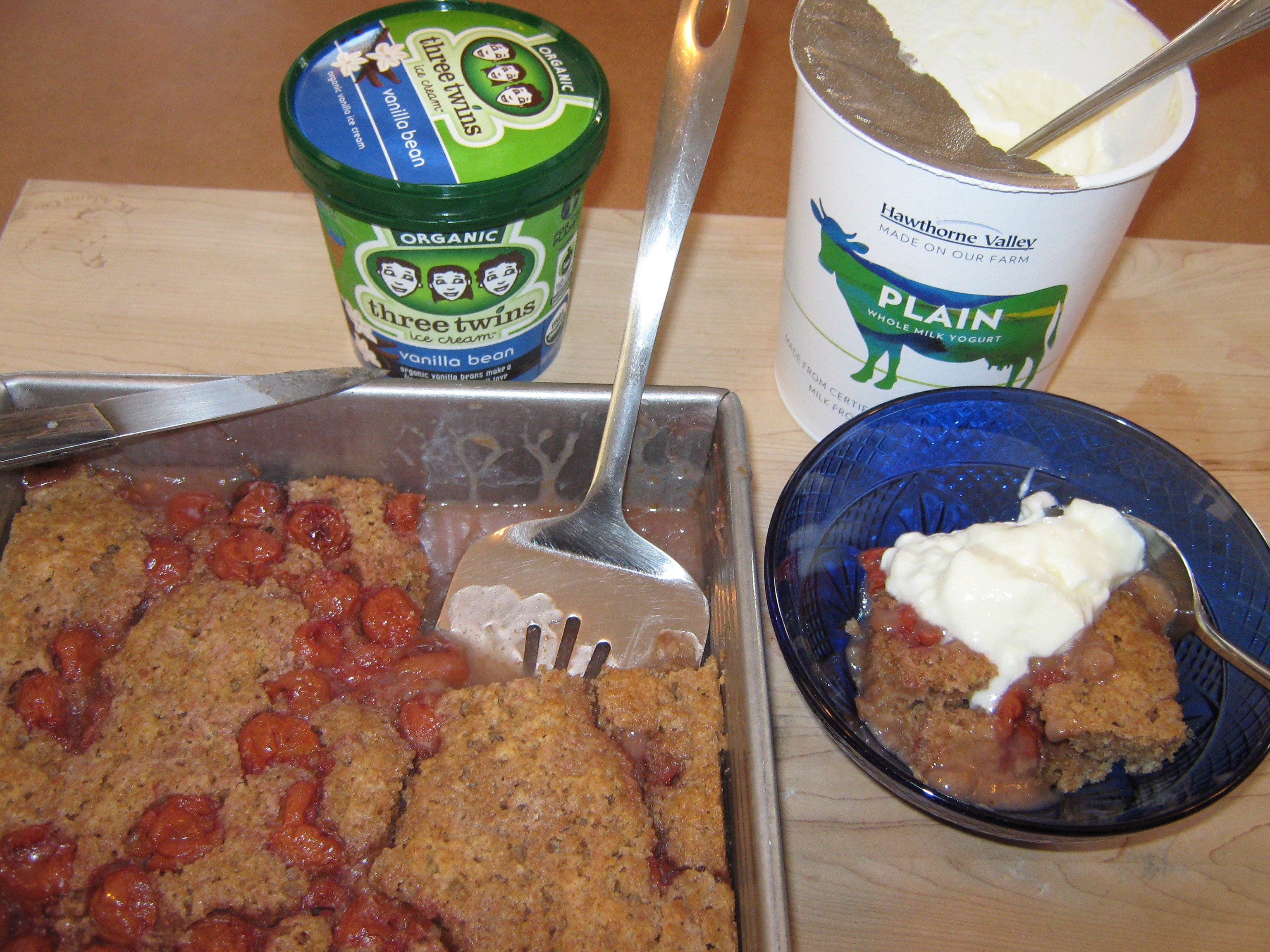 Despite a sweet tooth for cakes and pies and the appeal of indulging in a sweet dessert on Valentine's Day, with the stirring film Fed Up still in mind, an organic cherry cobbler with a scoop of organic ice-cream (or some tangy plain farmstead yogurt!) seemed a better way to satisfy the taste for a delicious indulgence and also forego too many grams of sugar. This Valentine's Day, a fruit cobbler would serve as a perfect dessert, and spotting a can of Omena Organics Montmorency pitted cherries in water in the grocery aisle of the Honest Weight Food Co-op in my hometown of Albany, NY was a touch of serendipity.
Last year, we posted a recipe for a sweet and tart smoothie made with Montmorency tart cherries and referenced the Cherry Marketing Institute's website called choosecherries.com that promotes Montmorency tart cherry juice as an anti-inflammatory food that also may help improve the quality and duration of sleep, reduce the severity of insomnia and increase overall sleep efficiency. Montmorency is the varietal of tart cherry (Prunus cerasus) most commonly grown in the U.S. and Canada on small family farms.
The name comes from a valley in the northern suburbs of Paris, France, where tart cherries were first cultivated in the 18th century, but now, more than 94 percent of Montmorency tart cherries consumed in the U.S. are grown in the U.S. About 75 percent of the U.S. Montmorency tart cherries are grown in Michigan, with additional harvests in Utah, Washington, New York, Wisconsin and Pennsylvania. The Insitute also emphasizes that choosing this locally-grown varietal helps preserve generations-old family farms and supports North American agriculture.
And fortunate for this home baker, the website of Omena Organics includes recipes and voilà– there was one for a cherry cobbler. The company based in Omena (Leelanau County), Michigan describes its products carefully on its website including this information on its 14.5 oz can of pitted organic montmorency tart cherries: packed in nothing but water and the cherry's own juices. Great for use in pastries, smoothies, salsa or barbecue sauces.
Omena Organics recipe for its Organic Cherry Cobbler is easy to follow and besides a can of cherries, all the baker needs is flour, salt, baking powder, butter and a sweetener. Also appealing is the limited amount of added sugar required by the recipe. And this baker decided to substitute maple syrup for the sugar in preparing the cobbler batter (a quarter cup of maple syrup, unlike sugar, supplies 62 percent of your daily riboflavin requirement, about 9 percent of calcium, 8 percent of zinc, and 5 percent of potassium and less maple syrup than sugar is required to sweeten a recipe as noted by Katie Webster in her wonderful cookbook, Maple, 100 Sweet and Savory Recipes Featuring Pure Maple Syrup). But in preparing the heated up cherry juice to pour over the batter and cherries, I decided to use the half cup of sugar suggested to ensure that the juice would thicken up sufficiently (using unrefined, fair traded sugar available at my food co-op).
What follows is the recipe for Organic Cherry Cobbler as suggested by Omena Organics. In the description of the way I prepared the delicious dessert, I note the substitutions that I made: melted butter for shortening; maple syrup for sugar; kefir milk for ordinary milk; as well as the specific local sources for ingredients (grown and produced near my home in upstate New York).
ORGANIC CHERRY COBBLER
Cobbler:
1 and 3/4 cup 

Omena Organics Montmorency Tart Cherries in Water

, drain and reserved for sauce

1 and 1/4 cups organic flour (sifted) 

1 and 1/2 teaspoons organic baking powder 

1/2 teaspoon organic salt 

1/2 cup organic, unrefined sugar 

1/2 cup organic milk 

2 tablespoons organic shortening, melted  
Sauce:
2 cups cherry juice and water – hot 

1/2 to 3/4 cup organic, unrefined sugar 

2 tablespoons organic butter 
I used 1 and 1/4 cup of Farmer Ground whole wheat pastry flour which I mixed with 1 and 1/2 tsps of baking powder, and 1/2 teaspoon of Himalaya pink sea salt. Deciding to use 3/8 cup of maple syrup instead of the specified unrefined 1/2 cup of sugar, I combined the Sweet Brook Farm maple syrup, 1/2 cup of Maple Hill Creamery's plain kefir milk (instead of ordinary milk) and 2 tablespoons of melted Kriemhild butter (instead of shortening) and stirred the liquid ingredients into the dry ingredients until smooth. After greasing an 8x8x2-inch pan, I spread the batter evenly into the pan.
I drained the can of cherries, saving the juice, and the one can made for the perfect amount of cherries as called for (1 and 3/4 cups). After arranging cherries over the top of the batter, in a saucepan, I then heated to a boil, the cherry juice drained from the can plus enough water to make for 2 cups of liquid, 1/2 cup of unrefined, fair traded sugar and 2 tablespoons of butter and poured the heated sauce over the cherries.
Bake in 375 degree oven for 45 to 50 minutes. This delicious fruit cobbler for Valentine's Day also would be a suitable dessert for any festive meal.
(Frank W. Barrie, 2/13/18)