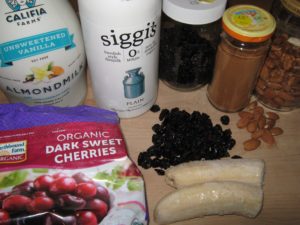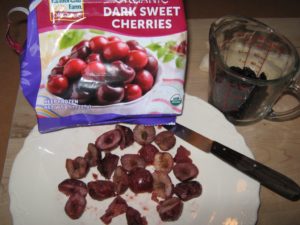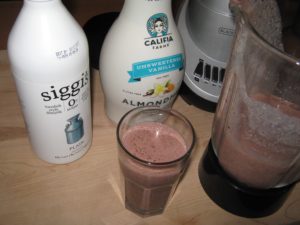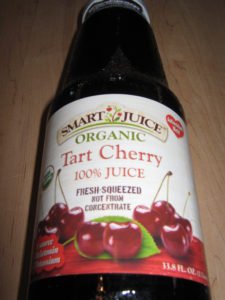 Who could have predicted that tart cherries would become a popular remedy for sleeplessness and anxiety in America? Last month, Bloomberg Business Week's Productivity page focused on ways to sleep better in a column by Gayleen Schafer (1/14/17), Get Some Rest!
Schafer's suggestion to enjoy an evening smoothie caught our attention. Referencing Dr. Robert S. Rosenberg, the author of The Doctor's Guide to Sleep Solutions for Stress & Anxiety, she shared a recipe for an evening smoothie with tart cherries noting that they contain melatonin to help you fall asleep and proanthocyanidins to help keep you that way.
And we recently discovered The Cherry Marketing Institute which maintains a website called choosecherries.com that promotes Montmorency tart cherry juice as an anti-inflammatory food that also may help improve the quality and duration of sleep, reduce the severity of insomnia and increase overall sleep efficiency.
According to the Cherry Marketing Institute, Montmorency is the varietal of tart cherry (Prunus cerasus) most commonly grown in the U.S. and Canada on small family farms. The name comes from a valley in the northern suburbs of Paris, France, where tart cherries were first cultivated in the 18th century, but now, more than 94 percent of Montmorency tart cherries consumed in the U.S. are grown in the U.S. About 75 percent of the U.S. Montmorency tart cherries are grown in Michigan, with additional harvests in Utah, Washington, New York, Wisconsin and Pennsylvania. The Insitute also emphasizes that choosing this locally-grown varietal helps preserve generations-old family farms and supports North American agriculture.
With friends sharing anxiety about the political changes and chaos in DC and attendant sleepless nights, there's likely a special need of late to try this easy and tasty remedy. We've tweaked the suggested recipe to focus on the best possible ingredients plus a little dab of local honey.
Sweet & Tart Smoothie With Cherries (makes 3 servings)
1 cup plain farmstead yogurt
3/4 cup unsweetened almond milk
Dozen raw organic almonds
2 teaspoons ground organic cinnamon
1 frozen organic banana
3/4 cup dried organic tart cherries & frozen organic sweet cherries
1 tbsp local raw honey
Directions are simple. Simply blend all the ingredients until smooth. But where discretion enters is the specific brands or sources for the ingredients used.
This organic food advocate started with a new product that appeared recently in the dairy case of the Honest Weight Food Co-op in my hometown of Albany, NY: Siggi's Swedish style filmjolk, non-fat drinkable yogurt. In lieu of 1 cup plain yogurt, I used a cup of Siggi's drinkable yogurt, made with "milk from grass-fed cows" and live active cultures. Not a simple decision since I was tempted to use a cup of Redwood Hill Farm plain cultured goat milk kefir, a mainstay daily ingredient added to my morning bowl of oatmeal.
I have not been a user of almond milk in the past. I've been tempted to give it a try, but the longish list of added ingredients usually put me off the product. But a month or so ago, Califia Farms Unsweetened Vanilla Almond Milk caught my eye in the dairy case at the co-op with its cutesy label: Pssst! CARRAGEENAN FREE. Still, the ingredient list was not simple, but better than others: almond milk (water, almonds), natural flavors, calcium carbonate, sunflower lecithin, sea salt, potassium citrate, locust bean gum, gellan gum. In particular, I was glad to see no added sugar.
The search for frozen tart cherries came up empty at the co-op, so I decided to divide the recipe's required 3/4 cup of frozen tart cherries between organic dried tart cherries from Tierra Farms sold in the co-op's bulk food department and frozen Earthbound Farm organic dark sweet cherries, which were available in the co-op's frozen foods case.
The Honest Weight Food Co-0p was also the source for the Equal Exchange organic banana and raw honey as well as the organic ground cinnamon from its remarkable Bulk Food department with its almost 1000 (yes, one thousand) bins of bulk foods, and herbs & spices. (The Bulk Is Green Council is helping to spread the message about the many environmental and economic benefits of bulk foods, and kudos to the co-op for being a praiseworthy part of this positive trend.)
As a closing note, on a later visit to the Honest Weight Food Co-op after preparing this recipe, I noticed Smart Juice Organic Tart Cherry 100% Juice, Fresh-Squeezed not from concentrate in a grocery aisle. The label trumpeted: A source of Melatonin and Potassium, and included this enlightened commitment: We are committed to a green Earth and utilize wind turbines and solar energy for our juice processing, new fruit trees are planted annually around the processing plant to minimize fuel costs and a water-conserving drip irrigation system is used. Impressive. The bottle of juice priced at $7.99 for 33.8 fl. oz became reasonable given this commitment especially with the realization that a serving of 4 ounces or so (half a cup) would provide boosts of melatonin on 8 or 9 evenings before bedtime at the less eye-catching cost of 88 cents. Also putting this pricing in perspective is the cost of one of the Vermont Country Store's All-Natural Health Tonics: Super Black Cherry Concentrate (fortified with acai, noni, and pomegranate): Proven Help For Arthritis and Gout at $24.95 for a 16 oz. bottle that makes a gallon of "this healthy beverage" when mixed with water or seltzer.
(Frank W. Barrie, 2/24/17)