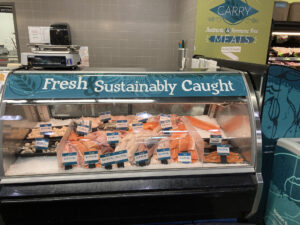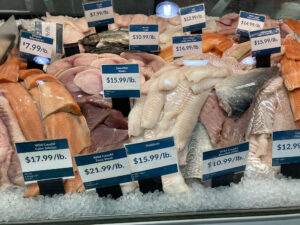 On St. Patrick's Day seven years ago, we spotlighted in a post the insightful, yet sad, words of a memorable Irish fisherman, Joe Caufield (not "Caulfield" like the Catcher In The Rye's Holden Caulfield), who was the focus of the Perennial Plate short documentary Episode 168: Howth, Dublin (only six minutes long and very much worth viewing on St. Patrick's Day 2023).
Joe Caufield recalled a fleet of 40 boats, with 200 men working, which (in 2017) was reduced to less than a half dozen. Noting that three modern fishing boats can catch three times the amount of fish that in the past 40 boats with 5 men caught, Joe Caufield's insight was more than mere nostalgia: "You could have one millionaire or 30 people with $30,000. Which one is better? Which one does society want?"
The Fishing Daily, a website that started up in 2020, covers "fishing industry news from Ireland, UK, Norway, Denmark, and other European countries along the Atlantic seaboard." It recently reported on the major redevelopment of the fishing pier at Joe Caufield's Howth, Dublin that has been officially named the "Howth Fishery Harbour Centre," one of six State-owned modern fishing piers in Ireland. In 2021, almost 90% of all fish landed into Ireland was into the six State-owned Fishery Harbour Centres, and at Howth, these landings were valued at €12.9 million ($13.5 million).
Charlie McConalogue, Ireland's Minister for the Marine, at the official opening of the new "Fishing Pier," according to the report on The Fishing Daily, emphasized the "critical economic activity generated by our fishing industry" and the need to maintain the "vitality of Irish coastal communities."
According to the founder and editor of The Fishing Daily, Oliver McBride, the website's "aim and ethics" is "no compromise news about the fishing and seafood industry." McBride notes that "To most people on land, fishing is something that happens out there unseen and unexperienced but that does not mean that it does not exist." In McBride's well-put opinion, "Fishing is the toughest job and the most dangerous vocation in the world."
There is no shortage of Fishing News to report on McBride's website and it is a vital service to many. For example, there's a half dozen fishing industry stories reported on one recent day, March 16, 2023. With the industrialization of fishing, there is an urgent need for accountability and to know, in the words of Maria Valentine, an oceanographer with Oceana "how much is being fished out and where it's going to."  McBride's The Fishing Daily is helping with that urgent task with regard to Europe's Atlantic seaboard.
Oceanographer Maria Valentine's above words were cited in a report last fall in the New York Times, How China Targets the Global Fish Supply (9/26/22) by Steven Lee Myers, Agnes Chang, Derek Watkins and Claire Fu. With the known stocks of most species of fish continuing to decline, this story in the New York Times on China's deepwater fishing fleet of nearly 3,000 ships, the world's largest, is stunning.
China now fishes in any ocean in the world now that its own coastal waters have been severely depleted of fish stock. According to this must-read article, China's impact on the long-range sustainability of the ocean's resources "is increasingly being felt from the Indian Ocean to the South Pacific, from the coasts of Africa to those off South America."
In the words of Duncan Currie, an international environmental lawyer who advises the Deep Sea Conservation Coalition, the challenge facing the world is to persuade China that the ocean's resources are "not going to be there forever."
What can an individual consumer do? Years ago we drew attention to the Monterey Bay Aquarium Seafood Watch in a post on the difficulty of knowing where your salmon comes from. Its Seafood Guide is a remarkable resource for searching for fish "recommendations." Recent searches for "lobster" and for "cod" took seconds and provided excellent guidance, for example. Check it out!
(Frank W. Barrie, 3/16/23)