The Perennial Plate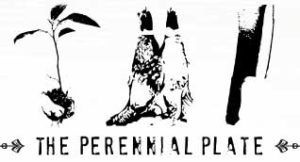 has created more than 150 short documentaries that share the theme of Adventures in Sustainable Eating. A recent documentary produced by the two-time James Beard Award winning online weekly documentary series dedicated to socially responsible and adventurous eating, is perfectly timed for St. Patrick's Day.
Episode 168: Howth, Dublin, with a soundtrack of lively traditional Irish music by Skippers Alley and the sounds of a fishing boat at sea, in little more than six minutes, shares the unique voice of Joe Caufield. The filmmakers note that "this is probably the first film in English that we've had to subtitle: what an accent!"
The filmmakers Daniel Klein, Mirra Fine and Hunter Johnson, went out on Joe Caufield's boat to empty his crab traps. Howth (rhymes with "growth") is a village on the northern extremity of Dublin Bay. As the skillfully made short documentary attests, for generations it has supported a fishing fleet.
These days, however, the fleet is much smaller than in years gone by, a fact acknowledged with wry humour by the skipper, fisherman Joe Caufield.   Noting that fishing is a vocation rather than merely a job, he recalls a fleet of 40 boats, with 200 men working, which is now reduced to less than a half dozen.
The harbor is situated on the Howth peninsula, the northern arm of Dublin Bay and nestles under the summit of Howth Head (location of one of Ireland's oldest working lighthouse, the Baily, whose origins go back to 1665). The Head commands magnificent elevated views over the Bay: its bracing cliff walk is known to be a favorite for Dubliners wishing to shake off the cobwebs. The village itself, at the bottom of the hill and clustered around the picturesque harbor, looks out over an island known as Ireland's Eye.
A trip to Howth from Dublin city is less than 10 miles from the city center and less than 30 minutes on commuter rail, the DART (Dublin Area Rapid Transit).  The Perennial Plate has made it possible to be transported to this beautiful place with an episode spotlighting the life of a fisherman, with deep and practical insight into the economic forces that are threatening traditional livelihoods.
Three modern fishing boats can catch three times the amount of fish that in the past 40 boats with 5 men crews caught. As fisherman Caufield puts it: You could have one millionaire or 30 people with $30,000. Which one is better? Which one does society want?
Joe Caufield, after 38 years of fishing, perhaps was darkly humorous when he states that he doesn't eat fish. The accomplished chef and teacher, Darina Allen, whose wonderful cookbook 30 Years at Ballymaloe was reviewed a couple of years ago on this website, noted that in Ireland in the 1990s when she had her TV series, Simply Delicious Versatile Vegetable, we had a deeply ingrained meat-eating culture…and a very strange attitude to fish.
Darina Allen elaborates: Owing to Irish Catholic customs, Friday was considered by many a fast day; people abstained from eating meat but were allowed to eat fish, if available….Understandably eating fish began to be regarded as a penance rather than a pleasure. She also adds that in the not so long ago past, most of the fish was transported inland by bus or by train and so was often at least a week old by the time it reached its final destination. In her home village of Cullohill (County Laois), when fish arrived on the bus from Dublin on Thursday evening, The choice was limited and generally comprised of whiting, occasionally flounder and a bright, psychedelic-orange smoked haddock.
Times change and Ireland now has become well-known for superb farm to table restaurants and seafood restaurants, with the day's catch served on an evening's menu exemplified by two seafood restaurants (Idás and Out of the Blue) located in Dingle (County Kerry) recently added to our dining directory for Ireland. A small town, with a population of less than 2,000, Dingle now has, in fact, along with Global Village Restaurant (previously listed) three destination restaurants included in our directory. Joe Caufield should be pleased with this development and the growing appreciation of his vocation. And to whet his appetite, we would also recommend to fisherman Caufield (or the cook in his household) Darina Allen's recipe for Roast Fish with Dill Butter and Zucchini. Very tasty.
(Frank W. Barrie, 3/17/17)