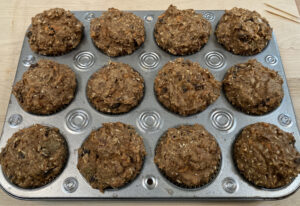 With the flavorful ingredients of cinnamon, nutmeg, vanilla, maple sugar, coconut, crushed pineapple, pecans, raisins, and homemade applesauce (made with an extra-sweet and aromatic Macoun apple), it would be hard to imagine a tastier muffin or a better way to start the day, especially on a holiday like Thanksgiving Day, which is fast approaching.
Morning Glory muffins were unfamiliar to this home baker until a couple years ago when I began to notice their availability at bakery counters. In the course of a few months, I enjoyed Morning Glory muffins at True Food in Nyack  (Rockland County), New York; Lenox Coffee in Lenox (Berkshire County), Massachusetts; Willow Cakes and Pastries in Niagara On The Lake (Ontario), Canada; and on a couple occasions at my local food co-op, the Honest Weight in Albany, New York.
At both True Food and the Honest Weight, the ingredients for their Morning Glory muffins were carefully listed. True Food's included carrots, apples, walnuts, coconut, raisins, eggs, and cinnamon. The Honest Weight's noted cinnamon, ginger, carrot, apple, coconut, walnut, sunflower seeds, eggs, vanilla, orange juice, and raisin.
When googling for a recipe to make homemade Morning Glory muffins, I discovered a website called More Spinach, Please created by a "Registered Dietician and food fanatic," who shares recipes for "healthy food that tastes great," from  her "endless pile of recipes" accumulated over the years. Along with an appealing recipe, this explanation for the name "Morning Glory" was also much appreciated:
"The original morning glory muffin recipe was created by chef Pam McKinstry in 1978. Some say the muffin was named after her restaurant on Nantucket Island, the Morning Glory Cafe, while others say her restaurant at the time was named the Sconset Cafe. Either way, her beloved recipe became famous when it was published in Gourmet magazine in 1981. Ten years later, it was named one of the magazine's 25 favorite recipes."
The one ingredient in the recipe on More Spinach, Please, which popped out at this home baker, was one cup of "well-drained crushed pineapple." Neither the ingredients noted at True Food or the Honest Weight included crushed pineapple. Other differences were minor.
Over the years, when sharing recipes for muffins (including Raspberry Walnut, Maple Walnut Pumpkin, Cranberry Pecan, and the indulgent Chocolate Chocolate Chip & Pecan Banana), I've noted my appreciation for this advice and encouragement in the ever-handy cookbook, Joy of Cooking by Irma S. Rombauer, Marion Rombauer Becker, and Ethan Becker (New York, NY: Scribner, 1997): "Remember that muffins invite substitutions and inventive flavoring, and that any coffeecake, quick loaf, or corn bread batter can be made into muffins as well" (p. 782).
I tweaked the recipe on More Spinach, Please substituting maple sugar for brown sugar; increasing vanilla to 2 tsps instead of 1 tsp; increasing the nutmeg to 1 tsp and freshly grinding the nutmeg; specifying the use of sunflower seed oil not just any vegetable oil; and using pecans instead of walnuts.
As is my custom, I used organic and local ingredients. I also made 1/2 cup of homemade apple sauce, by slicing up one very large and unpeeled Macoun apple and cooking it down in a 1/4 cup of water over medium to low heat for approximately 10 minutes, stirring continuously.
Morning Glory Muffins
Ingredients
2 cups Farmer Ground all-purpose whole wheat flour
2 tsp baking soda
2 tsp ground organic cinnamon
1 tsp freshly ground organic nutmeg
1/2 tsp sea salt
1 cup well-drained Native Forest organic crushed pineapple
1 cup finely grated Roxbury Farm (farm-share) organic carrots
1/2 cup unsweetened homemade applesauce made from an extra-large Macoun apple from Indian Ladder Farms, a certified eco-apple grower
1/4 cup packed Ioka Valley Farm maple sugar
1/4 cup sunflower seed oil
2 medium Laughing Earth farm eggs
2 tsp vanilla extract
1/2 cup unsweetened shredded coconut
1/2 cup organic raisins
1/3 cup chopped organic pecans
(1) Preheat oven to 375 degrees.
(2) Line a standard 12-cup muffin tin with If You Care Large Baking Cups (which will save the home cook much clean-up time).
(3) In a large bowl, combine whole wheat flour, baking soda, cinnamon, nutmeg and salt. Mix well and set aside.
(4) In a medium bowl, whisk together well-drained crushed pineapple, grated carrots, apple sauce, maple sugar, sunflower seed oil, eggs and vanilla.
(5) Add wet ingredients to dry ingredients and stir just until dry ingredients are moistened.
(6) Fold in coconut, raisins, and pecans.
(7) Divide batter among 12 muffin cups.
(8) Bake for 20-25 minutes, or until a wooden toothpick inserted in the center of a muffin comes out clean.
(9) Cool on wire racks
(Frank W. Barrie, 11/11/22)