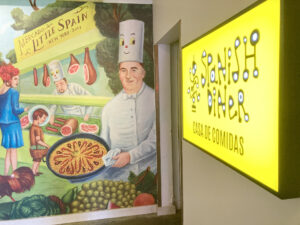 Jose Andrés is much more than a restaurateur and an author of cookbooks. In our recent review of his cookbook, Vegetables Unleashed, we noted that his humanitarian visits to disaster areas where he and his crews have fed masses of people through his non-profit World Central Kitchen have made him well-known for his empathy and leadership in actively engaging in the welfare of humanity.
In his 2018 book, We Fed an Island: The True Story of Rebuilding Puerto Rico, One Meal at a Time," Andrés told the moving story how a group of chefs fed hundreds of thousands on Puerto Rico after Hurricane Maria, which destroyed the island's economy and left most people there without clean water, food, power, gas and ability to communicate with the outside world.
More recently, World Central Kitchen has served thousands of meals to wildfire evacuees and first responders across northern New Mexico and a remarkable 31 Million meals to Ukrainian refugees fleeing Putin's brutal invasion. And the inspirational We Feed People, the National Geographic 2022 documentary film about Chef José Andrés and World Central Kitchen, is now available to stream and watch.
Nonetheless, Jose Andrés deserves acclaim for his accomplishments as a restaurateur with dozens of dining venues in Washington, D.C., Los Angeles, Las Vegas, New York, and many other cities. In New York City, Andrés celebrates his native Spain with his Mercado Little Spain, nestled under Manhattan's High Line, which comprises three restaurants: Lena, where most items are grilled; La Barra, featuring tapas; and Spanish Diner, featuring "larger portions of Spanish favorites."
On a recent day trip to the Big Apple from my home in Albany, NY on a beautiful late spring day to see a matinee performance of the provocative new play that is of this moment politically and socially, The Minutes by Tracy Letts, I decided to walk from the Moynihan Train Hall, Amtrak's new home in the big city, to the Broadway area via Hudson Yards to enjoy an early lunch at Spanish Diner at the Mercado Little Spain.
In many places in Spain and Mexico, sandwiches that are very thin and often made with "jamon y queso" (ham and cheese) inside are known as "bikinis." And although The Spanish Diner's delicious breakfast sandwich has a complicated menu name to decipher, "Bikini 'Angel Muro se fue a Mexico! $17′," it was hands-down an extraordinarily tasty combination of "cooked ham, cheese, avocado and fried egg."
A little googling helped to understand the name of the sandwich. Angel Muro was a renown 19th century Spanish cookbook author. His cookbook, El Practicon, first published in 1894 was until shortly before the Spanish Civil war in the 1930s the "culinary text most often consulted and used by Spanish cooks." According to a description of the cookbook on Goodreads, from the date it was published it went through 34 editions. Before it was published again in 1982, "it had become an extremely rare book for which professionals and lovers of good food alike searched in second-hand bookstores as if it were a treasure."
The Spanish Diner's breakfast sandwich is an homage to this 19th century Spanish culinary expert. Apparently, Angel Muro's recipe for a breakfast sandwich became very popular in Mexico in addition to Spain, given the rest of the words used to describes this delicious breakfast treat:  Angel Muro "se fue a Mexico," i.e., Angel Muro went to Mexico.
This "bikini breakfast sandwich" could not be eaten using hands. Large and messy with a perfectly cooked runny egg, a fork and knife came in handy in order to slice into it to find the thinly sliced ham, cheese, avocado, and runny egg.
On this special occasion, with the return of the vitality of urban life in the Big Apple, with the pandemic now a more manageable endemic, this day tripper to Gotham also decided to enjoy a bowl of perfectly prepared gazpacho and a jolt of energy from Spanish Diner's "Café Bombon $5" (espresso, condensed milk).
Instead of starting my meal "Como En Casa" (like a Spaniard at home according to the menu) with "Vaso de gazpacho y sus picatostes $6," a glass of chilled tomato, cucumber and green pepper soup, "like mama used to make," I chose "El Gazpacho y su Liturgia $10", a bowl of the famous chilled soup "served like at home" with carefully sliced vegetables and croutons, in a side dish, to be stirred into the soup before enjoying.
As a coffee drinker who enjoys single origin coffee each morning, without cream or sugar, the Spanish Diner's Café Bombon was a sweet bolt of caffeine. Sweetened condensed milk, used in the preparation of this espresso coffee, is a very thick, sweet product albeit sugary but delicious. I was pleased to find out that the Spanish Diner's coffee is sourced from La Colombe Coffee Roasters, which has a praiseworthy "mission" explained on its website:
La Colombe's mission is simple- change the world by making people happy. What started out as a vision for serving the best coffee, became an opportunity to influence meaningful, long-lasting change and leave this world better than we found it.
In particular, La Colombe Coffee Roasters includes this Appreciation of Origin:
We believe in investing in, uplifting, and protecting the treasured communities we source our coffee from who are being hit hardest by economic strife, climate change, and other issues. Through responsible sourcing practices, investment in infrastructure and education at origin, and direct communication with producers, we aim to improve and uphold the wellbeing of coffee-growing communities who contribute so much to our industry and culture.
Bravo! And no surprise that José Andres' Spanish Diner would show this commitment and concern for people and our planet, as well as turning a profit (given the Manhattan-style pricing levels). We've noted before that these three Ps should be a governing principle for businesses big and small (as well as for billion dollar university endowments) and not just for my hometown food co-op, the Honest Weight in Albany, which from the start has been committed to the three Ps, people, planet, and profit.
[Spanish Diner, 435 W 30th Street (Hudson Yards), NY, NY, 646.495.1242; Hours: Mon-Sun 11:30AM-10:00PM; original location in Bethesda, Maryland at 7271 Woodmont Avenue, 301.284.3700; Hours: Mon-Fri 11:00AM-10:00PM, Sat 10:00AM-10:00PM, Sun 10:00AM-9:00PM]
(Frank W. Barrie, 6/1/22)