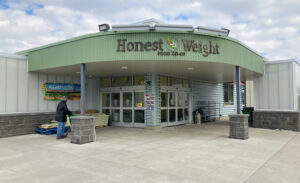 We've often noted the many reasons why a consumer should shop for food in a food co-operative instead of a conventional supermarket including the healthier fare and to support the local economy. Food journalist John Steinman, in his recent book, Grocery Story, The Promise of Food Co-ops in the Age of Grocery Giants, summed up the many reasons why food co-ops have become ever more popular for consumers, mindful of the way they spend their food dollars.
At the start of the new year, we spotlighted the Healthy Incentives Program (HIP) in Massachusetts which provides users of  SNAP (Supplemental Nutrition Assistance Program) benefits (commonly known as food stamps) a financial incentive when they purchase food from one of more than 240 participating Massachusetts farmers at farmers markets, mobile markets, and farm stands around the state. HIP provides a dollar-for-dollar match, up to a monthly limit dependent on household size, for SNAP dollars spent on fruits and vegetables. And SNAP dollars, with this financial incentive, can also be spent at participating CSA (community supported agriculture) programs across Massachusetts.
We're pleased to share the news that the Honest Weight Food Co-op in Albany, New York has similarly expanded the ability of low-income working people, senior citizens and others to buy healthier food by matching what they spend on fresh produce by up to $20 a day through the Double Up Food Bucks program (Double Up).
Double Up was piloted in Detroit in 2009 before expanding across the United States. Today, Double Up is offered in dozens of states at more than 900 locations, from farmers markets to food co-operatives and even some family-owned local supermakets, such as Metro Foodland, Mike's Fresh Market on Gratiot and Honey Bee Market in the Detroit metro area in Michigan.
In the Capital Region of upstate New York, the Troy Waterfront Farmers Market, the Schenectady Greenmarket, Capital Roots, and now the Honest Weight Food Co-op are participating in the Double Up program.
The Fair Food Network, Grow The Good, a national nonprofit whose mission is to grow community health and wealth through food is "fueling" the Double Up Food Bucks program. On this organization's Double Up America website, you can search for participating locations in more than 25 states where this praiseworthy program is offered.
(Frank W. Barrie, 3/4/22)