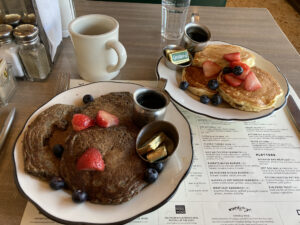 Until a recent pancake lunch at the wonderful Phoenicia Diner in the heart of the Catskill Mountain region of upstate New York, this pancake/waffle indulger never before had buckwheat pancakes: What a delicious eye-opener, especially when enjoyed with a couple cups of this remarkable diner's coffee from Java Love Coffee Roasting Company based in Bethel (Sulllivan County), NY.
The Phoenicia Diner has been on the radar screen for this local food advocate for a couple of years. The diner, built in 1962, was moved to the heart of the Catskills in the early 1980s. Mike Cioffi, the current owner, on the diner's website notes that the business was nurtured for nearly 30 years by the prior owners who served customers drawn to the natural beauty of this mountain region. Cioffi has taken pride in continuing the business by offering "residents, weekenders and visitors fresh food sourced from Catskills and Hudson Valley farms when available."
On the website for the Phoenicia Diner, there's an informative "About" tab which reflects Cioffi's love of the Catskills. Who knew that "fossils dating 385 million years old were found beneath a quarry in Gilboa (Schoharie County), NY making the Catskills the oldest known forest on Earth?" More familiar is the mountain region's wide array of wildlife with over 2000 black bears and a thriving population of bald eagles, as noted at this "About" tab.
And this customer took special note of a prominent listing of "Some of Our Local Providers" behind the counter area of the diner, including Java Love.
Before making the drive down to the Catskills, I was aware that the diner served breakfast "all day" and that it served up two pancake options: buttermilk pancakes or gluten free buckwheat pancakes, both options served with fresh fruit and local maple syrup. With a closing hour of 6:00PM, I knew I would arrive in time for a pancake lunch.
I was also aware that the Phoenicia Diner endured the challenges of the pandemic by at first offering online ordering, with pickup outside the diner and the option of an open-air dining area. Earlier this fall, the diner shifted to dining both indoors and outdoors. Customers wishing to continue to dine outdoors had the option of in-person ordering at the cashier stand, but on a visit in mid-December, nearly all customers were back to dining indoors with waitress service. (In accordance with New York State guidelines, guests all are required to wear masks except when seated at their table.)
Arriving at the Phoenicia Diner a little past 2:00PM was a lucky stroke since the very busy diner, where it is not unusual to have to wait for service, had a table for a late lunch. It took a couple minutes to decide what pancakes to order: buttermilk or buckwheat?  It was pleasing to this customer that the diner offered local maple syrup, without the need to request the natural and local sweetener instead of an ersatz maple flavored corn syrup commonly served in most diners, as well as fresh fruit, as opposed to canned and extra sugary and syrupy fruit.
The menu's noted "GF" next to the listing for the buckwheat pancakes. If you read my post earlier this year, Gluten-free Food Fad Undermined By Recent Scientific Study, it should be no surprise that the fact that the buckwheat pancakes are gluten-free was not a factor in my decision on what pancakes to order.
But as a shopper at my local food co-op, the Honest Weight Food Co-op in Albany, NY, with its more than a thousand bins of bulk food including many for various flours, I knew well that flours come from many sources including grains, legumes, starchy vegetables, nuts and carob, each having their own baking properties and uses. And I did know that buckwheat is not a grain.
According to my well-thumbed copy of Edible, An Illustrated Guide to the World's Food Plants (Washington, D.C.: National Geographic Society, 2008), buckwheat is not a true cereal but a dry fruit, which explains why it is "gluten-free." This wonderful guide also noted that buckwheat is a "popular" crop due to its hardiness and that its "high nutritional value and nutty flavor have earned it a place in many traditional dishes, modern health foods, and medicinal treatments." It is also noted that "buckwheat pancakes are known as blinis in Russia and galettes in France."
Since I had skipped breakfast before the drive down to the Catskills, I was pleased when the friendly waitress took my order, instead of a plate of five pancakes, she offered the option of ordering three of each type of pancakes served up separately. No need to be Hamlet-like on making the decision on what type of pancake to order!
Thanks be given to the Phoenicia diner for the discovery that buckwheat pancakes are extraordinarily light, fluffy and tender with a delicate nutty flavor. By the way, the diner's buttermilk pancakes were also perfectly made and delicious. In fact I can't recall a more satisfying pancake meal.
On returning home, on my next visit to the Honest Weight Food Co-op, I made certain to stock up on buckwheat flour after googling for a buckwheat pancake recipe.
Elise Bauer's recipe for buckwheat pancakes on Simply recipes is a winner! She uses buttermilk and describes the pancakes as "tangy, earthy, surprisingly fluffy, and gluten-free." What especially was appealing, Bauer noted that she "experimented quite a bit with this recipe, including an egg, excluding an egg, all buckwheat flour, or half buckwheat, half all-purpose flour, and you know what? It's all good."
Bauer's recipe yields 14 pancakes, so I decided to cut the ingredients in half. I also decided to use an egg, 100% buckwheat flour, to substitute kefir milk for buttermilk, and to use maple sugar instead of sugar. The result were very similar to the buckwheat pancakes served up at the Phoenicia Diner but not exactly the same. Although brownish in color, my buckwheat pancakes were not as dark brown as the diner's. I'm guessing that the diner uses molasses as a sweetener? And next time I make buckwheat pancakes, I'm going to use molasses instead of maple sugar as a sweetener.
I'm also going to order a copy of the Phoenicia Diner Cookbook which was released back on March 3, 2020, close to the awful date when the pandemic era started in full force. I'll view that cookbook purchase as a bit of yin to the yang (or vice versa, yang to the yin) of the pandemic! Perhaps there will be a recipe for the buckwheat pancakes, and I'll see if my guess that the diner uses molasses in its recipe is correct!
Below is my recipe inspired by Elise Bauer's on the Simply Recipes website, with the substitutions of ingredients noted above, and also for 7 pancakes instead of Bauer's yield of 14.
Buckwheat Pancakes (makes 7 pancakes)
Dry Ingredients:
3/4 cup buckwheat flour
1 tbsp maple sugar
1/4 tsp sea salt
1/2 tsp baking soda
Wet Ingredients:
1 cup kefir milk
1 egg
1 and 1/2 tbsp melted butter
1. Preheat skillet/griddle. I set an electric griddle at 325 degrees, use medium heat if using a griddle pan or skillet.
2. In a large bowl, whisk the flour, sugar, salt and baking soda until combined.
3. Pour the melted butter over the dry ingredients. Beat the egg and add to the dry ingredient as well as the cup of kefir milk.
4. Do not overmix, but stir until everything is combined.
5. Using a paper towel, grease the griddle with butter.
6. Ladle the batter onto the hot surface to the desired size, about 4-5 inches. Allow the pancake to cook for 2-3 minutes on the first side. Watch for bubbles on the surface of the pancake.  Flip the pancake when bubbles start to rise to the surface at the center of the pancake. Cook for another 1-2 minutes, or until nicely browned.
7. Serve with maple syrup or with yogurt. Or even with some sour cream, treating the pancakes like Russian "blinis!"
(Frank W. Barrie, 12/23/21)