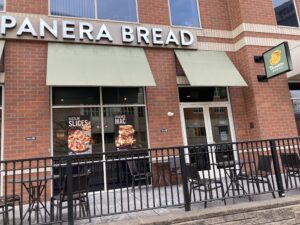 Consumer Reports in a joint project, with six other non-profit organizations focused on the health and welfare of Americans, for the past several years have evaluated and graded fast food chains on their policies on the use of antibiotics in the meat they serve to customers.
In a post this past October, Thumbs Down On Nearly All 'Fast Food Beef' In Latest Scorecard By Consumer Groups, we noted that the unnecessary use of antibiotics in farming practices is a "key driver of antibiotic-resistant infections in people." And as in other prior evaluations of fast-food meat by these organizations, the most common score for a dozen fast food chains was still an F.
Nonetheless two fast food chains continued to stand out in a positive way in the evaluation and grading of fast food chains over the past several years from the ranks of other fast-food chains: Chipotle Mexican Grill ("Chipotle") and Panera Bread. Most recently, Chipotle was graded A and Panera Bread was graded A-  on the beef they serve. And a couple years ago, Chipotle and Panera Bread were graded A on the chicken they serve, as noted in the scorecard of 64 pages which contains a wealth of information on the beef and chicken served by fast-food chains.
So it came with a shock this holiday season that Panera Bread would spotlight a new menu item, Grilled Mac & Cheese Sandwich, in a marketing effort that raised banners outside its stores promoting this "pasta sandwich."
Little surprise, that the Center for Science in the Public Interest (CSPI) in its December 2021 newsletter, Nutrition Action, categorized this menu item as a "Food Fail." The explanation for the big thumbs down is concise. Panera's Grilled Mac & Cheese has 860 calories dwarfing a Big Mac (550), and even topping a Burger King Whopper (660) or McDonald's Double Quarter Pounder with Cheese (740). Plus, the Panera Bread offering, with 24 grams of saturated fat and 1,650 mg of sodium, beat all three burgers noted.
CSPI rightful emphasized as well that "We already eat too many refined carbs like white bread, pasta, rice and flour tortillas." Difficult to avoid sarcasm, it further noted that combining bread and pasta in a sandwich to create an entrée was "Genius."
Hard to believe that Panera's Head Chef and Chief Food Innovation Officer is quoted by CSPI as follows: It's "the ultimate collaboration that our guests never knew they needed."
Sadly, as of the date of this post, the home page for Panera Bread has a photo of its Grilled Mac & Cheese sandwich, which a consumer needs to "mentally block" with an understanding that this is not something that should be seen as "mouth-watering," the effect (it's safe to say) the skillful food photographer intended.
Astounding.
(Frank W. Barrie, 12/17/21)