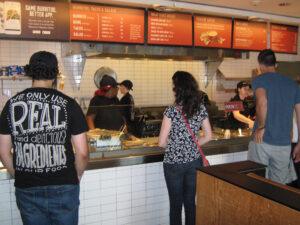 For several years, Consumer Reports along with other consumer groups have issued scorecards evaluating "fast food" chain restaurants on what they've done to ensure that chicken and beef they use hasn't been raised using antibiotics. The unnecessary use of antibiotics in farming practices is a "key driver of antibiotic-resistant infections in people" as noted in a recent article, Fast Food & Antibiotics, in the Consumer Reports On Health (October 2021) newsletter.
Why are antibiotics commonly used in agriculture? When animals are kept in cramped, unsanitary conditions, antibiotics are used in industrial agriculture to prevent infections that tend to occur in such circumstances. And given to "healthy" animals in their feed or water at "subtherapeutic" levels (doses too low to treat disease), they are used in industrial agriculture to promote faster growth.
As noted by Consumer Reports, using antibiotics unnecessarily leads to bacteria that are impervious to the drugs. It's been estimated by the Centers for Disease Control that 35,000 people die each year from antibiotic-resistant infections. The Centers for Disease Control views "antibiotic resistance" as "one of the biggest public health challenges of our time" with at least 2.8 million people each year in the United States  getting an antibiotic-resistant infection.
This year's review and grading of fast food chains on their policies on the use of antibiotics in the meat they serve was a joint project by Consumer Reports, the Natural Resources Defense Council (NRDC), Food Animal Concerns Trust, U.S. Public Research Interest Group Education Fund, Antibiotic Resistance Action Center at the George Washington University School of Public Health, and the Center for Food Safety.
Earlier fast food scorecards focused on chicken has shown progress made by fast food chains on their antibiotic use policies. But in the latest review and grading of the largest fast food and casual United States restaurants chains on their policies regarding the use of antibiotics in the meat they serve, the surveyed companies made little progress transitioning to responsible antibiotic use in their beef supplies in 2020, except for one notable exception, Wendy's. Wendy's committed to prohibiting the routine use of medically important antibiotics in its beef supply chain by the end of 2030 and moved up to a grade of C.
The most common score for a dozen fast food chains in the 2021 report was still an F. Three were graded D, and three received a grade of C (including Wendy's). The two chains with high grades were Chipotle, graded A and Panera Bread, graded A-.
The score cards (denoted as "Chain Reaction" scorecards) for the past six years are readily available for review on the website of the NRDC.
When this website was launched eleven years ago, we spotlighted Jonathan Safran Foer's personal story on becoming an engaged vegetarian, Eating Animals, in our mission statement. His clear articulation of the three main reasons why the industrial agricultural model is not sustainable bear repeating here: (1) antibiotic overuse in raising 450 billion land animals each year, (2) the sewerage produced by farmed animals in the United States which is "30 times as much waste as the human population- roughly 87,000 pounds of shit per second," and (3) the "profoundly cruel systems" which produce meat as a product.
Nonetheless, pressure placed on American fast food chains to improve their antibiotic use policies does represent some small progress.
(Frank W. Barrie, 10/29/21)