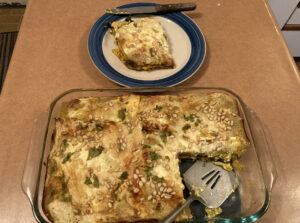 The extended growing season in the Hudson Valley of upstate New York has coincided with this backyard gardener's extraordinary harvest of "volunteer" pumpkins and squashes growing out of a compost bin. For the past few years, there's always been a pumpkin or two. But this year, it was a bountiful supply of various pumpkins and squashes growing out of the backyard compost bin.
But what to do with this surprising bounty?
We've sung the praises of National Geographic's Edible: An Illustrated guide to the World's Food Plants ("Edible") published over 10 years ago. As noted in our book review: Edible is worthy of just about anyone's collection and will satisfy the plant nerd, foodie, or historian. 
This remarkable guide to edible food plants includes a fascinating couple of pages on "Pumpkins, Winter Squash." These edible plants, part of the Cucurbita genus of about 27 trailing and climbing species of annuals and perennials, are grown for both their edible and their ornamental fruit. The article in Edible summarizes their culinary use in various cuisines:
In France, pumpkin is used almost exclusively for making soups, however in the south of France it is also used to make a pumpkin-flavored bread and the pumpkin pie known as citronillat. In Argentina, large pumpkins are hollowed out and a meat stew is cooked inside. Wow.
The article also notes that many recipes using pumpkin start with the cooked purée. Roasted, the pumpkin purée is sometimes mixed with potato and made into mash.
And some sweet dishes described in Edible using the purée include, unsurpisingly, a traditional Thanksgiving dish in the United States, pumpkin pie. More unusual are pastries, stuffed with crushed wheat and pumpkin, flavored with a mixture of cloves, cinnamon, and sultana raisins, popular for breakfast in Cyprus! And in Majorca, Spain, a sweet known as Angel's Hair is made from cooked pumpkin, cooked again with sugar to produce a stringy jam, used as filling for sweet yeast buns called "ensaimadas."
On this website, we've included delicious recipes for pumpkin pecan waffles, maple walnut pumpkin muffins, and Francesca Zambello's pumpkin and kale (or spinach) lasagna, a wonderful entrée, especially for non-turkey eaters, for the Thanksgiving feast.
The starting point for any of these recipes (in lieu of a can of commercially produced pumpkin purée) is to roast pumpkin/squash slices (with a light brushing of olive oil) in the oven for an hour or so. This home cook then gets out a simple potato masher, to make the pumpkin purée, after removing the roasted pumpkin flesh from the skin.
When we shared the recipe for maple walnut pumpkin muffins a couple years ago, we cited encouraging words for a home cook from the ever-handy cookbook, Joy of Cooking by Irma S. Rombauer, Marion Rombauer Becker, and Ethan Becker (New York, NY: Scribner, 1997). This home cook still appreciates the encouragement given in this reliable cookbook: "Remember that muffins invite substitutions and inventive flavoring, and that any coffeecake, quick loaf, or corn bread batter can be made into muffins as well" (p. 782).
The recipe for maple walnut pumpkin muffins which requires the use of only one bowl (and therefore an easy clean-up) makes it particularly appealing. And the lack of any need for oil or fat, and no refined sugar makes it a muffin recipe worth utilizing often.
This time around, however, I decided to substitute hazelnuts for walnuts, and maple sugar instead of maple syrup. I also decided to increase the amount of freshly-grated nutmeg, from 1/4 teaspoon to one teaspoon. Whole, raw hazelnuts were available at the remarkable bulk food section of my local food co-op, the Honest Weight Food Co-op in Albany, NY.
The article in Edible on hazelnuts notes their many different names (some quite unknown to me, cob, filbeard, witchales, halse), but it also notes that the filbert (a more familiar name) is most likely the parent of most cultivated varieties.
The article also notes precisely the appeal of using hazelnuts: they are "delicately sweet" and are "the richest nut source of folic acid and also contain protein, fiber, and niacin and many other vitamins."
And with a supply of pumpkin/squash purée ready to use in my fridge, it was also an easy decision to make another pumpkin lasagna. But this time around, since a beautiful bunch of kale was included in my latest weekly farm share from Roxbury Farm in Kinderhook (Columbia County), NY, I substituted kale for spinach in the recipe.
And on a recent shopping trip to the Honest Weight Food Co-op, although whole wheat lasagna noodles were not available, I noticed Explore Cuisine's Organic Green Lentil Lasagne noodles, made with these three ingredients: organic green lentil flour, organic green pea flour, and organic brown rice flour. Since I needed a pound of lasagna noodles, two 8 ounces packages of these oven ready noodles were added to my shopping cart.
An interesting side note: which is it, lasagna or lasagne? In our internet age, the answer was quick to find on the website everybody craves:
In Italian, 'lasagne' is the plural name given to flat, rectangular pieces of pasta. Whereas 'lasagna' is actually the singular form of 'lasagne.' 'Lasagna' is also the American English spelling of the word, with 'lasagnas' being the American plural. English speakers outside of North America usually use 'lasagne.'
With the Thanksgiving holiday fast approaching, a thank you to Mother Nature is in order for the bounty that appeared voluntarily out of the compost bin.
[Click here for the maple walnut pumpkin muffins recipe and substitute hazelnuts for the walnuts. Click here for the pumpkin kale (or spinach) lasagna recipe posted earlier.]
(Frank W. Barrie, 11/12/21)