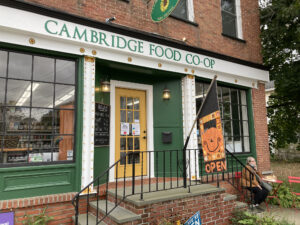 The Agricultural Stewardship Association's  Landscapes for Landsake annual fall exhibition has been held at the barn at Maple Ridge for the past 20 years, just outside the historic, well-preserved village of Cambridge, located in rural Washington County of upstate New York. For the past six or seven years, a visit to the exhibition also included stopping at the Round House Bakery and Café to stock up on its artisan breads and if not lunch as well, a delicious pep-me-up.
Kate Abbott, a reporter for btw Berkshires (which describes its website as a 21st-century guide to the Berkshires), noted in her article, Round House Bakery closes at Hubbard Hall and regroups in the pandemic, that since Scott and Lisa Carrino opened the Round House Bakery Café in 2013, they have built a local community rooted in their bakery/café. They began in the old bank building in historic downtown Cambridge, New York and in the summer 2017, they moved into the historic village general store space on the ground floor of the Hubbard Hall Center for the Arts and Education ("Hubbard Hall").
But in March of 2020, Hubbard Hall closed completely following state guidelines, and the Carrinos' bakery/café had to close with it. They eventually made the decision to continue their bakery at their Pompanuck Farm on a rural road in the hills between Cambridge (Washington County, NY) and North Bennington, Vermont.
Round House Bakery has found a way to meet the challenges of the pandemic and endure by accepting food orders for pickup from their bakery on the farm on Fridays of each week, notably their delicious boules and baguettes. Round one and half-pound loaves include a sesame whole wheat boule, rosemary sea salt olive oil boule, rustic white boule with sesame seeds and one without sesame seeds, and a poppy multi-grain boule. Four types of baguettes are also available. Also available for pickup are frozen pizzas, soups and weekly dinners like its Lasagna Dinner, with both meat and vegetarian options available.
And it was a wonderful discovery to find out that Round House Bakery's breads are also available at the Cambridge Co-op in the village of Cambridge. In addition, Round House Bakery's breads and baked goods are available at Clear Brook Farm in Shaftsbury, Vermont and at Spice n'Nice Health Food Store in Bennington, Vermont.
This local and organic food advocate takes some pride in the very useful, especially when traveling away from home, directory of craft bakeries included on this website. On the recent visit to the Cambridge Co-op to stock up on Round House Bakery's breads, before heading over to the Landscapes for Landsake exhibition earlier this month, I discovered another wonderful craft bakery to add to this directory, which now includes 97 listings throughout the United States and some in Canada, England and Ireland and now also includes Rupert Rising Breads.
These artisan bakeries offer baked goods and naturally leavened breads, made from scratch and hand-crafted, with the mindful sourcing of ingredients often including local grains and fruit. They're part of the New Bread Basket, artfully described by Amy Halloran's in her optimistic book, subtitled How the New Crop of Grain Growers, Plant Breeders, Millers, Malsters, Bakers, Brewers, and Local Food Activist Are Redefining Our Daily Loaf.
Just across the New York border in East Rupert (Bennington County), Vermont is the home of Rupert Rising Breads, which has been baking traditional hearth breads since 2003. 100% naturally levained with an heirloom sourdough culture. Their wonderful breads are also available at the Cambridge Co-op.
Like the Round House Bakery, Rupert Rising Breads does not maintain a retail location at its bakery. Instead, its artisan breads are sold and served in various locations in Bennington County in Vermont as well as in Washington County and Saratoga County in New York. Good to know! And also good to know that both craft bakeries are enduring the challenges of the pandemic.
(Frank W. Barrie, 10/21/21)