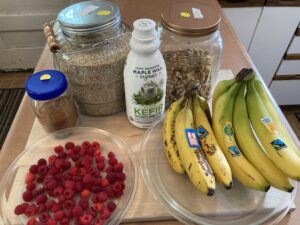 If there's at least 30 minutes to spare for breakfast, a bowl of homemade oatmeal made with steel-cut oats and topped with walnuts, sliced banana, berries, a sprinkling of ground cinnamon and some plain kefir milk is my go-to edible start to the day.
In the Tufts University Health & Nutrition Letter from the Friedman School of Nutrition Science and Policy for October 2021, Diane McKay, an assistant professor at the Friedman School of Nutrition Science and Policy and Tufts University School of Medicine, explained concisely why steel-cut oats are preferable to rolled oats though they take a longer time to cook than rolled oats.
Prof. McKay noted that oatmeal is a "healthy, whole-grain, breakfast option" often recommended by nutrition publications, and although "all oats are nutritious, fiber-rich whole grains," steel-cut oats in particular are preferable.
She described the difference between steel-cut and rolled oats concisely:
"After the inedible husk is removed from an oat grain, the resulting groat (inner kernel) can be cut into smaller pieces or steamed and flattened with a roller. The rolling breaks the grain's structure down, so the resulting product cooks more quickly and has a softer, more consistent texture. Quick or instant oats generally undergo further processing, such as precooking and then drying."
I'm glad to have Prof. Mckay's confirm my choice to use steel-cut oats if there's 30 minutes for breakfast in the morning:
"Cut oats retain more of their intact structure than rolled. They therefore take longer to digest and raise blood sugar levels even more slowly (than rolled oats). This may help you feel full longer."
Nonetheless, it's good to know why all oats are nutritious. According to Prof. Mckay, "Among other health-promoting nutrients, oats are rich in beta-glucan, a soluble fiber associated with reducing blood cholesterol levels and colon cancer risk."
And it's wise for a consumer to understand Prof. McKay's advice to choose steel-cut or rolled oats over instant varieties of oats which "boost blood sugar more and are more likely to come with undesirable added ingredients (like sugars)."
A few years ago, this backyard gardener shared a recipe for Five Minute Strawberry Rhubarb Oatmeal, using rolled oats and local rhubarb and strawberries. The sweet and sour combo of strawberries and rhubarb turned the morning bowl of oatmeal into something special. Unfortunately, the hot and sunny summer of 2021 was not good for my backyard patch of rhubarb, which needs to be moved to a shadier and cooler spot. In contrast, this year's hot, sunny and wet summer provided perfect conditions for a bumper crop of raspberries in the backyard garden. And oatmeal made with steel-cut oats, and cooked for an additional minute or so towards the end of preparation with a 1/2 cup of raspberries, has been a delicious way to start the day with a bowl of raspberry oatmeal.
Here's the recipe:
Fifteen Minute Raspberry Oatmeal (one serving)

Two cups of water
1/2 cup of steel-cut oats
1/4 to 1/2 cup of raspberries
1 teaspoon of ground cinnamon
1/4 to 1/2 cup of organic raw walnuts
1/4 to 1/2  cup of plain kefir
banana slices
Rinse the raspberries.  Bring 2 cups (16 ounces) of water to a rapid boil in a small pot and add 1/2 cup of steel-cut oats. Stir and cook over high heat for one minute. Lower heat and cook over a medium to low heat for 14 minutes, stirring occasionally.  Add raspberries and stir and simmer for up to 1 minute.  Turn off heat and if any water left, cover and wait until water is absorbed.
Transfer to a small bowl, and sprinkle 1 teaspoon of cinnamon and add walnuts and sliced bananas.
Moisten with 1/4 to 1/2 cup of plain kefir (which I like to add around the circumference of the oatmeal).
As a closing note, it you're short for time in the morning, check out this recipe for 5 Minute Overnight Oats (using rolled oats) by Genevieve Ko. It was included as one of ten breakfast ideas for people on-the-go! recently published in the New York Times.
(Frank W. Barrie, 9/24/25)