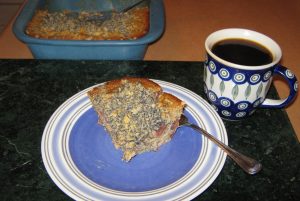 Special occasions call for a delicious and indulgent dessert even for folks who closely watch their sugar calories. My preference is for a dessert like a fruit crisp or pie where the spotlight is on agriculture's sweet bounty, carefully cultivated.
In early May in upstate New York, there is no fresh, local fruit to use in a dessert recipe. Cold storage, local apples from last season are a possible ingredient. But instead, a can of tart red cherries (which had caught my eye a couple of months ago in the grocery aisle of the Honest Weight Food Co-op) gave me an idea for a sweet indulgence. How to use the tart red cherries (Oregon Specialty Fruit's whole pitted cherries in water, described as "hand selected, picked ripe, all natural, verified non GMO") was made easy when I also noticed on the can's label that I could "Find recipes and fruit inspiration at: www.oregonfruit.com."
On its website, Oregon Specialty Fruit provides dozens of dessert recipes for its various canned fruits, including a recipe for a cake that seemed perfect to serve at a Mother's Day brunch: red tart cherry & poppy seed yogurt cake.
The recipe noted below includes some personal tweaking, which substitutes sunflower seed oil for canola oil and notes this baker's favorite organic and local products, that makes it a very special homemade treat.
Red Tart Cherry & Poppy Seed Yogurt Cake
For streusel:
1/4 cup all-purpose Farmer Ground (Trumansburg, Tompkins County, NY) whole wheat flour
2 tablespoons old-fashioned thick cut organic oats
2 tablespoons granulated (Jedwards Fair Trade Certified Organic) sugar
2 teaspoons poppy seeds
Pinch of Himalaya pink sea salt, freshly ground using a mortar and pestle
2 tablespoons unsalted Kriemhild Dairy Meadow butter made with milk from the Hamilton (Madison County, NY) dairy farm's grass-fed cows), softened
For cake:
1 1/2 cups (one 14.5 oz. can) pitted Oregon Specialty Fruit's red tart cherries, drained of its water
1 1/2 cups all-purpose Farmer Ground whole wheat flour
1 1/2 teaspoons baking powder
2 tablespoons poppy seeds
1/2 teaspoon Himalaya pink salt
3/4 cup granulated fair traded sugar
1/2 cup organic Napa Valley Naturals sunflower seed oil
3 large eggs (at room temperature) from Skyhill Farm (Seward, NY), which takes pride in "no antibiotics, hormones, pesticides, arsenic & from heritage hens, hand-raised in garden & pasture"
1 cup plain 100% grassfed & organic Maple Hill (Kinderhook, NY) yogurt
1/4 cup freshly squeezed lime juice
2 limes for zest
To make the streusel:
In a small bowl, stir the flour, oats, sugar, poppy seeds, and salt together. Add in the softened butter and use your fingertips to mix until small crumbs form. Set aside while you prepare the cake batter.
To make the cake:
Whisk the flour, baking powder, poppy seeds, and salt together in a small bowl. Add the sugar to a large bowl and grate about 1 tablespoon of lime zest directly into the sugar. Use your fingers to rub the zest into the sugar until evenly distributed. Add the oil, eggs, yogurt and lime juice and whisk to combine. Add the flour mixture all at once, switch to a rubber spatula, and stir until just combined. Fold in half of the cherries.
Pour the batter into the prepared pan and scatter the remaining cherries over the top.
Sprinkle the streusel in an even layer over the cherries.
Bake the cake in the oven, preheated to 350 degrees, until puffed and golden and toothpick inserted into the center comes out clean, 45-50 minutes.
Let cool completely before slicing. This cake will keep in an airtight container for about three days at room temperature.
Makes one 8-by-9-inch cake or 9-by-5-inch loaf cake.
(Frank W. Barrie, 5/2/19)