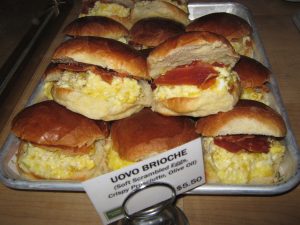 Sullivan Street Bakery founded in 1994 by Jim Lahey in the Big Apple's Greenwich Village may be the longest running bakery included in our directory of craft bakeries. We take some pride in noting that our listings now number 80 bakeries, from Alaska to Wyoming in the United States, from British Columbia to Prince Edward Island in Canada and one in London, England.
In our modern era when Grupo Bimbo, a multi-national corporation with its 100 trademarks, reports more than than $14 billion in sales at 170 factories in 22 countries producing "breads" like Wonder Bread, we're pleased to offer a directory of bakeries offering baked goods and naturally leavened breads, made from scratch and hand-crafted, with the mindful sourcing of ingredients often including local grains and fruits. This directory is often handy for travelers searching for a special spot for breakfast or lunch since many of the bakeries offer light meals.
Sullivan Street Bakery's Jim Lahey (the first recipient of the Outstanding Baker James Beard Award in 2015) was "inspired by Italy's village bakeries. . . to make bread that people could fall in love with."  And a light breakfast consisting of a delicious Uovo Brioche, made with soft scrambled eggs, crispy prosciutto and olive oil, and a cup of Great Circle Coffee served at the bakery, was a perfect start to a day spent in Manhattan.
And the light breakfast became something a little more when a small fresh loaf of the bakery's Santi bread, with its mild peppery flavor, was almost entirely consumed when a small piece proved insufficient. The bakery's description, almost poetic, of this special bread, explains why: dark chestnut-colored crust encoats a medium crumb loaded with walnuts and raisins. Accented with notes of black pepper, cinnamon, and walnut oil. Delicious. A whole grain Pullman Loaf would have to serve as the take-away bread for later consumption at home after the day trip to The City from upstate New York.
No longer located in Greenwich Village, with its two current locations in Manhattan, a large cafe in the Chelsea section and the small cafe and bakery operation on the far west side of midtown, Sullivan Street Bakery remains a welcome destination for New York City residents and visitors alike, mindful of how their bread is made.
[Sullivan Street Bakery (Jim Lahey), 2 locations in Manhattan, (1) 533 W47th Street (between 10th & 11th Avenues in Hell's Kitchen), 212.265.5580, Mon-Sat 7:00AM-7:00PM, Sun 7:00AM-5:00PM, (2) 236 9th Avenue (between 24th & 25th Streets in Chelsea), 212.929.5900, Mon-Fri 7:00AM-8:00PM, Sat & Sun 7:30AM-7:00PM, www.sullivanstreetbakery.com]
(Frank W. Barrie, 4/26/19)