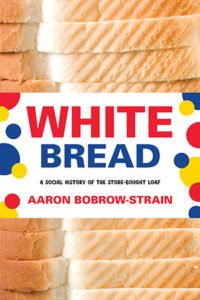 The death of Lorenzo Servitje at his home in Mexico City, reported in the NY Times by Sam Roberts, Lorenzo Servitje, 98, Who Built Empire By Bringing Bread Across Borders, Dies (2/7/17), brings renewed attention to Grupo Bimbo, a company which reported more than $14 billion in sales in 2014, and that has 130,000 employees and 170 factories in 22 countries (in the Americas, Europe and Asia) that make 10,000 products distributed by more than 11,000 vehicles. Given our recent film review of The Founder, the biopic about Ray Kroc, McDonald's "founder," Mr. Robert's reference to Grupo Bimbo as Mexico's "sole supplier of buns to McDonald's" sprung off the page.
At the time of Mr. Servitje's death, Grupo Bimbo, the Mexican conglomerate, operated worldwide with more than 100 trademarks, including Wonder Bread, Sara Lee, Entenmann's, Thomas' English muffins, Brownberry, Boboli and, in Britain, New York-brand bagels. Quoting from Aaron Bobrow-Strain's White Bread: A Social History of the Store-Bought Loaf (Beacon Press, Boston, MA, 2012), Roberts notes: "If you buy Arnold bread in the East or Orowheat in the West, Freihofer in Pennsylvania [or in my hometown of Albany, NY where the Freihofers first opened a bakery], Mrs. Baird in Texas, Stroehmann's in the mid-Atlantic or Old Country in Arizona, not to mention Roman-Meal, Sun-Made and Francisco sourdough, it's Bimbo." Mr. Bobrow-Strain seems to have coined the telling phrase, "White bread imperialism."
Roberts also noted that Grupo Bimbo became the biggest baking company in the United States in 2009 after acquiring Weston Foods. Two years later, it became the world's biggest after scooping up competitors in Spain, Portugal and Argentina. Last year, Grupo Bimbo , according to its Wikipedia page, was considered a possible buyer of Hostess Brands, valued at $2 billion.
This bread lover (whose father called bread, the staff of life) would like to suggest a different approach to bread buying, if the reader is short on time for baking a fresh loaf. (Though our recipe for oats and honey bread is surprisingly easy to follow.) Check out our directory for craft bakeries, offering baked goods and naturally leavened breads, made from scratch and hand-crafted, with the mindful sourcing of ingredients often including local grains and fruits.
Another reason to patronize the bakeries included in our directory is to support small businesses in America. The Economic Innovation Group, a bipartisan public policy organization focused on America's most pressing economic challenges, has issued a new report which provides an "analysis of community well-being across the United States." Sadly, the report notes that for the first time on record, American small businesses are closing faster than opening as large corporations see increasingly large shares of all post-recession gains since the 2008 economic turmoil.
(Frank W. Barrie 2/9/17)