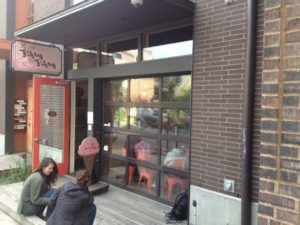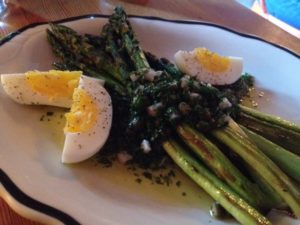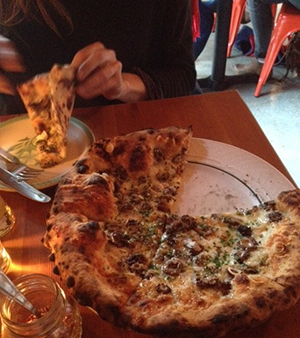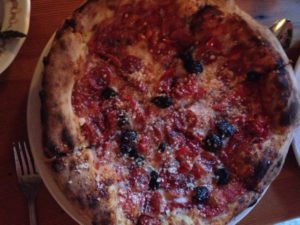 Before serving piping hot pies from their 800 degree oven, Lovely's Fifty Fifty in Portland, Oregon was Lovely's Hula Hands for seven years.  Owners Sarah and Jane Minnick decided to shutter Hula Hands and redirect the space into a pizza and ice cream parlor, but not for lack of success.
It was their desire to bring the kitchen side of the business back into the fold of their family that prompted a makeover. Instead of relying on a talented chef employed to direct the kitchen, the Minnicks wanted to have more of a hand in the production of the food they served.
Lovely's Fifty-Fifty has become a creative farm-to-table pizza and ice cream parlor with a praiseworthy and continuing commitment to quality ingredients from local farms. Still featuring a rotating, seasonal menu, diners now find pizzas, salads, delectable appetizers, and house-made ice cream and beverages.
With its gorgeous high-ceilinged interior and jovial service that made it feel more like we were dining at a friend's dinner party than on a sunny, hip Portland strip, Lovely's Fifty-Fifty is a very special listing in this website's directory of Farm to Table Pizza. Portland, Oregon can certainly be proud of its pizza offerings; A couple of months ago, we also reviewed pizza night at Ken's Artisan Bakery.
Even with only seven 12" pies to select from, the choice was a tough one.  Apart from the classic rendition (fresh mozzarella with organic basil from Groundwork Portland's Emerson Street Garden Groundwork), the list stumped us with mouth-watering offerings.  Would we try fava beans with asparagus, roasted spring onions, basil-dill yogurt and farm egg?  Perhaps roasted yellow potatoes with fenugreek greens, La Quercia pancetta and tallegio cheese, or the inviting housemade fennel sausage with braising greens, rosemary and provolone piccante?
To give ourselves a little time to decide, we requested the oven-roasted asparagus with lovage salsa verde and egg appetizer.   Debating over the menu while sipping a glass of dolcetto from Viola Wines Cellars, a small urban winery in Portland (which crafts Italian-inspired wines using natural winemaking techniques from grapes grown in the Columbia Gorge, Horse Heaven Hills and on the Oregon side of the Walla Walla Valley), my companion and I nibbled the olive-oil brushed asparagus that had just come fresh from the wood-fired oven.
We finally decided to try one classic pie and one particularly creative one. The Chop Butchery salami with Mama Lil's sweet hot peppers, oil cured black olives and Italian oregano was just as one would expect a salami pie to be—salty and divine—with the peppers and olives adding a personal "Lovely's" touch.
Our choice on the creative side was inspired by the knowledge of the previous years' forest fires, which generated a natural environment for the local morels to flourish.  We saw them in the local markets and figured we couldn't pass them up given the uncertainty of their growing season from year to year and our budding interest in edible fungi.  Boy, were we rewarded!
Where the salami pie was a warm and comforting reminder of all that is wonderful about pizza, the morel mushroom with ramps, pecorino tartufo and gremolata stood out with a symphony of flavor and texture the likes of which I had not experienced before except in only the most unlikely combinations (clam and bacon pizza at Area Four in Somerville, Massachusetts, or shrimp scampi pizza in Boston's North End).  The spongy, woody morels reminded us of a more complex, piquant crimini.  Pairing it with ramps was a brilliant move given they could very well have grown in the same verdant area, and combining wild edibles with their own neighbors is most often a fool-proof recipe for deliciousness.
To ease our stomachs through the cheesy feast we imbibed the house-made kombuchas: fenugreek-maple and rhubarb cardamom.  Incredibly inventive, these brews went heavier on the spice and lighter on the sweet maple or tart rhubarb than expected.  I'd especially recommend asking for them in a cocktail.
We were unable to manage fitting anything else in our satiated bellies, otherwise the strawberry buttermilk ice cream would have been my perfect dessert.  Other options like fig leaf vanilla bean, mint stracciatella, and chamomile barley toffee offer enough variety for ice cream novices and connoisseurs alike.
Adding yet another star quality farm-to-table pizza parlor to our directory, Lovely's Fifty Fifty is a must-try for anyone passionate about delicious pies.  From the sourdough crust to the seasonal rotation of original toppings, Lovely's has the creativity and local-farm consciousness that is raising the bar for restaurants and wood-fired ovens all across America.  Bon appétit!
[Lovely's Fifty Fifty, 4039 N Mississippi Avenue (between N Mason & N Shaver Streets), 503.281.4060, Dinner (Pizzas & salads, oven roasted vegetables, soups w/ bread, homemade ice cream): Tues-Sun 5:00PM-10:00PM]
(Lucas Knapp 7/13/16)