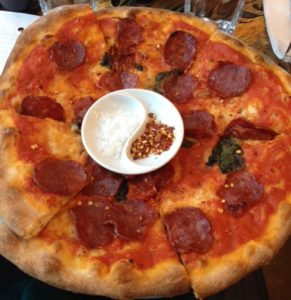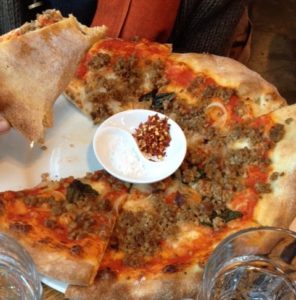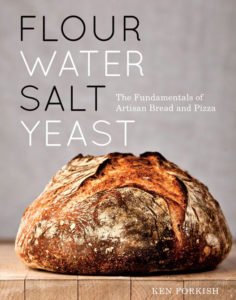 Ken Forkish opened Ken's Artisan Bakery fifteen years ago in Northwest Portland, an urbane residential and retail area of the city, with Old Portland-style houses, grand old apartment buildings and sleek new condominiums, plus adjoining parkland made for hiking. A perfect neighborhood for Ken's Artisan Bakery, which has earned national attention and praise for its bread, croissants, and fruit tarts. The bakery has also become known for its Monday pizza nights.
In fact, the success of the Monday pizza nights at the bakery led to the opening of Ken's Artisan Pizza in Southeast Portland on the east side of the Willamette River that passes through Portland. Pizza lovers can now savor Ken's artisan pizzas any day of the week in a restaurant seating 55 plus 10 at the bar and an additional 16 seats in the summer months on the sidewalk.
Still, every Monday, flocks of Portlandians come out for pizza at the original bakery, and I had the pleasure of joining the crowd. Ah, pizza.  I've been a pizza fiend ever since I can remember. I favor a crispy, thin crust to a doughy one, and love cured pork atop it: why we went for the two porkiest options on the pizza menu—the Soppressata (cured, dry sausage) pie with basil from the bakery's garden and the Fennel Sausage.
The pizzas arrived piping hot.  A delicate tomato sauce rested atop the flaky crust, along with fresh mozzarella and herbs. Delicious! While recommending one 12" pizza per person, a single pie was certainly generous enough to feed two with the addition of a Caesar salad and a couple of irresistible dessert pastries.  A pair of scrumptious complimentary shortbreads accompanied the bill.
The service was friendly and attentive even though the bakery was busy. And my sourcing questions were answered patiently and thoroughly. An abundance of local produce abounds, like salad greens and arugula from Millennium Farms, and carrots and potatoes from rotating urban farms. For its pizzas, the bakery uses an assortment of imported and domestic meats and cheeses, sourcing mozzarella and sausage through Provvista Specialty Food (a wholesale distributor of specialty foods based in Portland, whose motto is "simple authentic food"), Oregon ham from Carlton Farms (based in northwest Oregon's Yamhill Valley and which produces "handcrafted natural meats" by working with "a select team of handpicked local and national growers who raise animals to our exacting standards"), hot dogs and charcuterie from Oregon's first USDA approved salumeria, Olympia Provisions (all its cured meats are aged naturally and slowly using antibiotic-free Pacific Northwest pork), and goat cheese from Portland Creamery (where the goats can be spied roaming pastures "just outside the creamery window," 35 miles south of Portland in Molalla, Clackamas County).
Surprisingly, the wines were from overseas. We sampled the Marco Felluga Pinot Grigio from gorgeous Collio (in the Friuli-Venezia Giulia region of northeast Italy, between the Adriatic Sea and the Alps).
Not surprisingly, however, the bakery's flour is sourced from Shepherd's Grain. Founded by Karl Kupers and Fred Fleming, wheat farmers dedicated to sustainable agriculture, they have expanded their operation to include nearly 60 other wheat farmers (from three geographical areas, southern Alberta, Pacific Northwest and southern California). Shepherd Grain farmers "do less to the soil so that nature can do more" by practicing no-till, direct seeding agriculture.
Ken's Artisan Bakery does Shepherd's Grain farmers justice with its superb pizza crust, prepared by combining the bakery's own house-made poolish (a French baking term used for a pre-ferment or bread starter, also known as a "sponge," based on baker's yeast) with the mindfully grown wheat flour. It works sourdough wonders, and makes particularly tasty leftovers.
With praiseworthy ingredients matched with skilled baker Ken Forkish at the helm, Ken's Artisan Bakery's pizza night deserves its reputation as the destination for pizza lovers on Monday nights in Portland.
Ken's Artisan Bakery's Cafe, 338 NW 21st Avenue, 503.248.2202, Bread, pastries, cookies, sandwiches, soups & salads: (Bakery hours) Mon-Sat 7:00AM-6:00PM, Sun 8:00AM-5:00PM, Pizza night: Mondays 5:30PM-9:30PM and Ken's Artisan Pizza, 304 SE 28th Avenue, 503.517.9951, Dinner: Mon-Sat 5:00PM-10:00PM, Sun 4:00PM-9:00PM
(Lucas Knapp, 5/2/16)
[Editor's Note: Ken's Artisan Bakery and Ken's Artisan Pizza are both included in our special Farm to Table pizza directory which has listings for nearly thirty farm to table, artisanal pizza restaurants and bakeries in the U.S. and Canada. Also recommended, for homemade pizza recipes, is Ken Forkish's Flour, Water, Salt, Yeast, The Fundamentals of Artisan Bread and Pizza (Ten Speed Press, Berkeley, California, 2012), beautifully illustrated with photographs by Alan Weiner. The cookbook won the James Beard Foundation's 2013 award for best Baking and Dessert cookbook as well as the 2013 award for outstanding Baking Cookbook from the International Association of Culinary Professionals (IACP). It includes recipes for Neapolitan-style pizzas and rustic boules (both straight doughs and doughs made with pre-ferments). The directions and insight for making your own levain culture and the "iron-skillet pizza" recipes (a great way to make pizza without a pizza stone, tossing dough, setting it up on a peel and transferring to a preheated pizza stone), in particular, caught my eye. And Ken Forkish's new cookbook, The Elements of Pizza, Unlocking the Secrets to World-Class Pies at Home (Ten Speed Press, Berkeley, California, 2016) has just been published. FWB]