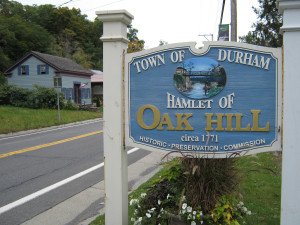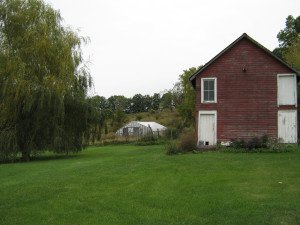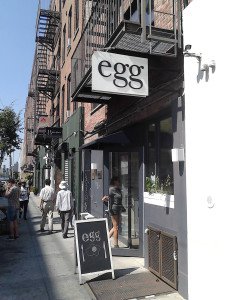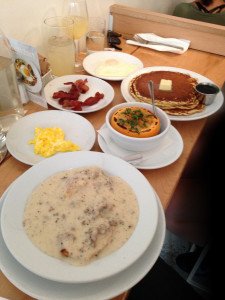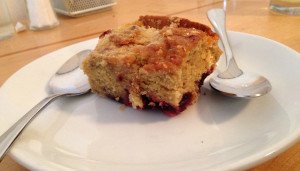 In an airy, sun-filled dining room in the heart of Brooklyn, there's a place in the popular Williamsburg neighborhood where you can revel in the simplicity of a homey, country meal. And if breakfast is your thing, you're in luck, because egg serves it all day. But don't let the name fool you: eggs are just the beginning of the story.
George Weld, egg's founder, grew up in the south and, because he modeled many of the restaurant's signature dishes on childhood faves, the fare at egg is decidedly southern. The raw ingredients, on the other hand, are mostly from the north (about 140 miles north to be precise). Taking farm-to-table a step further than most restaurants touting local sourcing of food, egg sources many of its fruits and veggies (plus flowers) from its Goatfell Farm in Oak Hill, a hamlet in the town of Durham (Greene County, NY) in the shadow of the northern Catskill Mountains. And what they don't grow themselves, they get mostly from other small family farm growers and producers.
Having such fresh ingredients at their fingertips, egg's cooks focus their menu on what's in season and just harvested. But the reason behind establishing egg's own farm goes deeper: Weld started the farm so his staff could take turns working on the farm and get to know the foods they're using on a whole new level. His master plan seems to be working: egg's dishes are a testament to a faith in the goodness of simply prepared food when the source and freshness of the ingredients is known from personal experience on the farm. How wonderful and rare for restaurant workers to "plant, tend and harvest" the food they make and serve. Adding to this wonder, George Weld's restaurant is in New York City, the most intensely urban place in the U.S. (where "nature deficit disorder" is not an unknown diagnosis for many of its inhabitants).
Visiting the restaurant on a weekend, when egg's menu shifts to a more brunch-oriented affair, the line was, not surprisingly, out the door. The wait gave me a chance to plan my order from the deceptively simple menu. I say "deceptively" because the magic of everything I ordered was rooted in the depth of its quality, not its complexity. No fancy claims or exotic ingredients here and to expect it would be unfair. But when you have as much control over your ingredients as egg does, dishes that normally play supporting roles become shining stars on their own.
Take egg's bacon. The medium-thick strips from Heritage Foods USA (a Brooklyn distributor of heritage breed meats of all kinds and which lists on its website the family farmers "raising livestock with old-school genetics on pasture" who supply the meats it sells) were both crispy and chewy, with fat that was neither shriveled nor dense: a delicate and difficult balance that a regular bacon eater notices immediately.
Elemental quality also shined through with egg's biscuits and sawmill gravy. With a heavy dose of fresh black pepper dominating the palate initially, I only noticed the mildly fennel-laced sausage (made in house) as an afterthought. But the more I ate, it dawned on me that this subtle one-two punch really keeps things exciting. The buttermilk biscuits (made with local organic flour and Hudson Valley's Ronnybrook Farm Dairy butter and milk) were dry but not tough—perfect for withstanding the gravy's moist embrace. If the gravy hadn't been as thick as it was, I'm sure I would have drunk the stuff.
Less stunning, but no less satisfying, were the organic pancakes with maple syrup courtesy of Northeastern Vermont's eminently sustainable Deep Mountain Maple. At first, I felt a little cheated for getting pancakes that weren't the decadent creations my imagination had conjured. But after digging in, I had to admit they were great—just the way I'd cook them myself (if I was actually any good at it). It didn't hurt that the maple syrup was incredibly delicious: lightly sweet with pleasant notes of cinnamon, vanilla, and malt.
Since I didn't order one of the egg-based mains on tap (they typically offer the tempting eggs Rothko, described as "easy-cooked eggs" in a slice of brioche topped with Grafton cheddar, a cheddar omelet made with broiled tomatoes, grits and eggs, chorizo and eggs, and French toast), I ordered scrambled eggs as a side just to see what all the noise of the other contented diners was about. I was not disappointed. This simple preparation of the namesake ingredient was expertly performed. The quality of the eggs (sourced from hens raised on local grains like alfalfa and flax at Columbia County's fourth-generation Feather Ridge Farm) was obvious from the bright yellow hue of the yolk. Their rich flavor only needed the gentle lift of freshly ground black pepper to emerge.
Since it was brunch and I was in a celebratory mood, I indulged in both the bloody mary (very tomatoey, with some kind of pickled onion, leek or garlic scape but wasn't quite sure) and the grapefruit mimosa (albeit non-local grapefruit). I've had a few bloody marys in my day and know what I like, and I can tell you egg's delivered on all counts. The main thing was that it sported an unusually solid balance. No thrown together watery store mix with cheap vodka: this drink was thick, lemony, and savory—without the typical untamed blast of spicy horseradish. With its house-made pickled garnish and gentle spiciness, it was clearly the creation of a connoisseur. For its part, the mimosa's fresh grapefruit juice imbued it with a flavor that made the concoction resemble a fizzy Sauvignon Blanc. No joke.
And that brings me to the surprising ending to the meal (in addition to a delicious blackberry grunt, much like a fruit cobbler): the caramelized grapefruit with mint. I'd never had nor heard of this treat before, but let me tell you: a baked grapefruit is something you need to try (even in northern climes) immediately. I was a little skeptical when I saw the dish arrive hot, not cold, figuring that I would be getting a freshly sliced grapefruit with some kind of quickly flamed sugar or honey on the top. Instead, the lightly charred turbinado surface came curling in onto a surface sprinkled with desiccated mint leaves. When I tried it, the revelation that passed through my lips is best described as what you'd expect if mojitos were some sort of food, rather than drinks. Needless to say, this manna didn't last long and my skepticism was gone. I have a hunch that the wait, on a line out the door, to dine at egg is here to stay.
egg (Brooklyn), 109 North 3rd Street (between Berry & Wythe Streets in Williamsburg), 718.302.5151, Breakfast (served all day): Mon-Fri 7:00AM-5:00PM, Sat-Sun 8:00AM-5:00PM, Lunch: Mon-Fri 11:30AM-5:00PM, Sat & Sun 3:00PM-5:00PM www.eggrestaurant.com
Matt Bierce (10/5/15)
[Editor's note: A few miles further west from egg's Goatfell Farm in Oak Hill is Heather Ridge Farm (a farm, farm store and café) in Preston Hollow which operates the Bees Knees Café, on the farm. Its farmhouse dining room has spectacular views of the high peaks of the Catskill Mountains. Reviewed previously on this website, nearly four years ago, it should be noted that the cafe has extended its operation to year-round from a more seasonal operation. The Bees Knees Café expands the experience of dining on a farm fresh breakfast to brunch on the farm, and like breakfast at egg, also highly recommended. FWB)