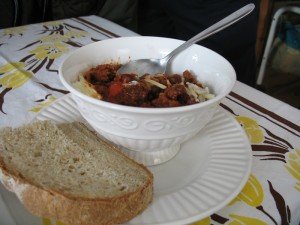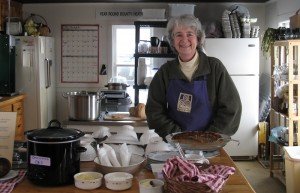 Once a week on Saturdays from Memorial Day weekend until Columbus Day weekend, and every other Saturday in the off-season, the Bees Knees Café on Heather Ridge Farm in Preston Hollow (Albany County, NY) serves lunch to the public. This farmhouse dining in an old 1840's working farmhouse, which has changed little in the past 170 years with its wide plank floors and simple wood framed windows, is an authentic experience that raises the spirits and makes the diner feel close to the richness of nature and the succor of the land, even in the snow and cold of a severe winter.  In Albany, NY, we are approaching 80 inches of snow for this 2010-11 winter, and without any thaw in January and few days with temperatures above freezing in February, the snow banks have grown to remarkable heights (still, Syracuse, NY with its 160.3 inches of snow this winter makes any complaints about Albany's snow totals seem like whining [www.9wsyr.com/content/weather/seasonal_snow_total.aspx]).
Our plans to drive for an hour south from Albany to Preston Hollow, in the southwestern corner of Albany County which abuts the northern reaches of the Catskills Mountains, to lunch at the Bees Knees Café, has long been on the agenda this winter, but the snow and ice has been a deterrence.  This past Friday, before a planned trip south on Saturday into the countryside, another foot of snow fell on the city, but when Saturday dawned, the sun was shining and the streets had been plowed, and we maneuvered the car out of the snow and ice and made the trip south into rural Albany County.
When the Bees Knees Café is open for lunch on Saturdays from Memorial Day to Columbus Day, it has a full café menu which makes the mouth water in anticipation of warmer weather and includes: (i) a pulled pork sandwich, lightly smoked with a tangy honey barbecue sauce, (ii) Greek beef stew of grass fed beef slow simmered with wine, small onions and spices, (iii) chicken salad made of pasture-raised chicken with apples, walnuts, and celery with honey vinaigrette dressing, or (iv) a cheese and charcuterie platter with local cheeses and the café's own beef summer sausage and pepperoni.  But in late winter, when we made our visit, the café's menu is accurately described as a "soup kitchen" menu, but don't let that be a discouragement.  The "soup kitchen" menu for the Saturday of our visit featured a choice of two soups, either the café's rich chili or a puree of garlic and onion, with slices of its Mountain bread, and excellent coffee (free-traded and single-sourced from Guatemala) or hot tea, and for dessert a slice of wondrously moist caramelized apple pecan cake with maple syrup crème fraiche.  The "serve yourself" procedure permitted second helpings, and for $15.00, it's a lunch to savor at a very reasonable price.
The Bees Knees Café's "oink and moo" chili features the farm's own grass fed beef and heritage breed pork chorizo (sausage).  It has the perfect amount of spicy heat.  At a recent chili cook-off in Hudson (Columbia County, NY), the café's oink and moo chili took first prize.  My dining companions each enjoyed the puree of garlic and onion soup, served over toasted Mountain Bread, which is first sprinkled with grated farmstead cheese before the soup is ladled on.  The café uses Harpersfield cheese from Brovetto's dairy farm up the road in Jefferson (Schoharie County, NY) [www.harpersfieldcheese.com/].  The Mountain Bread is made at the café from a half whole wheat/ half unbleached white flour.  Carol Clement, the farmer/chef responsible for the café's operation, grinds and makes her own whole wheat flour from wheat berries grown in upstate New York by the Wild Hive Farm in Clinton Corners (Dutchess County, NY) [www.wildhivefarm.com/].
Heather Ridge Farm, the working farm which is the setting for the café, produces its own grass fed beef and lamb, pasture raised heritage breed pork, grass and browse-fed goat, pasture raised chicken, eggs and turkey, artisan sausage, and pure raw honey.  An extraordinary hub of energy, the farm's sheep and llamas (which guard the sheep from coyotes and other strangers) also provide their "fiber" for socks.  All of these farm products, as well as beautiful sheepskins of varying colors, pure beeswax candles, and soaps made with honey, are for sale at the Café.  The next time there's snow to be shoveled, my newly purchased pair of sheep and llama crew socks will warm the toes, and I'll be able to distract my mind from the work of shoveling by letting my mind trail back to this wonderful lunch overlooking the Catskills.  My only regret is that I didn't bring home a container of the café's oink and moo chili, which was also available for take-home purchase (FWB 3/1/11). [The Bees Knees Café @ Heather Ridge Farm, 989 Broome Center Road, Preston Hollow (Albany County, NY), 518.239.6234, Lunch: Sat 10:00PM-3:00PM (full cafe menu-Memorial Day weekend to Columbus Day weekend; limited cafe menu-off season) Brunch buffet: Sun 11:00AM-3:00PM (Memorial Day weekend to Columbus Day weekend)  www.heather-ridge-farm.com ]