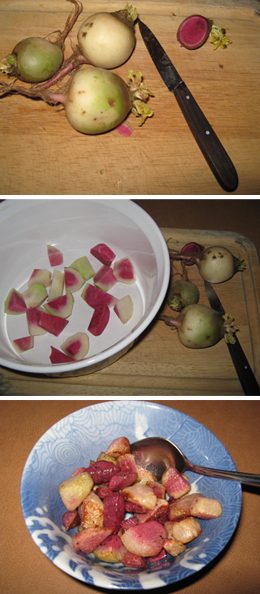 The opportunity to have a share in a CSA (community supported agriculture) family farm is one of the hopeful developments in American agriculture in the past couple of decades.  Although arguably nothing is better than growing your own food, a close second in our modern age is participating in a CSA farm.  In addition to knowing your farmers and where your food comes from (and how it was produced), the longer you participate as a shareholder in a CSA farm, the more you feel a part of a community.  The experience of spending a couple of mornings at Roxbury Farm  (the Hudson Valley CSA farm in Kinderhook, NY), planting garlic bulbs in the fall and digging up garlic in July, has provided a way for this urbanite to make a connection which transcends the hustle and bustle of buying food in a market (though admittedly becoming a regular customer of particular farm stands at a farmers market has its special pleasures).
Another benefit of having a share in a CSA is discovering an unfamiliar vegetable like the watermelon radishes that were part of the winter box of root vegetables included in an early December distribution.  This easy and simple recipe for roasted watermelon radishes can introduce a colorful side dish to a holiday table and provide perhaps a subtle way to prompt a conversation about the benefits of joining a CSA farm with friends and family.  With politics, religion, sex and, frequently of late, issues of obesity and nutrition creating tension at a dinner table, sharing the taste of this colorful vegetable dish can lend some positive momentum to valuing food that is carefully grown and beyond the often misleading hype of marketers.
Preheat the oven to 375 degrees F
Half a dozen watermelon radishes, peeled and cut into 1/2 inch chunks
One tablespoon of olive oil
Freshly ground pepper
Light sprinkling of salt
Rinse and scrub the watermelon radishes.  Peel and cut into 1/2 inch chunks and place in a baking dish.  Toss together with one tablespoon of olive oil, freshly ground pepper to taste, and a light sprinkling of salt.  I use Napa Valley Naturals organic olive oil, Frontier Natural "Simply Organic" black peppercorns, and pink Himalaya sea salt, all purchased at the Honest Weight Food Co-op (my food co-op in Albany, NY).
Roast in preheated oven for approximately one hour stirring every 20 minutes to ensure even roasting and to monitor doneness.  When tender or easily pierced by a knife, these colorful and flavorful roasted root vegetables are ready for the holiday table.
(Frank W. Barrie, 12/17/14)
[Editor's note- A reader writes that these colorful radishes would also "be good sliced by a mandolin and presented raw w/ vinegar/oil/salt/pepper. Maybe complementing some nice soft cheese like a ricotta."  Nice suggestion.]