The American Horticultural Society (AHS) and the Junior Master Gardener Program (JMG program) in 2005 created national awards for excellence in children's literature known as the Growing Good Kids Book Awards.  For the 18th year in a row, they have honored the best new children's books about gardening, nature and the environment.
The awards for 2023 were announced at the annual National Children & Youth Garden Symposium held in Knoxville, Tennessee this year. The annual symposium brings together educators, landscape architects and designers, staff at botanic gardens, non-profits, and others from around the country who are working to engage children with gardens and the natural world that surrounds them.
Since the first symposium was held nearly 30 years ago, thousands of teachers have participated and have, in turn, gone on to educate over a million children, with the goal of cultivating tomorrow's gardeners. And thousands of gardens and landscapes designed specifically for children and the way they play, explore, and interact have been created all over the world.
This year, there were five winners of the Growing Good Kids Book Awards. The five books recognized as "engaging, inspiring works of plant, garden and ecology-themed children's literature" are: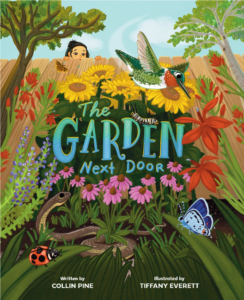 (1) The Garden Next Door by Collin Pine, illustrated by Tiffany Everett (River Horse Publishing, St. Paul, MN, 2022);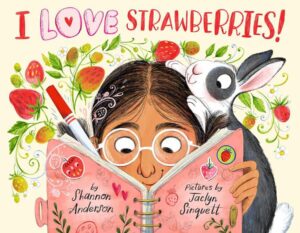 (2) I Love Strawberries! by Shannon Anderson, illustrated by Jaclyn Sinquett (Feeding Minds Press, Washington, DC, 2022);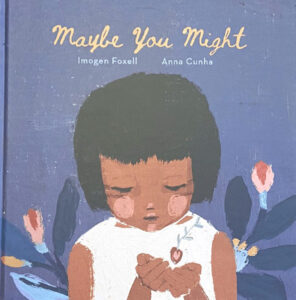 (3) Maybe You Might by Imogen Foxell, illustrated by Anna Cunha (Lantana Publishing Ltd., Oxford, UK, 2022);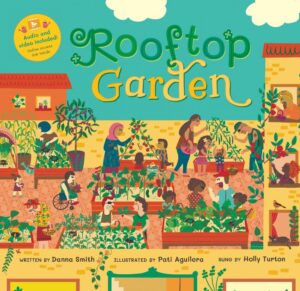 (4) Rooftop Garden by Danna Smith, illustrated by Pati Aquilera (Barefoot Books, Concord, MA 2022); and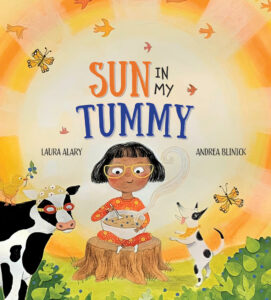 (5) Sun In My Tummy by Laura Alary, illustrated by Andrea Blinick (Pajama Press, Toronto, Canada, 2022).
This mature (and perhaps a tad overripe) reader was somewhat surprised by the extraordinary diversity of subject matter of these 2023 award-winning Growing Good Kids Books. And readers should not be deterred from close readings by thinking that these are merely children's books.
For example, the publisher of Maybe You Might suggests a recommended reader's age of 2-5 years. Yes, this beautifully illustrated book (dedicated by the illustrator Anna Cunha to Brazilian indigenous communities) tells a story in very few words. But this aging reader immediately thought of the "butterfly effect" and found Imogen Foxell's beautifully rhymed and simple narrative profoundly optimistic at a moment in human history which is short on optimism.
Edward Norton Lorenz, a mathematician and meteorologist gained attention for noting that the exact time a tornado forms and its exact path can be "influenced by minor perturbation such as a distant butterfly flapping its wings several weeks earlier." Foxell's tale suggests that the planting of a single seed could transform a barren landscape into something green and growing.
And how many readers have an understanding of photosynthesis, the process by which green plants transform light energy into chemical energy? A concept not easily understood, Sun In My Tummy provides an impressive introduction to the concepts of matter and energy. And Laura Alary's narrative provides an explanation of photosynthesis while focusing on the preparation of a morning's breakfast of oatmeal and blueberries (this mature reader's customary breakfast).
Similarly, Danna Smith shares an impressive amount of information on establishing a rooftop garden including four pages of detailed advice on the "Eight Steps for Growing a Garden" and "Six Stages of Plant Growth" at the conclusion of Rooftop Garden which is told in rhythmic rhyme. An added bonus is an audio singalong and video animation by Mike Flannery, with lead vocals by Holly Turton, also called "Rooftop Garden."
And given how I Love Strawberries ends with a visit to a blueberry farm (the subject matter of one of our most popular posts), thumbs way up for this story about a young girl who successfully convinces her parents to replace some lawn with a strawberry patch.
But it's The Garden Next Door which won over this backyard gardener of many decades from the very start with the initial close look at the book's cover! That monarch caterpillar  hanging atop the D and E of the word GARDEN had me from the get-go. I duly count the monarch butterflies in my gardens, rich with plantings of milkweed and spotting the monarch caterpillars early in the season is a sign of hope for the future. Thumbs way up for the wonderful story of three young ones transforming a suburban backyard lawn into their own garden for "buzzing bees, fluttering butterflies and a very happy hummingbird."
(Frank W. Barrie, 8/20/23)