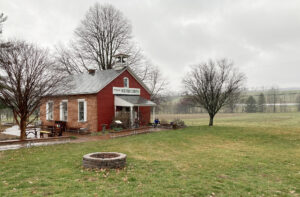 A gray and rainy day couldn't dampen the spirits of this first-time visitor to the Rodale Institute's farm, a destination for inspiration, in Kutztown (Berks County), Pennsylvania. Although its Visitor Center and Garden Store, located in a historic one-room schoolhouse, is open year-round, the open house in late March was a wonderful way to celebrate the arrival of spring.
Heather Gurk, the manager of the Visitor Center and Garden Store, provided a warm welcome to a visitor stepping in from the cold and rainy outdoors into the warmth of the historic one-room schoolhouse, now artfully arranged with Rodale Institute's branded merchandise, organic seed packs from Fruition Seeds (based in the Finger Lakes region of upstate New York and whose logo/ad we have coincidentally run on this website for years), gardening tools, a wide selection of books, small landscape paintings of farm scenes around the Rodale Institute's farm, organic chocolates and other organic treats.
In 2023, after 13 years, this website has published 533 posts and has grown to 282 pages of information related to knowing where your food comes from. At the very start, it required careful reading of three books in particular to begin to understand the importance of people knowing where their food comes from to ensure their personal health, the health and future of our planet Earth, and to protect the economic viability of their local communities.
In addition to David Montgomery's remarkable history of agriculture, Dirt, The Erosion of Civilization and Michael Pollan's educational and surprisingly humorous Food Rules: An Eater's Manual, this organic and local food advocate read carefully and studiously Maria Rodale's Organic Manifesto, How Organic Farming Can Heal Our Planet, Feed the World and Keep Us Safe.
Maria Rodale's grandfather, J.I. Rodale, founded the magazine, Organic Farming and Gardening in 1942, and her parents, Robert and Ardath Rodale, likewise championed organic agriculture.  In Organic Manifesto (Rodale, Inc. [distributed to the trade by Macmillan], New York, New York, 2010), Maria Rodale challenged readers to demand organic foods and to reject chemical farming and she did not use the term "Manifesto" playfully or ironically.
As noted in my review 13 years ago, Maria Rodale's 200 must-read pages in Organic Manifesto constituted a powerful statement of what must be done in order to save humanity from a future of environmental degradation and disease, which will result from an economic and political model that supports "chemical farming" and rewards the destruction of our planet's land, water, and air.
In Michael Pollan's Food Rules: An Eater's Manual, his Rule 33, "Eat well grown food from healthy soil" elaborates that "We now have a body of research supporting the hypothesis, first advanced by organic pioneers Sir Albert Howard and J. I. Rodale [Maria Rodale's grandfather!], that soils rich in organic matter produce more nutritious food: that is, food with higher levels of antioxidants, flavonoids, vitamins, and minerals (emphasis added)."  This rule echoes in the mantra shown on t-shirts for sale at Rodale's visitor center and garden store: "Healthy Soil = Healthy Food = Healthy People."
As noted in our review of David Montgomery's Dirt, The Erosion of Civilization, although Montgomery, a geomorphologist, does not call himself one, he is also a historian. In Dirt, The Erosion of Civilization, he has provided an extraordinary and readable history of world agriculture and of American agriculture in particular.
Further, David Montgomery, like Maria Rodale, warns that industrial agricultural practices cannot be sustained and there are disastrous consequences ahead. He too supports a system of food production that rejects the "persistent agricultural myth" that large mechanized farms are more efficient than small traditional farms. Rather small farms can succeed in Montgomery's words by treating soil as "a locally adapted biological system rather than a chemical system."  In his persuasive view, using biology and ecology, rather than chemistry and genetics, can be the basis for the "unglobalization of agriculture" which will become increasingly attractive and cost effective as the oil runs out later this century.  Agriculture consumes 30% of our oil use, and David Montgomery predicts that petroleum-based industrial agriculture will end sometime later this century.
No surprise then that this local and organic food advocate would be inspired by his visit to Rodale Institute's 386-acres in the pastoral countryside of east Pennsylvania, a working example of the power of regenerative organic agriculture and proof that nurturing soil life is essential for producing healthy crops and animals. These 386-acres are also home to Rodale Institute's Farming Systems Trial, the longest running side-by-side comparison of organic and conventional grain cropping systems in North America, that has demonstrated that organic farming, not only has the capacity to feed the world, but can increase the bottom lines of farmers and keep harmful chemicals out of our food system.
And kudos to the Rodale Institute for establishing its Vegetable Systems Trial  in 2017 and intended to run for more than twenty years. This trial is aimed at answering the question whether healthier organic plants are more nutritionally dense. The nutrient density of fruits and vegetables (i.e., the concentration of minerals, vitamins and proteins) produced in the U.S. has declined in the past 50-70 years, as spotlighted in a recent article, Fruits and vegetables are less nutritious than they used to be by Stacey Coleno in the National Geographic. Thanks to the Rodale Institute this issue will be addressed by growing "potatoes, butternut squash, lettuce, green beans, sweet corn (to represent fruit, root, seed and leaf crops)" by implementing four systems (two organic and two conventional) in a side-by-side and long-term comparison.
The four systems are (1) An organic system that uses tillage and plastic mulch for season extension and weed control; (2) An organic system that uses cover crops and no-till technology to reduce tillage; (3) A chemical-based system with tillage and plastic mulch for season extension and weed control; and (4)  a chemical-based system that uses herbicides to reduce tillage.
It would seem more than likely that Rodale's Vegetable Systems Trial will confirm the conclusions spotlighted in What Your Food Ate, How to Heal Our Land And Reclaim Our Health (W.W. Norton & Company, New York, N. Y. 2022) by David Montgomery and Anne Biklé.  They reference a 2014 study by the British Journal of Nutrition which "reported significantly higher concentrations of antioxidants in organic crops and significantly higher concentrations of pesticide residue and the toxic metal cadmium in conventionally grown crops." Compared to responsibly grown organic produce, the way these numbers play out, they write "you'd have to consume about twice the conventional produce – pesticides and all – to get the same amount of phytochemicals."
Gratitude to the Rodale Institute for their Vegetable Systems Trial to help persuade those not yet convinced of the nutritional benefits of regenerative agriculture.
Frank W. Barrie, 4/1/23)