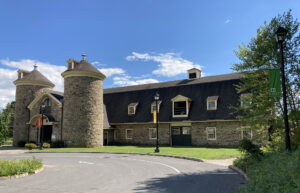 A current exhibition at The Farmers' Museum in Cooperstown (Otsego County) in upstate New York, Growing Tomorrow's Farmers (through October 30, 2022) provides evidence that for the first time in more than a century there are trends across the country that indicate a return to "small family farming with commitments to growing healthy food within a healthy environment" according to the exhibition's curator, Caroline Welsh.
The exhibition features nine family farms in New York State that tell their Family Farm Stories in Their Own Words illustrated with beautiful photos by Wesley Bernard:
(1) Beaverkill Trout Hatchery in Livingston Manor (Sullivan County); (2) Black Willow Pond Farm in Cooperstown (Otsego County); (3) Bramley Mountain Farm in Bovina Center (Delaware County); (4) Danforth Jersey Farm/Cowbella Creamery in Jefferson (Schoharie County); (5) Greenane Farms in Meridale (Delaware County); (6) Roedale Farm in Richfield Springs (Otsego County); (7) Lentsville Farm in Cherry Valley (Otsego County); (8) Root 'N Roost Farm in White Sulphur Springs (Sullivan County) and (9) Underwood Ranch in Unadilla (Otsego County).
One of the nine featured family farms, Greenane Farms in Meridale in Delaware County, operates a restaurant on its farm, which has become renown for its authentic Mexican cuisine. Last month, we reviewed a delicious Mexican-cuisine meal  at the restaurant at Greenane Farms with ingredients sourced from the farm's own produce and pasture-raised meats. It was a nifty coincidence to see Greenane Farms included in this exhibition at The Farmers' Museum.
Growing Tomorrow's Farmers also includes a section of the exhibition called One Farm, One Decade with photographs by Dana Matthews spotlighting farmer Richard Giles, who after 12 years in Brooklyn, returned to upstate New York to establish Lucky Dog Organic Farm in Hamden (Delaware County). In curator Welsh's words, Matthews' work provides "an unromanticized glimpse into the realities of farm labor, even as she captures the rhythm and poetry of the land."
Also included in the exhibition are Richard Walker's photographs illustrating Junior Livestock Show Champions. Each year The Farmers' Museum's annual Junior Livestock Show (since 1947) brings together hundreds of children from nine counties across Central New York to show their sheep, dairy goats, swine, dairy cattle, and beef cattle.
And one wall in the exhibition displays photographs from the Farmers' Museum Plowline: Images of Rural New York, its comprehensive photography collection initiated in 2010 which has grown to a remarkable 17,500 images.
There is also a focus in the exhibition on Food Justice and black farmers who have a long history in New York State. No surprise that the inspirational Soul Fire Farm in Petersburg (Rensselaer County) is spotlighted.
And an indication of economic viability in years ahead for family-scale farms includes the new opportunities in growing alternative crops such as hops and hemp. Growing hemp for CBD oils and related products is proving to be a "gold rush for small farms." Similarly, growing hops and barley to support the craft beer industry also provides family farmers another source of income.
Also important to note that the positive trend of generating increased income by "going organic" is a consequence of growing consumer awareness of how to eat more healthfully for one's own sake as well as for the future sustainability of our planet. And "going organic" rooted in regenerative agriculture is attracting a growing generation of farmers and ranchers.
In an article, Regenerative Ag Is a High-Yield Investment, in the fall issue of Nature's Voice published by the NRDC (Natural Resources Defense Council) for its 3 million members, a recent NRDC report,  Regenerative Agriculture: Farm Policy for the 21st Century is spotlighted. This report offers a detailed blueprint on how to "deploy federal resources to reward regenerative growers at a pivotal moment for the future of farming."
The Rodale Institute is currently taking applications for its 2023 season for its Farmer Training program, a 9-month long hands-on learning experience that includes classroom instruction, field work, and guidance from the Institute's regenerative organic experts. These internships included hourly wages, housing, and free veggies all summer long. Hopeful signs for the future of American agriculture and tomorrow's farmers.
[Growing Tomorrow's Farmers exhibition (through October 30, 2022) in the Main Barn at The Farmers' Museum, 5798 State Highway 80, Cooperstown, NY, 607.547.1450, Open daily 10:00AM-5:00PM]
(Frank W. Barrie, 9/14/22)