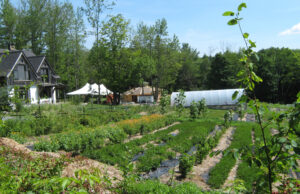 If you care about how your food is grown and distributed and you care about social justice, the one book you must read right now is Farming While Black: Soul Fire Farm's Practical Guide to Liberation on the Land by Leah Penniman (Chelsea Green Publishing, White River Junction, VT, 2018).  Farming While Black was written for this moment. According to Penniman, "Farming While Black is a reverently compiled manual for African-heritage people ready to reclaim our rightful place of dignified agency in the food system."
In 2006, Penniman and her family found themselves in the food desert of the South End neighborhood of Albany, New York. "The corner store specialized in Doritos and Coke," and it took a taxi to get to the nearest substandard supermarket. The family signed up for a CSA (community supported agriculture) farm share but had to hike two miles to the pick-up point.
Knowing that Penniman and her husband both had farming experience, neighbors urged them to start a farm to feed the neighborhood. With masters degrees and decades of farming experience between them, Penniman and her husband decided to take up the challenge. Farming While Black tells the story of Soul Fire Farm, the mission-driven farm they founded that centers on the spiritual and nutritional needs of the Black community while providing ways to heal intergenerational trauma caused by racism.
Since opening in 2010, Soul Fire Farm has welcomed thousands of people to farmer training courses for Black and Brown growers, food justice workshops, youth programs, reparations workshops, anti-racism workshops and policy education for public decision makers. The farm offers over 100 sliding-scale CSA farm shares with doorstep delivery to neighborhoods in Albany, NY. The farm accepts SNAP (supplemental nutrition assistance program or "food stamps") payments and offers free solidarity shares to immigrants, refugees, and those impacted by state violence.
Lavishly illustrated, with abundant footnotes and a detailed index, Farming While Black is a densely packed yet practical guide for all new farmers. It starts with recommended ways to find land, find financial resources, and build a business plan.
Acknowledging that most young farmers will start with marginal land, Penniman discusses ways to reclaim degraded land and addresses issues around urban farming on land contaminated with heavy metals.
Woven into the narrative, along with plant lists and recommendations for farming in the unpredictable climate of upstate New York, are excursions to Africa, Haiti and the American South. These feature ancestral farming practices and the many organic farming practices pioneered by people of African descent: community supported agriculture (CSA), food hubs, cover cropping, and rotational grazing, to name a few.
In 1910, 16 million acres of farmland (14%) were Black-owned. Today just 1% are in black hands. According to Penniman, "Black ancestors were forced, tricked, and scared off land until 6.5 million migrated to the North." She makes the case that over 24 million Black Americans live under "food apartheid," which is the direct result of our history of racist policies.
The final section of Farming While Black is a manual for healing and movement building. After succinctly laying out the history of racism in America and a case for reparations, Penniman shares ways that people have come together to confront this history of oppression.
Her roadmap for organizations wishing to transform themselves is one of the best frameworks for forging interracial alliances that I've seen. If you've come this far, you realize that anti-racist organizing requires the hard work of many people who are willing to listen to those who've come before and work together for a racially just world. Penniman quotes Maya Angelou from her poem On the Pulse of Morning:
History, despite its wrenching pain
Cannot be unlived, but if faced
With courage, need not be lived again.
In 2019, Lean Penniman was honored with a Leadership Award by the James Beard Foundation. She has also been recognized by the Soros Equality Fellowship, NYS Health Emerging Innovators Awards, the Andrew Goodman Foundation Hidden Heroes Award, Fulbright Distinguished Awards in Teaching Program, the inaugural winner of the Community Food Funders Champions Award, and the New Tech Network National Teaching Award.
Soul Fire Farm's 2019 Annual Report sums up the hard-earned progress made by this extraordinary (self-described): BIPOC (Black, Indigenous, People-of-Color)-Centered Community Farm committed to ending racism and injustice in the food system. 
(Laura Shore, 8/1/20)