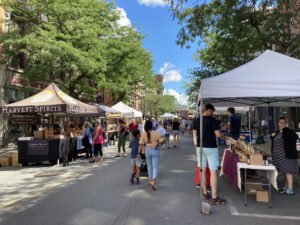 American Farmland Trust (AFT), founded in 1980, has helped protect 6.5 million acres of agricultural lands. One of the first agricultural land trusts in the United States, AFT is the only one with a national scope. Over the decades, it has helped create state and local land trusts through the country.
A little over two years ago, AFT launched the campaign Farming is Our Future with the goal to double the amount of permanently protected farmland, adopt regenerative practices at scale so that agriculture captures more carbon than it emits, and help 600,000 new farmers and ranchers get started and succeed by 2040. AFT's Brighter Future Fund launched in 2020 to assist farmers in successfully starting, growing and sustaining farms "in the face of forces impacting the food and agricultural system, including the pandemic, changing markets, severe weather, and climate change," has awarded over $3.5 million to more than 2,000 farmers.
AFT's mission is to remain vigilant to ensure a secure future for America's ability to grow the fresh and nutritious foods that we need to sustain ourselves. The challenges are huge with the United States (1) losing 2,000 acres of fertile farmland and ranchland every day and (2) losing priceless inches of our most valuable topsoil– 1.7 billion tons each year- blown away during increasing droughts and washed away by worsening floods.
And for over a decade, this praiseworthy non-profit organization has celebrated America's farmers markets each summer, and has recognized the "top farmers markets in each region of America, crowning an overall 'People's Choice' winner as the top-endorsed market in the country."
For AFT's 14th annual America's Farmers Market Celebration, there is still time, until September 19, 2022, for supporters and shoppers at farmers market to vote for their favorite farmers market by visiting markets.farmland.org. AFT's database and interactive map is the largest and most comprehensive listing of farmers markets in the United States, containing more than 7,000 listings and allowing anyone in America to find local farmers markets wherever they live or visit.
For this year's celebration of America's farmers markets, AFT has increased cash prizes to $10,000. The top five markets that finish in the People's Choice category will receive a cash award to go towards marketing, communications, and other needs that help expand the market's reach and impact: $5,000.00 for first, $2,500.00 for second, $1,500.00 for third, $750.00 for fourth, and $250.00 for fifth.
As of the date of this post, the farmers markets with the top five rankings are (1) Overland Park Farmers Market in Overland Park, Kansas, with 9,194 votes; (2) Columbia Farmers Market in Columbia Missouri, with 7,505 votes; (3) West Windsor Community Farmers Market  in West Windsor, New Jersey with 2,736 votes; (4) Ligonier Country Market in Ligonier, Pennsylvania with 2,364 votes; and (5) Patchogue Outdoor Market in Patchogue, New York with 2,228 votes. The latest rankings can be found on the main webpage for the 2022 America's Farmers Market Celebration.
And as a closing note, consumers should keep in mind that spending dollars on local food at a farmers market means that more of the consumer dollar goes directly to the farmers who grow a consumer's food. Farmers get close to $8.00 to $9.00 of every $10.00 spent on local food at a farmers market (compared to the $1.58 farmers and ranchers receive of $10.00 spent on food in general). AND as noted in an earlier post, according to AFT: For every $10.00 spent at a farmers market, studies show that as much as $7.80 is respent in your community supporting local jobs and businesses.
(Frank W. Barrie, 9/2/22)