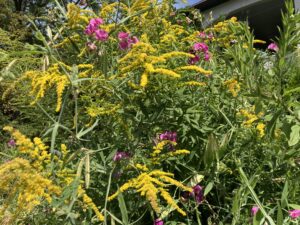 The conservation initiative No Mow May "to save threatened wild flowers, plants and fungi," spotlighted a few months ago in an earlier post, has grown into a patch of blossoming goldenrod in late August in this homeowner's side yard in the Pine Hills neighborhood of Albany, New York.
Passer-bys sometimes are curious to learn that golden rod is intentionally grown. Some confuse goldenrod with rag weed, a plant that would not be wise to intentionally grow.
Bob Vila, the "Tried,True, Trustworthy Home Advice" television personality, on his website has an excellent article by Nicole Shein, Ragweed vs. Goldenrod: A Case of Mistaken Identities, noting that "Ragweed and goldenrod are similarly sized, grow in the same regions, and bloom come back-to-school time." Shein points out that "knowing the difference between these two plants is essential for seasonal allergy sufferers."
Why? Ragweed is an annual plant that's considered an invasive species. On the other hand, goldenrod is a noninvasive perennial plant. Shein further notes that "gardeners often grow goldenrod on purpose for its medicinal and aesthetic benefits." Most important, goldenrod has big yellow flowers and relies on living creatures for pollination, and is an "effective way to attract pollinators to a garden," and in Shein's words "you might even say that this flower brings all the bees to the backyard."
In contrast, ragweed has small green blooms and "like most flora, including grass, conifers, and edible grains like corn, rye and wheat are pollinated by the wind." According to Shein, one reason that ragweed allergies are so pervasive is that the wind can disperse the ragweed pollen over an impressive distance: ragweed pollen has been detected up to 2 miles above sea level, and 400 miles out to sea.
Earlier this month, the New York State Department of Environmental Conservation (DEC) released a multi-year survey of hundreds of pollinator species in New York State called the Empire State Native Pollinator Survey 2017-2021. And a review of the results of this survey provides good support for growing a patch of goldenrod!
Back in 2016, concerns over global declines in pollinators led to creation of New York's Pollinator Protection Plan, which called for an inventory of New York State's native pollinators. The goal of the project was "to determine the conservation status of a wide array of native insect pollinators, including four groups of bees, two groups of flies, two groups of beetles, and two groups of moths."
The survey was developed and implemented by the New York Natural Heritage Program, which assembled a team of experts from DEC, the State University of New York (SUNY) College of Environmental Science and Forestry , Cornell University, SUNY Cobleskill, the U.S. Geological Survey, the U.S. Fish and Wildlife Service, the American Museum of Natural History, the New York State Museum, Vermont Center for Ecostudies, and the Xerces Society for Invertebrate Conservation.
The multi-year survey found that between 38 and 60 percent of the species of insect pollinators studied "are potentially imperiled or critically imperiled." Recent sightings or records could not be confirmed for 79 pollinator species previously recorded in New York. And the study found that more than one-third of the native pollinators surveyed are at risk of becoming extinct in New York.
The Department of Environmental Conservation, in announcing the results of the multi-year survey, emphasized that "pollinator populations can be helped by conserving habitat, controlling invasive plants, changing mowing regimes, converting lawns into meadows, paying attention to the siting and density of honey bee hives to reduce competition and spread of disease to native species, controlling deer browsing of the understory, retaining logs and snags in forests, and reducing unnecessary outdoor lights for nocturnal species."
DEC also noted that it is reclassifying certain products containing the neonicotinoid (neonic) insecticides imidacloprid, thiamethoxam, and acetamiprid as "restricted use" and will collect new data to determine where, when, and how they are used, as well as their potential impacts.
This survey's results that a third of native New York species of insect pollinators are at risk of local extinction sadly complements the awful news that the monarch butterfly has been classified as endangered by the International Union for Conservation of Nature, the world's most comprehensive scientific authority on the status of species.
Besides letting the goldenrod bloom, let the milkweed take root. Vermont-based Gardener's Supply Company has excellent advice on "How to Reduce the Size of Your Lawn" in its insightful article, Be a Grower, Not A Mower.
(Frank W. Barrie, August 27, 2022)