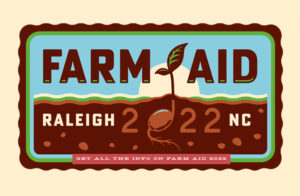 A live, in-person Farm Aid 2022 Festival will be held on Saturday, Sept. 24th in Raleigh, North Carolina at the Coastal Credit Union Music Park (Walnut Creek Amphitheater). This is the second time that the annual festival, an all-day celebration of music and family farmers, will be held at this music venue in North Carolina which has a capacity of 20,000.
This year's 37th anniversary of the legendary music festival celebrating family farmers and ranchers features a full day of music and Farm Aid's HOMEGROWN Concessions with good food from family farms. HOMEGROWN Concessions has fed more than 283,000 festival-goers since its introduction in 2007.
And within the Farm Aid Festival is the HOMEGROWN Village where festival-goers can explore hands-on activities that "engage all of their senses in the Farm Aid mission." Festival goers can hear farmers and artists talk together about pressing issues on the FarmYard Stage, attend demonstrations to learn agrarian skills, celebrate the culture of agriculture in the HOMEGROWN Skills tent, and connect with farmers and organizations doing critical food and farm work all over the country.
The Public Sale of tickets for Farm Aid 2022 will go on sale July 30 at 10:00AM EDT, available for purchase at LiveNation.com. Ticket prices range from $75 to $315. A limited number of pre-sale tickets are already on sale to Farm Aid supporters. (Farm Aid's "Resale Policy" specifies that "Ticket purchasers may not engage in resale for profit. Farm Aid reserves the right to void tickets found to be in violation of this policy without issuing a refund. Voided tickets will be denied entry.")
The 2022 line-up of performers include  Willie Nelson and Family, John Mellencamp, Dave Matthews & Tim Reynolds,  Lukas Nelson & Promise of the Real, Margo Price, Nathaniel Rateleff & The Night Sweats, Particle Kid (a/k/a J. Micah Nelson), Sheryl Crow, Chris Stapleton, Allison Russell, Charley Crockett, and Brittney Spencer. The performers, who all donate their time, deserve special praise and appreciation.
You can listen now to a mix of all the line-up artists in the Farm Aid 2022 Mix Tape.  And a Farm Aid 2022 Video Mixtape features videos from artists who will perform at Farm Aid 2022.
Farm Aid's Jennifer Fahy and Susan Steiner have been visiting farms across the festival region in North Carolina with a film crew to share inspiring stories and voices of family farmers on stage at Farm Aid 2022, in the festival broadcasts and on the Farm Aid website and social media channels. These farmer videos will highlight climate stories, both how farmers are affected by climate change and how they are affecting climate change through the ways they farm.
Since 1985, Farm Aid has raised $64 million to help family farmers all over the U.S.A. while inspiring Americans to take part in the Good Food movement. Farm Aid's online Farmer Resource Network connects farmer to an extensive network of organizations across the United States that help farmers find resources to access new markets, transition to more sustainable and profitable farming practices, and survive natural disasters.
The praiseworthy non-profit organization also promotes fair farm policies to defend and bolster family farm-centered agriculture and has worked side-by-side with farmers to protest factory farms and inform farmers and eaters about issues like genetically modified food and growth hormones.
The Wikipedia article on Farm Aid  lists all of the concert venues and performers in Farm Aid's illustrious concert history over the past 37 years.
(Frank W. Barrie, 7/27/22)