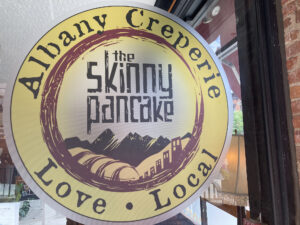 The state of Vermont's status as the greenest state in the United States is indisputable. Over the years, we have reported on Strolling of the Heifers' annual Locavore Index, on which The Green Mountain State has consistently been atop, as it has been since the first Locavore Index was compiled in 2012.
Due to the pandemic which changed life around the world including, of course, in the state of Vermont, Strolling of the Heifers' annual local food parade and festival hosted in Brattleboro, Vermont has not been held since June 2019.  Perhaps some future year, the parade of "friendly, ambling heifer calves, groomed to the nines, colorfully bedecked with hats and flowers and led by future farmers from area schools and 4H club members" will again become possible.
This "slower, friendlier, female version of the Running of the Bulls in Pamploma, Spain" was loved and is now missed by many. Links to videos of the local food parade from prior years are available for viewing on the home page of Strolling of the Heifers.
Last year, the Board of  Directors of Strolling of the Heifers announced that with a "heavy heart," it had suspended all programs due to the impact that COVID-19 has had on its financial operations that are "very dependent on the annual parade and associated events for its operation."  More recently, the organization announced that "Following a comprehensive evaluation, the Board has acted to establish the Agritech Institute for Small Farms, which will promote the adoption of innovative agritech tools and land management practices by small farms, which improve farm financial viability and environmental performance." And hope springs eternal: the Board noted that it "hopes to have the parade and festival in a year's time, Covid permitting."
Besides the Strolling of the Heifers' Locavore Index showing Vermont consistently atop for each of eight years, Vermont's status as the greenest state in the United States is reflected by our directory of CSAs in Vermont which has listings for a remarkable 56 farms AND our farm-to-table dining directory for Vermont which has an astounding 57 listings in a state second-smallest by population.
Included in our dining directory for Vermont are listings for Vermont's The Skinny Pancake in Vermont's largest city, Burlington, and in its capital city, Montpelier. On the home page of The Skinny Pancakes website, a map also shows other Vermont locations in Stowe and one to the east of Killington.
The Skinny Pancakes' website includes an inspiring tab describing "Our Mission & History" which we give two thumbs way up on what this food operation seeks "to prove":
"You CAN [emphasis in original] eat local food every day. Restaurants CAN [emphasis in original] get their food from the farmers and food producers nearby, rather than from giant agribusinesses, sometimes on other continents. Special occasion restaurants do this now, offering a haute-couture farm-to-table experience. We strive to do it at a price that can be adopted into our everyday lives."
When The Skinny Pancake opened a location in my hometown of Albany, New York, this past March, it was an occasion to celebrate. Albany is less than 40 miles from Bennington, Vermont and it made sense that The Skinny Pancake was attracted to the small capital city (population just under 100,000) of New York State. How wonderful that The Skinny Pancake has become a part of the wonderful revitalization of Albany's historic downtown.
This past week, I finally visited late in the morning to savor a perfectly prepared crepe, the simplest on the menu, called the Sugar Shack ($6.50) and a cup of delicious coffee ($2.00) made with specialty coffee from Stacks, a local coffee roaster in Albany. This delicious French pancake made with a thin batter of flour, eggs, melted butter and milk and served with maple syrup (not an ersatz, sugar syrup) and a sprinkling of powder sugar was a perfect treat to reenergize.  And Stacks' Lark Street House Blend, 50% Colombia El Roble and 50% Ethiopia Guji Uraga (with a "We Taste" description of milk chocolate, hazelnut, soft citrus, balance) was delicious.
During this summer season, travelers on Interstate I-90 from Buffalo east to Boston and travelers on Interstate I-87 from New York City to Montreal, should consider stopping in downtown Albany, to break up a long drive with a delicious skinny pancake at The Skinny Pancake and permit me to add, a visit to one of the oldest museums in the United States, the Albany Institute of History and Art, to view its remarkable collection of the Hudson River School Landscape Paintings.
[Skinny Pancake, 1 Steuben Street (at corner of North Pearl in downtown), 518.512.0182, Breakfast (all day) & Lunch: Mon & Sun 8:00AM-3:00PM;
Breakfast (all day), Lunch & Dinner: Tues, Weds, Thurs, Fri & Sat 8:00AM-8:00PM, https://skinnypancake.com/locations/albany/]
(Frank W. Barrie, 6/10/22)