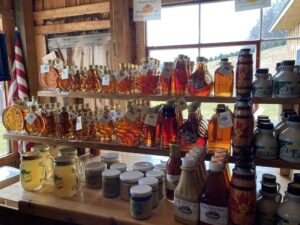 The geographic triangle of the Greater Northeast, running from Michigan to New Brunswick (Canada) to West Virginia, is the only suitable terroir in the world for maple syrup. Temperature fluctuation impacts sap flow, with freezing nights needed to keep the sap flowing and the processing of maple syrup. Lots of sap is needed to make maple syrup: 39 gallons of water is evaporated from 40 gallons of sap to produce one gallon of maple syrup.
If the nights become too warm, the sap stops flowing and the maple season comes to an end. Our Maple Syrup directory has links to the websites for 13 Maple Syrup Producers Associations in 11 U.S. states and two Canadian provinces. It's no surprise that a recent review of information on the production of maple syrup this 2022 season, after checking out these links, reveals that the maple season varies in length in different spots in the geographical triangle of the Greater Northeast.
For example, the website for the Michigan Maple Syrup Association indicates that the date for the 2022 Michigan Maple Weekend depends on the particular area of that state: Southern Lower Michigan, 3/19-3/20; Northern Lower Michigan, 3/26-3/27; and Upper Peninsula Michigan 4/2-4/3.
Connecticut's Happy Maple Weekend, Massachusetts' Maple Weekend, and New Hampshire's Maple Weekend (like Southern Lower Michigan), were all also held last weekend. But that does not mean that visitors are not still welcome to visit a sugarhouse in these particular states, and we suggest checking out the links for these states' Maple Syrup Producers' Associations in our Maple Syrup directory for further information to determine if an early spring outing to a sugarhouse is still doable.
New York's Maple Weekend covers two weekends. In addition to last weekend, visitors to New York sugarhouses are welcome this coming weekend also, 3/26-3/27. Vermont's Maple Open House Weekend was held last weekend but is also this coming weekend, 3/26-3/27, and Maine's 39th annual Maple Sunday is on Sunday, 3/27 (although some sugarhouses are offering events for both Saturday, 3/26, and Sunday). And the Canadian province of Ontario's Maple Weekend is not until 4/2-4/3/22.
This fan of maple syrup enjoyed a visit last weekend to Ioka Valley Farm's sugarhouse and its seasonal "CALF-A" in Hancock (Berkshire County), Massachusetts for a pancake breakfast. The National Weather Service's  long term forecast for the next week shows night time temperatures well below freezing for at least four more nights for Hancock in Berkshire County, Massachusetts, so the sap should keep on flowing. If readers are within driving distance of Ioka Valley Farm, it's an educational and delicious experience to enjoy.
Although as noted above, Massachusetts' Maple Weekend has already happened, Ioka Valley Farm's cafe (cleverly spelled CALF-A) will be open until early April, from 8:00AM-3:00PM for pancakes, waffles, or French Toast, all served with the farm's famous Pure Maple Syrup.
And I suggest choosing to add pecans to an order of a large stack of buttermilk pancakes at the Calf-A. Thumbs way up!
(Frank W. Barrie, 3/24/22)