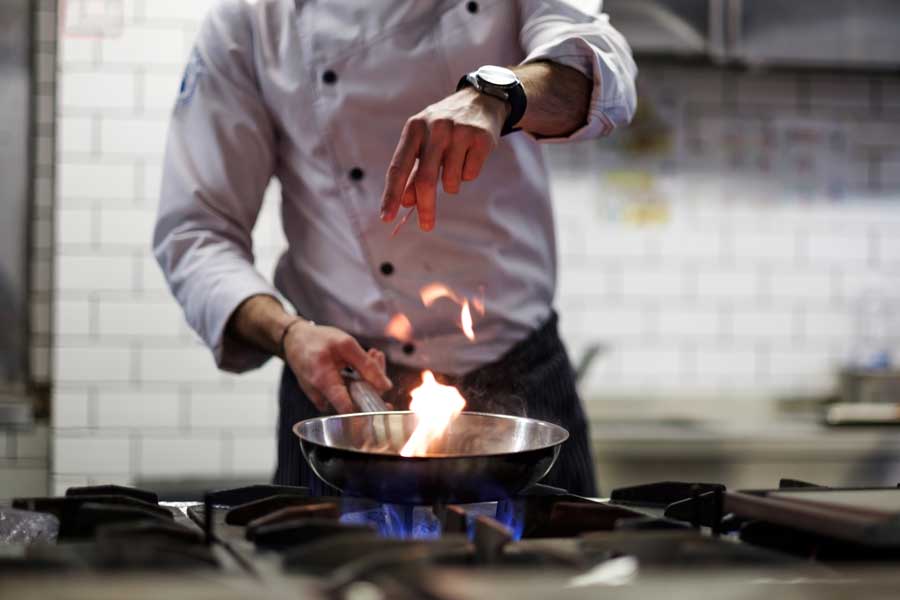 Alice Waters is the subject for a just published children's picture book biography, which in 48 artful pages, captures the important message for young (and old) that fresh, local, and organic food is the delicious way to a better life in harmony with nature.
Alice Waters Cooks Up A Food Revolution (Paula Wiseman/Simon & Schuster, New York, New York 2022) by Diane Stanley and illustrated by Jessie Hartland includes a Timeline on its final page that charts the life of Alice Waters from birth in Chatham Borough, New Jersey in 1944 to the fiftieth anniversary in 2021 of Chez Panisse, Alice Waters' famous farm-to-table restaurant in Berkeley, California.
The artful pages that tell the story of Waters' life provide a surprisingly full sense of why Alice Waters is a very worthy choice as a subject for a children's picture book. She joins the company of other women who were the subjects for picture book biographies for young readers by award-winning writer Diane Stanley including Elizabeth I of England, 19th Century scientist Ada Lovelace, Joan of Arc, Cleopatra, and Princess Ka'iulani, Hawaii's last heir to the throne!
Why is Alice Waters a worthy subject for a picture book? Using the search bar on this website, to search for references to Alice Waters, provides good evidence of why, with the many "returns" on our website referencing this remarkable woman.
Of course, our directory of farm-to-table restaurants in California includes a listing for Alice Waters' famous restaurant in Berkeley, Chez Panisse. But there is also a glowing review of Alice Water's must-have cookbook, The Art of Simple Food II, Recipes, Flavors and Inspiration from the New Kitchen Garden.
Thomas McNamee's biography of Waters, Alice Waters and Chez Panisse, The Romantic, Impractical, Often Eccentric Ultimately Brilliant Making of a Food Revolution  is one of eight books referenced in the Bibliography at the end of Diane Stanley's wonderful picture book.  McNamee describes the now legendary Chez Panisse as a "standard-bearer for a system of moral values" as much as a restaurant. According to McNamee, "It is the leader of a style of cooking, of a social movement, and of a comprehensive philosophy of doing good and living well."
As a leader of a style of cooking, prominent chefs have begun their careers at Alice Waters' Chez Panisse. For example, Samin Nosrat's culinary career originally began as a chef at the Berkeley restaurant, and this chef and cookbook writer's four-part Netflix series, Salt Acid Far Heat has pointed the way to great and mindful cooking for many viewers of this popular series.
Picture book writer Diane Stanley spotlights well-chosen episodes in Alice Waters life to capture the imagination of young readers. Waters' junior year of college (1965-66) was spent away from U.C. Berkeley in Paris. Stanley and illustrator Jessie Hartland capture in four beautiful pages the college-aged Waters' discovery of why the best ever soup, bread, stews, fish, salads were in France: "all the ingredients are fresh."
A dozen pages joyfully picture the starting up and operation of Chez Panisse in its early stages. Alice Waters' love of garlic is playfully noted: on Bastille Day "a grand banquet with garlic in each of the nine courses" even dessert (fresh figs, white cheese, and garlic honey) is the menu for Vive La France!
Six pages of the picture book spotlight Waters' search for "the beautiful, fresh ingredients she remembers from her childhood and her time in France" in Northern California. Pictured driving all over this part of the Golden State searching for "small farms, ranches, and dairies" for fresh, local foods is wonderfully illustrated. One particular stopping point capturing our attention was for peaches. In our review of David Mas Masumoto's Wisdom of the Last Farmer, Harvesting Legacies From The Land, we noted that the Masumoto family farm's "perfect peach" was celebrated by Alice Waters at Chez Panisse.
And it was particularly pleasing to see two pages dedicated to Alice Waters' Edible Schoolyard Project which she started up back in 1995-1996 with the transformation of a grim barren acre of asphalt at the Martin Luther King Jr. Middle School in Berkeley, California into a vegetable garden.
Carlo Petrini, who founded in 1989 the Slow Food movement as an outgrowth of his campaign against the McDonald's fast food chain opening near the Spanish Steps in Rome, in his Terra Madre, Forging a New Global Network of Sustainable Food Communities (published a dozen years ago) referenced Waters' inspiring Edible Schoolyard Project. As of 2020, more than 5,800 programs from 48 U.S. states and territories as well as 75 countries around the world consider themselves members of the Edible Schoolyard network.
It will be of little surprise if Alice Cooks Up A Food Revolution is translated into many other languages for young readers around the world to enjoy!
(Frank W. Barrie, 3/11/22)