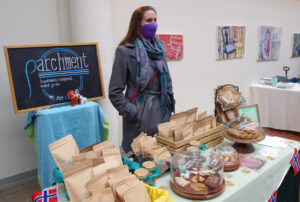 Norwegians don't wait for a holiday to put treats on the table. This I know, having grown up with a Norwegian grandmother. So did Isabel Burlingham, although her mormor stayed in Norway.
During her many visits, Burlingham learned recipes that she now employs in the delectable offerings she bakes and sells as Parchment, a Troy, New York based enterprise that offers its comestibles at the year-round Troy, Saratoga Springs, and Schenectady farmers markets, as well as on the shelves of Albany's Honest Weight Food Co-op, in the Capital District of upstate New York. Come May, her products will be back in many seasonal farmers markets as well. And Parchment is also now shipping its offerings to any destination within New York State at a $10 flat rate shipping cost.
Burlingham left a career in chemistry to do this, a career that resonates with the science of baking. What drew her to chemistry in the first place? "A desire to understand how things work. I watched Bill Nye the Science Guy when I was really little, and that inspired my love of the magic behind life and the planet. So chemistry was a natural progression for me – especially versus biology or physics. It wasn't the science of how bodies work. It was, Why is a stone blue? Is it because there's a mineral in it that is reflecting a blue light? Or is it like a green leaf, absorbing everything but the green color? The chemistry perspective came more naturally to me."
She worked for over a decade in that career, first in a corporate setting, then with a Saratoga County-based startup company. "I didn't start my career as a baker until Covid, when the startup laid everyone off so that we could collect unemployment. I'd been unhappy with corporate life, which is why I moved into the startup field. But even then, I was not satisfied."
Burlingham started Parchment "as a way to explore the science of baking and to connect with my community," but it came to commercial life in the Troy Farmers Market's incubator program. "It's an opportunity for small businesses that are starting out," she explains, "and I think Primo Botánica, the chocolate company, started out that way. At the time, I was going to the Power Breakfast Club in Troy, which is a group of, among other things, young entrepreneurs. And they'd all heard my complaints about my life as a chemist and how I was looking for a change, and wondered if I knew about the farmers' market. Oliver Holacek, who started Primo Botánica, told me about the incubator program."
She applied to the incubator program, a little nervous because she had no business plan. "I had an idea of what I wanted to do, but not much else. And applications were due the following month.  They asked me to come in for an interview, so I put together a vision board of what my business would look like and what the imagery and the themes behind Parchment would look like. I also brought some samples. Half of the interviewers had celiac disease and couldn't taste them, so that was enlightening. But the others loved them."
Realizing that she would need to have a gluten-free option, she went to work adapting recipes, bringing her chemistry background into play. The oatmeal lace cookie, kniplingskager, has a recipe that calls for one tablespoon of all-purpose flour and several hundred grams of oatmeal. So I asked myself, what is the purpose of this one tablespoon of flour? What is it trying to do? And that's where my chemistry background came in. I worked out that the flour is creating a surface for the butter and egg and the sugar to attach to, and glue all the large oatmeal particles together. I worked out through experimentation how much oat flour I would need to replace one tablespoon of regular flour. Because I grind my own oatmeal flour, it's not nearly as fine as an all-purpose would be. It's certainly not a one- to-one ratio. And the size of your oatmeal and the temperature of your dough have a huge effect on the spreading and the resiliency of each cookie." 
The process hearkened back to her earliest kitchen experiments. "I started at a very young age with making volcanoes. Oh, my poor mother. Following that, I did a lot of baking, although nothing fancy. When I made chocolate chip cookies I did things like experiment with different types of sugar and see what happened when I used almond extract instead of vanilla. Little playful things. Now that kind of thing is all over the internet, with lots of photos, but at the time I didn't have any books, and nobody else seemed to be doing it."
Kniplingskager is a feather-light treat based on a Danish recipe, with a touch of ginger setting off its buttery flavor. Lemon and almond combine in a shortbread cookie called kipful, while the outer shortbread of the apelsinsnittar conceals an orange marzipan filling. Bringebaerbullar is a Swedish raspberry-filled roll with a cardamom flavor, while Burlingham's justly celebrated rugbrød is a small, dense sourdough loaf packed with flavor and begging to be enjoyed with an accompanying cup of tea. And those are only a few of her many offerings. On a given market day, she'll selling two types of bread and three different flavors of the cardamom rolls. And there will be eight or more types of cookie, with at least three of them gluten-free. 
Although she started with the recipes she learned from her grandmother, she now presents a broad Scandinavian array, drawing from the cuisines and customs of Norway, Sweden, Denmark, Finland, and Iceland.
Each package she sells sports an ingredients list that pays special attention to the local and organic items she uses, which is also inspired by Norway. "That's how things are there, at least where my family is. Almost everything in the grocery store seems to be organic, even if it's just by the nature of how they farm in Norway. And a lot of the offerings are local. That's been important to my family for a long time." 
Her visits to the country began when she was five, "usually every other year until I started high school. Somewhere between high school and college I started going every summer, but then I graduated from college and got a real job, so I no longer had summers free. When I finally made it back to Norway, it was after an eight-year hiatus. 
"One of my favorite things there is the farmers market in downtown  Kristiansand. We would take a boat into town because we didn't have a car, and we'd pull up in the dock near where the fish market is so you could pick up the fish that you were going to have for dinner that night. Then we would walk the few blocks into the downtown proper where there's a big, luxurious farmer's market full of local produce."
She would like to expand her operation into a place of her own. "I'd like to open a café, so I've been looking for spaces for over a year now. And I'd like to open it in Troy, because this is where I live." 
(B. A. Nilsson, 12/29/21)