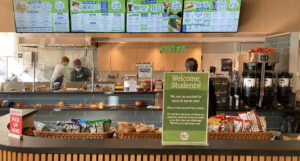 If you cannot grow your own food, we've noted on many occasions, the next best way to source your food is to participate in a CSA (consumer supported agriculture) farm by purchasing, before the growing season starts, a farm share.
Next up in our recommended hierarchy for where to source your daily food is to shop regularly at a farmers market where consumers can also get to know the farmers who are producing their food, especially if they patronize the same farm stands each week.
And our next recommendation, if these first three possibilities are not doable for a consumer, is to source your daily food at a food co-operative. Why?
Our web page for Food Co-ops provides some of the reasons, notably that food co-operatives are a reliable source of many organic and locally grown fruits and vegetables and other nutritious foods.
On our web page for Food Co-ops, we share a link for the National Coop Grocers (NCG) which represents 148 independently operated food co-ops, with 218 stores in 38 states. These co-ops share a commitment to provide "delicious, high quality, healthy food; supporting local, sustainable agriculture; and strengthening local community." NCG's website has a Store Finder directory, which is easy to use to find one of the 148 food co-ops the organization represents.
And we've also shared a link for the Neighboring Food Co-op Association (NFCA), a network of more than 40 food co-ops in New England and in New York State with excellent start-up information, food resource information and on-going projects that support local and regional sourcing for member co-ops. NFCA's website also makes it easy to find one of the co-ops in its network of 40 food co-ops and start-up initiatives in Connecticut, Maine, Massachusetts, New Hampshire, Rhode Island, Vermont and New York State locally owned by over 164,000 people. 
In our book review of John Steinman's Grocery Story, The Promise of Food Co-ops in the Age of Grocery Giants, we concluded that once you finish reading Steinman's 2019 book, you'll think twice about ever setting foot in a supermarket again!
This consumer feels very fortunate to be a long-time owner/member of the Honest Weight Food Co-op (HWFC) in Albany, NY. With nearly 12,000 owners, 788 member-owners and 196 employees, the HWFC is open to the public, seven days each week, 8:00AM-9:00PM. It also continues to maintain discounts for members who choose to work in the store, although it took a tempestuous struggle to maintain its long tradition of in-store member labor (which has become rare among food co-ops).
Also unique about the Honest Weight Food Co-op in Albany, NY is its recent opening of The Honest Weight Kitchen at Maria College  in Albany, NY. This college is renown for its respected nursing programs which in the past 50 years have graduated nearly 5,000 nurses. The school is proud to say that these graduates are leading the way in the Capital Region of upstate New York "by improving patient care and building healthier communities."
And it makes good sense for Maria College, with its focus on "building healthier communities" to establish The Honest Weight Kitchen on its campus for food services. The Honest Weight Kitchen's menu spotlights its commitment to food that "is made fresh from scratch using only natural ingredients." Further, pride is taken in its chefs using "organic and local ingredients whenever feasible" and by its partnership with local farms to provide in season fruits and vegetables. The menu also notes The Honest Weight Kitchen's preference for "whole grains and whole grain products."
Fortunately for the New Scotland Avenue neighborhood around Maria College, The Honest Weight Kitchen emphasizes that it is "excited to serve not only Maria College students and staff, but also residents of the New Scotland-Woodlawn Neighborhood, St. Peter's Hospital staff and visitors, and more!" When it first started up operation on the Maria College campus, The Honest Weight Kitchen's hours were from 8:00AM-5:00PM, Mondays through Fridays. But soon after starting up operation, with customers discovering that take-away meals for dinner were a possibility, the closing hour was extended to 6:00PM.
Living only a short mile from Maria College, a visit for lunch with a friend at The Honest Weight Kitchen was an easy decision. And our hearty lunches were evidence that it was a wise decision to extend the closing time to 6:00PM.
This mostly vegetarian eater decided, nonetheless, to order a Signature Hot & Fresh "Free Range (and antibiotic-free) Grilled Chicken Sandwich" ($11.99) with choice of cheese, 4 toppings and a sauce. Although pesto mayonnaise was tempting, I decided to forego a sauce or even cheese. But for toppings, I happily added shredded kale, roasted red peppers, roasted portobella, and caramelized onions: hands down, one of the best grilled chicken sandwiches ever. I could easily see how this sandwich could become a take-away for dinner, especially given the other possibilities for toppings of spring mix, spinach, tomato, bell pepper, grilled peppers and onions, and more. (Toppings in addition to the four included in the menu price are only an additional 50 cents per topping! Wow.)
My lunch partner decided to order the Beyond Burger.($12.99) with a choice of cheese, 4 toppings and a sauce. The ingredients for this plant-based burger are clearly disclosed on Beyond Burger's website: Water, pea protein, expeller-pressed canola oil, refined coconut oil, rice protein, natural flavors, dried yeast, cocoa butter, methylcellulose, and less than 1% of potato starch, salt, potassium chloride, beet juice color, apple extract, pomegranate concentrate, sunflower lecithin, vinegar, lemon juice concentrate, vitamins and minerals (zinc sulfate, niacinamide [vitamin B3], pyridoxine hydrochloride [vitamin B6], cyanocobalamin [vitamin B12], calcium pantothenate). Good for the consumer to know exactly what's in that Beyond Burger option.
My lunch mate also added sauce, cheese, and four toppings. Like me, he was impressed with the generous helping of toppings and gave thumbs up, and agreed with me that this sandwich could easily become a take-away meal for dinner.
The Honest Weight Kitchen also offers a Local Grass-Fed Beef Cheeseburger ($12.99) with a choice of cheese, 4 toppings and a sauce. And when the craving for a hamburger becomes irresistible, this may be an option for a once a month beef burger meal for this omnivore who eats "mostly plants."
[The Honest Weight Kitchen at Maria College (open to the public), 700 New Scotland Avenue, (Parking available through main entrance on New Scotland Avenue, at the rear of the Main Campus Building), Breakfast, Lunch & Light Dinner: Mon-Fri 8:00AM-6:00PM, https://www.honestweight.coop/page/maria-college-menu-432.html]
(Frank W. Barrie, 11/23/21)