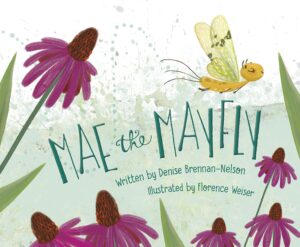 The American Horticultural Society (AHS) and the Junior Master Gardener Program (JMG program) in 2005 created national awards for excellence in children's literature known as the Growing Good Kids Book Awards.  For the 16th year in a row, they have honored the best new children's books about gardening, nature and the environment.
The awards for 2021 were announced at the 29th annual National Children & Youth Garden Symposium held virtually again this year due to the pandemic. An event ordinarily held in a different city each year, the annual symposium brings together educators, landscape architects and designers, staff at botanic gardens, non-profits, and others from around the country who are working to engage children with gardens and the natural world that surrounds them.
Since the first symposium was held nearly 30 years ago, thousands of teachers have participated and have, in turn, gone on to educate over a million children, with the goal of cultivating tomorrow's gardeners. And thousands of gardens and landscapes designed specifically for children and the way they play, explore, and interact have been created all over the world.
This year, there were three winners of the Growing Good Kids Book Awards. The three books recognized as "engaging, inspiring works of plant, garden and ecology-themed children's literature" are:
(1) Butterflies Belong Here, A Story of One Idea, Thirty Kids, and a World of Butterflies by Deborah Hopkinson, illustrated by Meilo So (Chronicle Books LLC, San Francisco, CA, 2020);
(2) One Little Lot, The 1-2-3s of an Urban Garden, by Diane C. Mullen, illustrated by Oriol Vidal (Charlesbridge, Watertown, MA, 2020); and
(3) Mae the Mayfly by Denise Brennan-Nelson, illustrated by Florence Weiser (Sleeping Bear Press, Ann Arbor, MI, 2020).
The 2021 winning authors and illustrators, (i) Deborah Hopkinson, who lives with her family near Portland, Oregon, (ii) illustrator Meilo So, who lives with her family in the Shetland Isles, (iii) Diane C. Mullen, who lives in the LynLake neighborhood of Minneapolis where she works alongside her fellow gardeners in their Soo Line Community Garden, (iv) illustrator Oriol Vidal who lives in Barcelona, Spain where he and his family tend their own little urban garden, (v) Denise Brennan-Nelson who lives with her husband in Howell, Michigan and (vi) illustrator Florence Weiser currently based in Belgium, and who lives and works surrounded by nature, join an impressive list of winners of the Growing Good Kids Book Awards.
A listing of all the winners over the past 16 years is viewable on-line.
(Frank W. Barrie, 10/8/21)