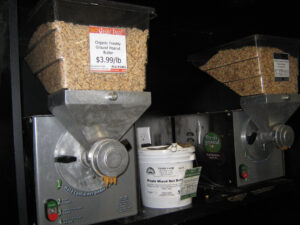 Peanut butter is a staple food in my pantry. And it's been easy to maintain a supply of freshly ground organic peanut butter since the bulk food department of the Honest Weight Food Co-op in my hometown of Albany, NY makes it doable to grind a jarful on weekly visits.
Peanut butter spread on a ripe banana or slices of apple or on an English Muffin has become a go-to way to avoid the consumption of sweets or less nutritious snacks. It's not easy to resist the sugar rush of a homemade chocolate chip cookie or scoop of ice-cream. It would be hard to come up with a more satisfying substitute than peanut butter and some local, raw honey on a slice of toasted home-made bread or even a homemade English Muffin hot off the griddle.
We've sung the praises of National Geographic's Edible: An Illustrated guide to the World's Food Plants published over 10 years ago. As noted in our book review: Edible is worthy of just about anyone's collection and will satisfy the plant nerd, foodie, or historian. 
Evidence of its usefulness is the readable and informative, though brief, article on the Peanut. Peanuts (called ground nuts by southerners) are indeed nutritious:
Only the soybean contains higher levels of protein, but peanuts have the advantage of being cheaper to produce. In India, China, Southeast Asia, and Africa, peanuts yield the highest protein per acre of any food.
And the historical roots of peanuts in the United States are fascinating and sad:
Slaves arrived in southern American ports from Africa on ships provisioned with peanuts. One of the many names for the peanut is goober pea, which comes from the central African Bantu name nguba. Little known in the northern American states before the Civil War, peanut production more than doubled within five years of the Confederate Army's surrender at Appomattax in 1865.
For years I've been grinding peanuts into peanut butter at my local food co-op without knowing how this everyday food came to be a part of life in upstate New York. On the other hand, I've known for a long while, that shopping for peanut butter at a conventional supermarket requires a consumer to carry along a magnifying glass to read food labels and determine what other ingredients are included in that jarful.
On a recent visit to a conventional supermarket I was particularly interested in reading the labels on peanut butter to see which brands contained palm oil in light of our recent post: Needed but Not Easily Achieved: Avoiding The Consumption Of Palm Oil.
No surprise that more than a dozen varieties of peanut butter on the grocery shelves of a conventional supermarket included palm oil in the list of ingredients. But it was a bit of a surprise that even at my local food co-op which takes care to avoid processed food containing palm oil, there was one brand which included some palm oil in the list of ingredients. But no need to buy a jar of peanut butter in the grocery aisle when the grateful consumer can grind organic peanuts for a jarful of the perfect snack food or an easy lunch.
The National Peanut Board has called the peanut butter and jelly sandwich America's favorite and enduring sandwich on its website in an article, Who Invented the Peanut Butter and Jelly Sandwich?  And UPI reported a few years ago that polling showed that the peanut butter and jelly sandwich was considered the All American Sandwich followed by the BLT and grilled cheese.
But permit me during these anxious times, as we endure the corona virus pandemic and disruption to our usually peaceful transition to a new President, to upgrade the All American  peanut butter and jelly sandwich and savor a comfort lunch of an organic whole grain English Muffin spread with freshly ground peanut butter and a dab of local, raw honey.
(Frank W. Barrie, 1/15/21)