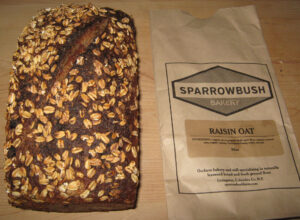 This website's directory of craft bakeries includes extraordinary craft bakeries that offer naturally leavened breads and baked goods, made from scratch and hand-crafted, with the mindful sourcing of ingredients often including local grains and fruits.  Our listings are now approaching nearly one hundred: across the United States from Alaska to Wyoming as well as six listings in Canada and one in England.
Sparrowbush Farm Bakery is one that stands out and deserves to be spotlighted. Started by Ashley Loehr and Antoine Guerlain, Sparrowbush is a small wood-fired production bakery and stone mill, specializing in naturally leavened bread and fresh milled flour, much grown on its small Hudson River Valley farm near the small city of Hudson (Columbia County) in upstate New York.
During these challenging times, this praiseworthy bakery has moved all ordering and preordering to an online storefront and has adopted operating protocols throughout all its production and delivery to keep its small staff safe. And kudos are in order for its decision to begin baking a new bread, The Neighborhood Loaf, a sliced bread baked in a pan, made with organic wheat grown in Columbia County, milled and sifted at the bakery, then long fermented and baked in Sparrowbush's wood fired oven.
On its website, the reason for this new bread is explained: this bread was 'inspired' by COVID-19 and then developed though conversations with fellow bakers and millers about what we can offer in this circumstance to the people in need around us. Fundamentally, we've tried to ask ourselves 'what do we have that can be shared', amid this scary and challenging time.
Approximately 150 loaves a week of The Neighborhood Loaf are given without charge to families in need through the Hudson Youth Center and Ancramdale Neighbors Helping Neighbors. Bravo!
It didn't take much convincing, on a recent overheated summer day, to take a morning drive from my home in Albany, NY on scenic and lightly travelled Route 9J along the Hudson River, to the Hudson Farmers Market, where Sparrowbush Farm Bakery sells its bread on Saturday mornings. (Many of the craft bakeries including in our directory offer their breads and baked goods at farmers markets.)
The Hudson Farmers Market is Columbia County's largest, established over 20 years ago. For the purposes of public safety and proper social distancing, during these challenging times, the market has expanded its outdoor space to cover two municipal city lots at 6th Street and Columbia Street in downtown Hudson. Customers and vendors wear masks and social distancing is carefully practiced. This social value of respecting each other is still being practiced in Hudson, thank goodness.
On this past Saturday, Sparrowbush Bakery's bread offerings included four varieties of bread including Raisin Oat, made with organic stone ground whole spelt flour, organic cracked oats, organic raisins, buckwheat honey, water, and sea salt. A 26 ounce loaf of this delicious chewy bread was reasonably priced given its extraordinary quality. It was an easy decision to purchase a couple of loaves (enjoying one now and freezing the other).
Plus the purchase of a half dozen of Sparrowbush Bakery's cookies, including walnut & chocolate chip, gave an extra sweet purpose to this morning drive down to historic Hudson, New York.
A factoid about Hudson that always fascinates: although this small city sits 115 river miles up the Hudson River from the river's mouth in NYC, it was a major whaling center, beginning just after the Revolutionary War and into the early 19th century. The architecture of its historic district is proof that it rivaled Nantucket! Amazing bread from Sparrowbush Farm Bakery; amazing small and historic river city.
(Frank W. Barrie, 7/23/20)