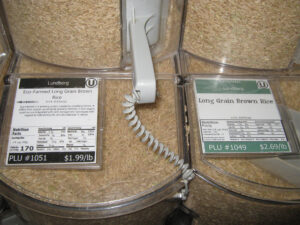 Since 2011, Rodale Institute's Organic Pioneer Awards have honored farmers, research scientists and business leaders "who are leading the movement towards an organic planet." In September, Rodale Institute will celebrate the three Organic Pioneer Award Winners for 2020.
In past years, a variety of businesses have been honored as Organic Pioneers, including Nature's Path,  Patagonia, Dr. Bronner's, Amy's Kitchen, Applegate, Chez Panisse, AgRecycle, Inc., Tait Farm Foods and Fertrell as Organic Pioneers. This year, Lundberg Family Farms, the leading producer of organic and eco-farmed rice products in the United States is one of three recipients of the 2020 Organic Pioneer Awards.
Lundberg Family Farms traces its roots back to 1937. After seeing the ravages of the Dustbowl that resulted from poor soil management and short-sighted farming techniques, Albert and Frances Lundberg moved to Northern California's fertile Sacramento Valley. In the 1960s, the couple's four sons, who were committed to their parents' vision to care for the soil, began the Lundberg Family Farms brand to sell the rice they were growing "directly to the public since it was being grown so differently from conventional rice."
On its website, Lundberg Family Farms describes "Our Passion" by citing the words of its founding father, Albert Lundberg: Leave the land better than you found it. Eighty years later, Lundberg family members remain proud of this commitment. On behalf of the Lundberg family, Grant Lundberg, CEO and third generation of the family, will be receiving the 2020 Organic Pioneer Award on behalf of the family business. He is also a founding director of the Non-GMO Project, a nonprofit organization dedicated to building and protecting a non-GMO food supply.
Lundberg Family Farms, specializing in organic, gluten-free, and whole grain rice products, now offers more than 150 products, including over 20 different varieties and blends of rice. Available in conventional supermarkets, its products can also be found in the bulk food sections of food co-operatives.
Tyrone Hayes, Ph.D., Professor of Integrative Biology at the University of California, Berkeley is this year's scientist recognized as a 2020 Organic Pioneer Award Winner. Prof. Hayes is the leading researcher on the impacts of the herbicide atrazine on the endocrine systems of amphibians as well as its effect on human health. His work complements the work of Philip Landrigan, M.D., MSc., a pediatrician, public health physician and epidemiologist, who received the Organic Pioneer Award last year for his study of the effect of toxic chemicals on the brains and nervous systems of children.
The third recipient of the 2020 Organic Pioneer Awards is Katherine DiMatteo, managing partner at Wolf, DiMatteo & Associates. She is the former Executive Director of the Organic Trade Association and was instrumental in shaping the U.S. National Organic Program standard.
The Organic Pioneer Awards fundraising dinner, which had been scheduled to take place on September 12, 2020 at the Rodale Institute in Kutztown, Pennsylvania, as a result of the corona virus pandemic, will be moved on-line as a fundraising event. The event will be open to all to participate, offering on-line videos of the 2020 Organic Pioneer Award Winners, as well as an interactive panel discussion. Rodale Institute suggests following it on social media and subscribing to its newsletter to be a part of the celebration of this year's winners.
Rodale's website includes short bios for the 34 winners of its Organic Pioneer Awards over the past 10 years, including this year's three recipients of the award.
(Frank W. Barrie, 7/15/20)