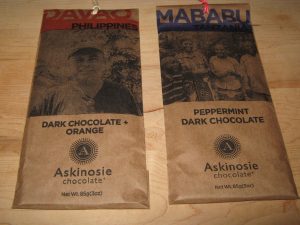 In 2007, Shawn Askinosie, the Founder and CEO of Askinosie Chocolate, after several years of searching for a new path in life after a legal career as a criminal defense lawyer, established in Springfield, Missouri a chocolate business, which in the spring of 2007 sold its first (100% traceable from bean to bar) chocolate.
In 2020, after passing rigorous blind-tasting and social responsibility vetting, Askinosie Chocolate's Dark Chocolate + Red Raspberry CollaBARation Bar, took home a medal at the Good Food Awards ceremony recently held in San Francisco (co-hosted by Michael Pollan and Alice Waters). The Good Food Awards are one of five programs maintained by the Good Food Foundation.
The Foundation's goal is to humanize and reform our American food culture. It seeks to celebrate (by its Awards program), to connect and empower (by its Guild program of food crafters, now numbering nearly 500 members and by its Mercantile program of trade shows, held three times a year to build commerce and community) and to leverage (by its Merchants Alliance program, made up of grocers committed to stock truly good food).
In 2020, the first of three Good Food Mercantile trade shows was held in San Francisco alongside the Good Food Awards. The two remaining trade shows will be held later this year: in Minneapolis on April 30 and in New York City on June 27. The last time the Good Food Mercantile trade show was held in the Midwest was in Chicago in 2016. The trade show in New York City draws 50% of its crafters and retailers from New York State and surrounding areas.
Askinosie Chocolate, an award winner this year for its chocolate, is an admirable chocolate company and has well-earned a place in our chocolate directory, which now has listings of 30 chocolate makers throughout the United States, Canada and the Caribbean.
Askinosie Chocolate notes with pride its modus operandi. This model of a chocolate maker sources its cocoa beans directly from small farmer groups in Ecuador, Honduras, Tanzania, and the Philippines, with visits to these groups yearly to maintain long-term, mutually supportive relationships. It pays above Fair Trade market prices for beans and profit shares with its farmer partners. And it imports cocoa beans from a female led cocoa farmer group in Tanzania, one of the few in the world.
In addition, Askinosie Chocolate emphasizes, in its marketing materials, that its beans are organic, shade-grown in tropical forests without the use of pesticides. Further, it notes with pride that its factory in Springfield, Missouri was renovated using green concepts and that its packaging components are natural, unbleached, home compostable and biodegradable. Bravo for this ecologically responsible business!
(Frank W. Barrie, 2/11/20)