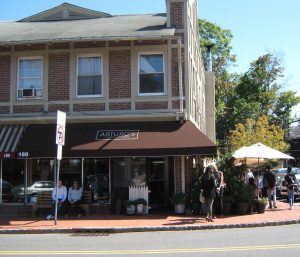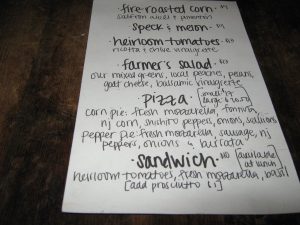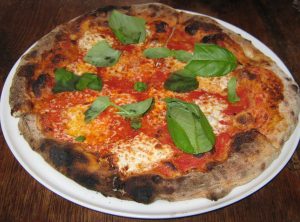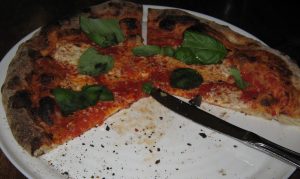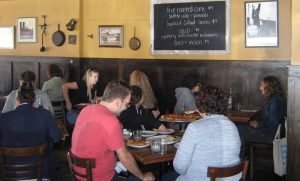 In suburban New Jersey, not far from the intersection of the Garden State Parkway and Interstate I-78, is Arturo's Osteria & Pizzeria in Maplewood (Essex County). Arturo's is included in our directory for Farm to Table Pizza, which lists nearly three dozen praiseworthy pizzerias (and some bakeries) which serve artisinal, hand-crafted pizzas utilizing fresh and local ingredients.
In the New York City metro area, the directory includes two pizzerias in northern New Jersey, and Roberta's in Brooklyn. We posted a rave review of Roberta's a few years ago by a contributor. And this pizza lover has not yet enjoyed a pizza at Razza Pizza Artigianale in Jersey City. But it will be difficult for any other pizzeria in the NYC metropolitan area to surpass Arturo's delicious offerings or meet its praiseworthy commitment to support Jersey farmers.
Enjoying a tasty pizza while supporting local farmers is an unbeatable combo. In noting the warm welcome that awaits at a humble, downtown (Maplewood) restaurant, Arturo's on its website's home page spotlights its commitment to serving the best possible product that we can produce . . . largely accomplished by our dedicated farmers and artisans whose hard work allow our food to shine. Bravo!
Despite its suburban location, Arturo's in Maplewood is easily reached by New Jersey transit from the Big Apple's Penn Station, and that may explain why it is not surprising for this New Jersey town to become a destination for pizza: the first pizza establishment in the United States was opened in New York's Little Italy in 1905. (In fact, a few years ago, Maplewood, N.J was referenced in the New York Times as Brooklyn, West in Jill P. Capuzzo's Maplewood, N.J.: If Brooklyn Were a Suburb.)
Arturo's pizza menu is impressive and reasonably priced for the quality of its pies, individual 11″ range in price from $11.00 to $16.50, and large 16″ from $15.00 to $20.00. Additional toppings including "fancy toppings" like goathorn peppers (spicy cayenne type peppers), soppressata (cured dry salami), prosciutto di parma, speck, pine nuts, truffle oil are available.
For lunch, I ordered an individual Margherita pizza with hand-made mozzarella, tomato sauce, sea salt, basil, extra virgin olive oil. This traditional wood-fired pizza was as delicious and flavorful as any pizza I've ever enjoyed. The thin crust had a hint of sour dough flavor and the pizza had just enough complementary mozzarella cheese and sauce to fully enjoy a satisfying and savory pizza chew. A side order of seasonal greens (collards on the day I visited) sautéed in the wood fired oven and topped with parmigiana were a perfect side dish to the pie. And a large glass of Arturo's own brewed hibiscus iced tea was a colorful and delicious thirst quencher.
Arturo's is a BYOB and with a liquor store across the street, diners have the option of selecting a favorite wine to complement their meal. And the restaurant deserves praise for supporting neighboring businesses in downtown Maplewood. On its home page, it notes that wait times can occasionally become lengthy (with good reason given the quality of its food) and it recommends visiting some of our merchant friends (a bookstore is directly across the street) or just hang out on one of our benches outside.
[Arturo's Osteria & Pizzeria, 180 Maplewood Avenue, Maplewood (Essex County), 973.378.5800, Lunch: Daily 11:30AM-2:30PM, Dinner: Mon-Thurs 5:00PM-9:00PM, Fri & Sat 5:00PM-10:00PM, Sun 4:30PM-9:00PM, www.arturosnj.com]
(Frank W. Barrie, 10/3/19)