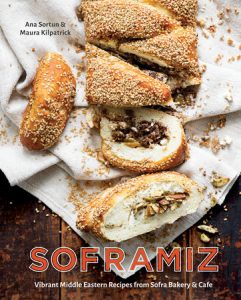 Chef Ana Sortun graduated from La Varenne in Paris, but her interest in Middle Eastern food has taken her beyond that classical French foundation. She opened her first restaurant, Oleana, in Cambridge, Mass., in 2001; she now also owns Sarma, a Turkish-style tavern, and Sofra Bakery & Café, all in the same general area. And it doesn't hurt that her husband, Chris Kurth, owns and operates nearby Siena Farms.
She won the James Beard Foundation's "Best Chef: Northeast" designation in 2005, even as she was working on her first cookbook, Spice: Flavors of the Eastern Mediterranean. Her latest book is Soframiz: Vibrant Middle Eastern Recipes from Sofra Bakery & Café (Ten Speed Press, Berkeley, California, 2016), co-written with Maura Kilpatrick, a longtime cooking partner who specializes in pastry.
We learn from the start that sofra encompasses everything you prepare for the table: food, place settings, glassware, décor, linens. (The literal translation from Turkish is table, allying it with an old-fashioned English sense of the term.) Soframiz means our sofra, which is as welcoming a title as you could wish.
It's a handsome book with a hundred recipes, but be warned that these recipes aren't always easy. Nor should they be. We confuse cooking with convenience, and we lack the tradition of handing down recipes and techniques across generations. Which means that scratch cooking usually means learning it from scratch. Fortunately, the procedures herein are laid out in careful detail, with choice photographs by Kristin Teig to illustrate the more complicated steps.
Take the recipe for Cheese Borek with Nigella Seeds. It's a seemingly simple pastry, but wait. It's made with several layers of yufka dough, which is almost as thin as phyllo pastry. Sortun confesses to using store-bought yufka because she doesn't find that the yufka recipes in the book can be rolled thin enough – but there are two such recipes to choose from. She recommends the one that's enriched with milk and egg.
I don't find this to be complicated: It's thorough. It invites experimentation, which is how you learn the techniques of cooking.
Once you have the dough ready, it's cut to fit a baking dish and layered therein, each layer brushed with a yogurt-and-egg mixture. Eight layers in all, with a sprinkling of grated mozzarella in the middle. The dish is topped with nigella seeds before going into the oven.
The Essential Ingredients section at the back of the book tells us that they look a lot like black sesame seeds, but they are not related. But they have a unique, peppery flavor that makes them worth having on hand.
I suggest that you read the book's chatty introduction first, then skip to Essential Ingredients and take in those 15 pages. (The essay on olive oil alone is worth it.) Then make your way through the recipe sections. There are eight: Breakfast, Meze, Flatbreads, Savory Pies, Cookies and Confections, Specialty Pastries, Beverages, and Pantry. As the intro to the last-named section puts it, Homemade is happiness, and the Middle Eastern pantry is stocked with sauces, preserves, and condiments to capture the bounty of a season and pack away vivid flavors to have on hand.
The recipes feature a generous array of baked goods, often built around meats – particularly ground or sausage – and vegetables. The Meze section is described as being tapas-like, to make the experience at the table last as long as possible. It's long on salads and other vegetable-based items. One of my favorite crops from my husband's garden are his fall carrots, writes Sortun, explaining that the sugars are more concentrated in them at that time of year. And the recipe for Persian-Style Carrots and Black-Eyed Peas is built around them, a fairly simple sauté that only requires some care in the black-eyed peas prep. It also features a seasoning dubbed Persian Spice, also known as advieh, which enhances both savory and sweet dishes and features nutmeg, coriander, cinnamon, black pepper – and dried rose petals.
(You'll find recipes for that and many other evocative blends in the Pantry section, which covers not only spices but also pickled turnips, pumpkin or rose petal jam, and one of my all-time favorites, toum, a garlic paste that Sortun has modified slightly by sweetening it with milk.)
There's potential for fresh ingredients throughout: Dragon Bean Plaki uses fresh wax beans; Barley and Chickpea salad depends on locally harvest barley (along with parsley, mint, and dill, a threesome that appears frequently); fresh tomatoes are featured in a bulgur-based salad and many other recipes.
And then there's hummus. Sortun hopes the recipes herein inspire you to consider hummus as a blank canvas for many different toppings and prove that hummus is not just a dip for vegetables. You'll be introduced to Warm Buttered Hummus, Spicy Lamb, and Pine Nuts; Walnut Hummus, Pomegranate, and Cilantro; and Buttermilk Hummus with Celery Root and Pumpkin Seeds, but these also point the way to your own hummus recipes.
You'll meet more meat in the Flatbreads section, where lamb and chicken shawarma are described – or a Red Lentil Durum with Pickled Peppers for a veggie version. As next year's garden begins to produce, I have my eye on the Summer Vegetable Lamejum, kind of cross between a soft taco and a pizza, with a topping of roasted eggplant, onions, and tomato flavored with haloumi cheese (a sheep's-milk variety) and pomegranate molasses.
This spirit carries into the Savory Pies, where the familiar Spanakopita is turned into a spiral, where ground lamb is mixed with tomato paste, cumin, and orange zest before being baked inside grape leaves; where manouri cheese (made from the cream-enhanced whey of the feta-making process) is mixed with honey and walnuts before going into a tart shell.
The danger in this book is that it devotes two chapters to sweets. First the cookies. Two difficulties inform the Syrian Shortbreads: first, the prep time. You have to clarify a cup of butter and then refrigerate it for an endless couple of hours. The first mixing stage requires another two hours in the fridge. Then you mix it some more and leave it in the icebox overnight! As if that doesn't tax the patience enough, there's another hour and a half of refrigeration needed as you form the cookies, after all of which the half-hour in the oven seems like nothing. The second difficulty is keeping any of these cookies in the house. It wouldn't be any safer with the Marzipan Cookies with Figs and Walnuts, I suspect, although I haven't had the chance to make them yet. I'll be making the Sesame Cashew Bars first.
The fusion aspect of these recipes is exemplified by the Brown Butter Pecan Pie with Espresso Dates. As Kilpatrick explains, they took an American classic and eased it into the Sofra repertoire by having some fun with ingredients, namely dates. And not just that – the dates are soaked in espresso before they line the bottom of the crust. A Greek custard called bougasta becomes Milk Pie in Kilpatrick's hands, thickened with semolina flour, and with phyllo top and bottom. You can make baklava on your own; here, you're offered recipes for a Milky Walnut-Fig Baklava or a Chocolate Hazelnut version.
I've whisked you towards the back of the book because I know you're going to be hung up at the first recipe section – Breakfast. One of the best spreads in all of Istanbul is a breakfast where the olives, tahini, stuffed flatbreads, egg dishes, vegetables, and cheeses cover the entire table. You can go simple with Shakshuka – baked eggs with spicy tomato sauce. Or you can soft-boil those eggs, roll them in flour and egg wash, and wrap them in kataifi (shredded phyllo), then fry them alongside cubes of feta.
Kohlrabi is picked spring and fall at Siena Farms, and inspired one of the favorite dishes at Sortun's restaurants: Kohlrabi Pancakes with Bacon and Haloumi Cheese. Don't even get close to thinking in terms of diner-fare flapjacks: these are savory wonders. There's an assortment of brioche variants here, all made with a tahini dough. There's even a recipe for Olive Oil Granola with dates and almonds.
As noted earlier, some of the procedures are complicated but none looks especially difficult, especially considering the ease of the prose that describes them. But providing ingredient amounts by weight (as well as by volume) would have been helpful.
Soframiz: Vibrant Middle Eastern Recipes from Sofra Bakery & Café is valuable both as a recipe collection and a kitchen inspiration, opening flavor vistas and describing fresh approaches to cooking techniques. As the book's title suggests, dining is about hospitality, and it's celebrated nicely here.
(B.A. Nilsson, 12/20/19)